Jagdeo challenges President to race relations debate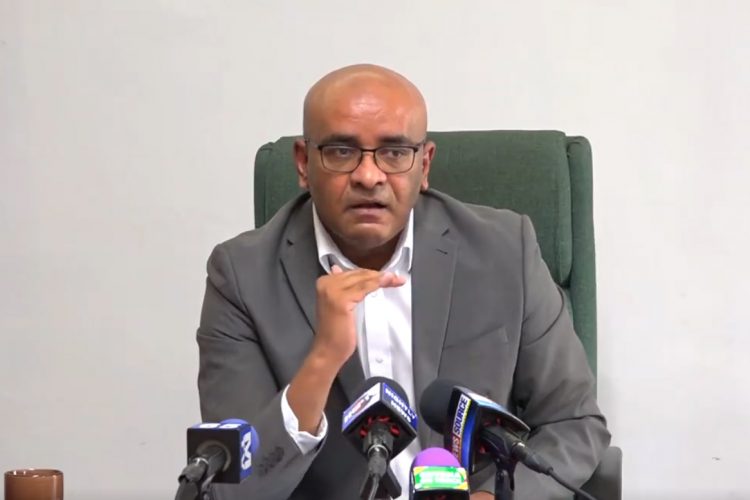 Opposition Leader Bharrat Jagdeo
June 22 2018
President David Granger has been challenged to a public debate on race relations in Guyana by Leader of the Opposition Bharrat Jagdeo.
At his weekly press conference yesterday, Jagdeo repeatedly stressed that he was prepared to debate the current president on several issues including their respective track record on race relations.
"I am prepared to debate race relations and which party has contributed to worsening race relations in Guyana…I am prepared to debate the fallacy, the myth that they keep perpetuating that they have done more for Afro-Guyanese than the PPP/C. He [President Granger] said he has been in the PNC for 50 years…I am prepared to match the record of the PNC from 64 to 92 and then from 2015 to now against the PPP/C's 23 years on several grounds: employment practices, access to wealth, black-owned business et cetera and I'm sure you will see a pattern where Afro-Guyanese have fared better under the PPP/C," he vehemently declared.
The politician issued the challenge in response to accusations from APNU+AFC member Tacuma Ogunseye that the PPP/C's complaints about hiring practices at the Guyana Elections Commission (GECOM) is a "racial weapon" being used to mobilize its traditional base.
In a letter published in yesterday's edition of the Stabroek News, Ogunseye argued that "the PPP/C and its leader Bharrat Jagdeo have decided to intensify their hostile campaign of lies and misrepresentation of facts [and] with no justification are raising the often repeated 'red herring' of GECOM/PNC rigging elections."
He further claimed that the PPP/C leadership has, when in opposition, always sought to use the cry of rigging as one of its primary methods to mobilize its traditional base and that Jagdeo's descent into expressions of racial bile is deliberately designed to force his arrest by the security forces on some kind of charge so as to mobilise those in his traditional support base to line up behind him.
In responding to Ogunseye, Jagdeo maintained that he has a right to openly discuss race issues in fact he stressed that the open discussion of these issues is the only way Guyana will move forward.
On the matter of GECOM's hiring practices and specifically the decision not to rehire Vishnu Persaud as Deputy Chief Election Officer (DCEO) the opposition leader stressed that it was a matter of fairness.
"It's about fairness not about race. They missed the point of what I said. I believe based on concerns raised in statements by the commissioners and the chairman that the situation warrants an impartial investigation," he said.
He stressed that Persaud has 16 years' experience at GECOM during which time he never received an adverse performance report before noting that Persaud left GECOM not because of poor performance but because his contract expired in a period when the commission was not functioning and that while both candidates have MBA's Persaud also has specialized training in elections management and emerged as the number one candidate after the interview process.
Meanwhile, the successful candidate, Roxanne Myers, according to Jagdeo, has openly stated a political position which is not favourable to the PPP/C and neither she nor GECOM commissioner Vincent Alexander disclosed that she was formerly his student.
"It is clear as daylight who should've been selected. In any fair system he should've received the position…the fairness principle was not applied … and any impartial investigation will demonstrate that lack of fairness," he concluded.
In an interview with Stabroek News last week, Myers noted that she has always publicly commented on good governance and social justice issues. "I have been on a record speaking out about governance issues in this country, speaking out about VAT on education in this country, speaking out about removing columnists from the [Guyana] Chronicle, those are on my public profile," Myers said, while adding that when the media is reporting on what the opposition is saying about her, it should seek to maintain a balance. "I am saying that the judgement of my professional career, that should be the test for me, that should be the standard bearer, my professional career," she stressed, while also noting that calling her a PNCR supporter suits the political narrative but does not match with her professional life.
Jagdeo has called on the Ethnic Relations Commission (ERC) to pursue its mandate and swiftly conduct an investigation into the hiring practices of GECOM.
He noted that "given the confidence of the chairman that the system is fair and the confidence expressed by Alexander that the system is above board they should have absolutely no objection to an impartial investigation done by the ERC since they have asserted definitively that the practices are above board."
He maintained that based on its mandate the ERC didn't even need a complaint but noted that the PPP/C-nominated commissioners have submitted a letter of complaint to the body which has in turn reached out to the party to organise a courtesy visit to discuss the issue.