What to drink at the Western Hemisphere's highest open-air bar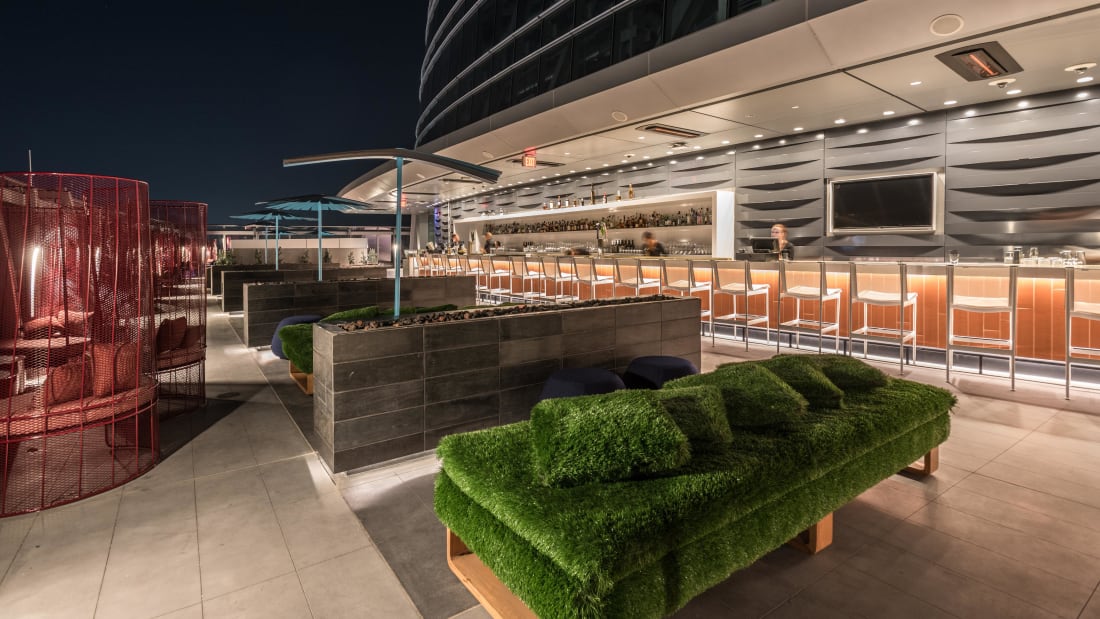 Los Angeles (CNN) — The InterContinental Los Angeles Downtown opened in 2017 in the sleek and sparkling Wilshire Grand Center, bringing a notable new landmark to the city: Spire73.
The outdoor bar and cocktail lounge is located far above
L.A.
on the hotel's 73rd floor, making it the highest open-air bar in the Western Hemisphere.
InterContinental
guests and the public alike can take a smooth, quiet ride in the hotel's elevators to that towering perch, where they're greeted by 360˚ views of sprawling Los Angeles below, including Dodger Stadium, the Hollywood sign, the Griffith Park Observatory and the Pacific Ocean.
Also visible: notoriously traffic-heavy Highways 10, 101 and 110, where miles-long trails of red and white lights twinkle into view as the sun sinks below the horizon each evening.
Playing up Los Angeles' often warm weather, Spire73's patio is furnished with a variety of seating scenarios, including a sleek bar; wire-frame armchairs and tables arranged beneath large umbrellas; low-slung, shaggy sofas tucked between clean-lined fireplaces; and high-back chairs nestled along the lounge's perimeter, directly overlooking the city.
Despite the bar's roughly 1,000-foot height, there's no need to worry about chilly winds. Thick, glass walls keep the breeze at bay, and servers are happy to offer up plush blankets for extra insulation when temperatures dip.
Of course, Spire73's main attraction is its drink menu, which emphasizes classic cocktails with updated twists. Not sure what to order? Here are three signature tipples to drink in along with those jaw-dropping views. .