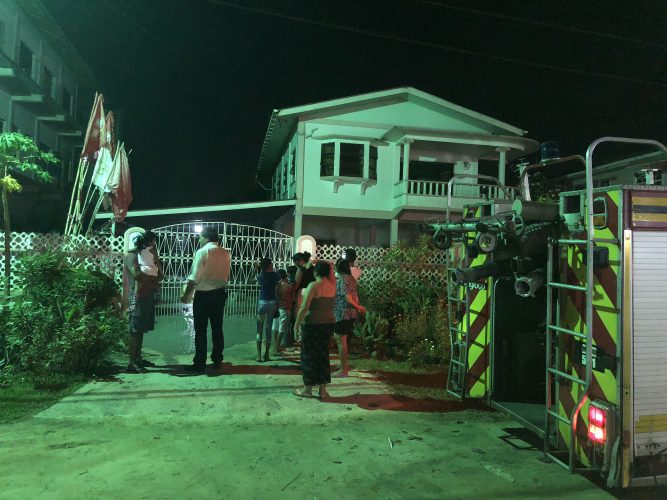 The Sixth Avenue Diamond Housing Scheme residence where the incident occurred.
June 15 2018
A well erupted in the yard of a Sixth Avenue, Diamond Housing Scheme resident last evening.
Residents crowded the street last night as the water relentlessly spurted up to around 100 feet.
Stabroek News was told that the homeowner sells water from his premises and had dug a domestic well in his yard some time ago and had been using it. However, sometime after 7 last evening, there was an unusual amount of water leaking from one of the connected hoses and when he tried to fix it, water started gushing out at an uncontrollable rate.
"He loose out a hose and he tried to control the hose and he couldn't. He spend like 15 minutes trying to control it and then all of a sudden like the pressure build up and we just hear a big blast and the whole thing buss open," an eyewitness related.
After the water burst through the ground, it continued spraying without hindrance and soaked the entire yard and parts of the street. After a while, clay eventually started to seep from the yard onto the road.
The Guyana Fire Service was summoned as a result of the situation but firefighters could not do anything but watch on as the water continued gushing out.
Up to press time, the water was still gushing into the air. The Guyana Water Incorporated (GWI) was notified but up to 9 pm had not arrived at the scene.
Neighbours said that the homeowner did not suffer any serious injuries but they could not say where he had gone.