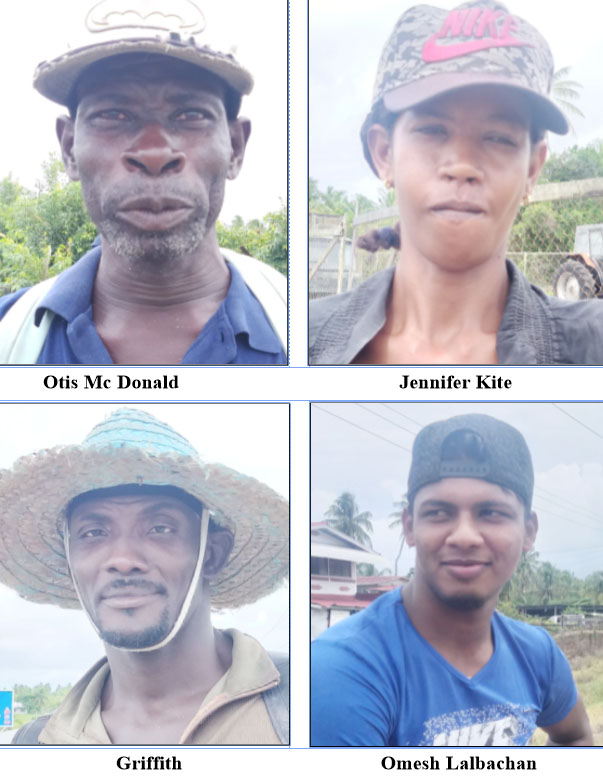 May 21 2019
Residents of Black Bush Polder yesterday told Stabroek News that they "slept sound" on Sunday evening, after B Division's lawmen moved into the backlands and killed three suspected bandits during a shootout that afternoon.
The residents thanked the Berbice police, who they said had done a good job and of whom they were proud. "We does tell them police them na do nothing but when they do thing like that we a proud of them. Them make we sleep sound Sunday and na worry if anything go happen, them cool down this whole Black Bush," Seenarine, a resident told Stabroek News. "We sleeping sound now," he stressed.
Another resident, Otis Mc Donald of Mibicuri, Black Bush Polder, stated that initially, residents heard that three men were shot and killed in the Johanna backlands, but it was after they arrived on the scene that they learnt that the men were suspected to be bandits. "We feel more relax and comfortable. Them police did a very good job, we need them to do more like this," he stated.
According to Mc Donald, after the spate of robberies, the police's presence increased tremendously in the area. "We grateful for that because we more secure," he said.
Griffith, of Johanna, Black Bush Polder, stated that after the first robbery, he started to worry about his family, wondering if they might meet the same fate as the other victims or worse. "But when me hear this happen I glad. For me, when you do something wrong and the law can get rid of you it better for me…So far the police doing a good job. I think they do the right thing …," he stated.
Jennifer Kite, also of Johanna, Black Bush Polder, stated, "When we hear gunshots night time, we just a hide in we house and wait till morning to hear what happen, so we thank God them catch them because night time you can't sleep. When you hear them go a people place, you a scare and want know if you a de next target," Kite said, adding, "The police do a very nice job, very good, you got to thank them police for what they did".
A young resident, Omesh Lalbachan, also stated that they were beginning to get scared and worried for their own families. He, too, thanked the police for doing their job and protecting the community.
On Saturday evening, Indrawattie Dhanraj, 44, of Lot 157 Mibicuri South, Black Bush Polder, a cleaner at the polder's village office and part-time rice farmer, sustained injuries to her back, belly and other parts of her body, as the men dealt her several lashes during the robbery. The bandits carted off a total of $200,000 worth in cash and jewellery.
Meanwhile, on Thursday evening, another rice farmer, Lennox Ramcharran, 41, of Lot 15 Johanna South, Black Bush Polder and his family were robbed and beaten hours before armed bandits attempted to rob Herman Roopnarine, 40, of Lot 35 Johanna North, Black Bush Polder. The men, after robbing Ramcharran, held his daughter hostage during their escape through the dam. They carted off $300,000 in cash and a quantity of jewellery.
While attempting to gain entry to Roopnarine's house, the gunmen discharged several rounds towards the man and his teenage daughters.
The three suspected bandits, Kelvin Shivgobin, also known as "Kelly", 32, of Belvedere Village, Corentyne, Ramnarine Jagmohan, also known as "Andrew", 33, of Toopoo/ Albion, Corentyne and Sewchand Seelall, also known as "Pappie", 52, of Lot 82 Johanna North, Black Bush Polder, were shot and killed by police on Sunday afternoon in the Johanna backlands by Berbice's lawmen.
According to a source, Wayne Dehearte, Senior Superintendent and Officer in-charge of Sub Division 2 in B Division, headed the operation, which resulted in the death of the three suspected bandits.
The force, in a statement to the press, explained that the police caught up with the men in the backlands and came under fire. After about five minutes, the ranks, who risked their lives, came out unharmed and the suspected bandits were dead.
Dehearte, who was once deputy commander of B Division, was transferred in January to the West Coast of Berbice, where he headed sub division three up until recently.
He returned to the Corentyne area only a few weeks ago, and has come in for praises after heading the operation on Sunday.