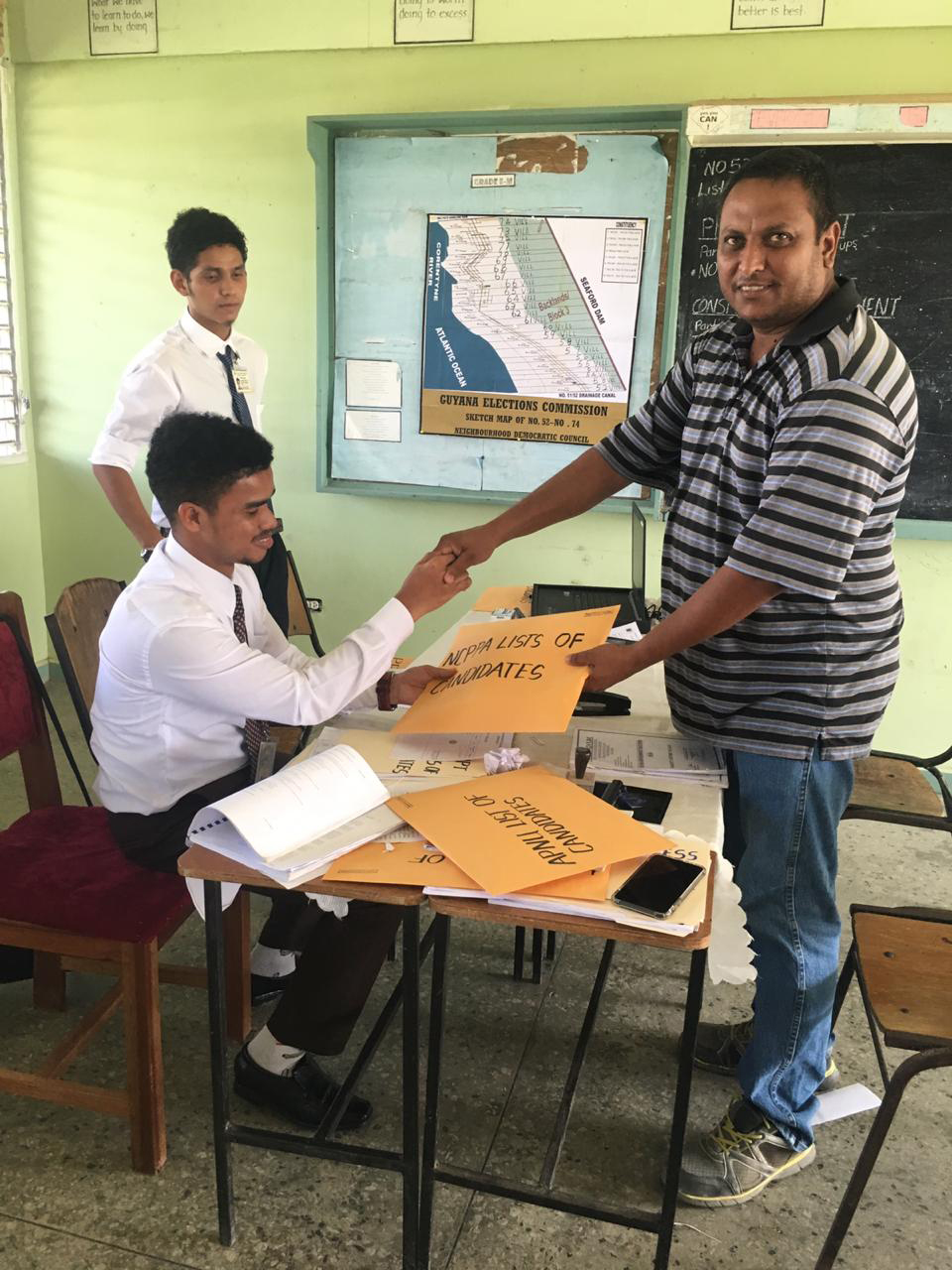 Abraham Subnauth (right) submitting his list
September 25 2018
When the November 12th local government elections are held, the National Congress of Progressive People's Alliance (NCPPA) will once again be seeking the support of residents to represent them on the Number 52 to 74 Neighbourhood Democratic Council (NDC) in Corentyne, Berbice, in hopes of revitalising the local economy and creating jobs.
Abraham Subnauth told Stabroek News that the group of about 20 persons is "non-political," although members support other major political parties as well.
The group contested the last elections and won a seat at the NDC. However, the councillor who occupied the seat will now be running as an APNU candidate.
Subnauth, who heads the group, said it was formed because its members believe that the major political parties are campaigning and focusing on major issues and not local issues, which they feel can be best addressed by residents of the communities. Subnauth stressed that residents need to hear how the parties will work to fix local issues.
He said if it receives the support of residents, the group will work to have a library, a farmers' market and a skills training centre, so as to develop the people of the community.
"[We] will also help to see that our local economy is revitalised and properly marketed," its mission statement states. According to the statement, the group will also work towards placing infrastructure in the Reef areas, so that residents can utilise their pasture and reed lands.
It will also be campaigning with the promise of constructing "heavy duty" paved streets and drains throughout the residential areas.
It says it will also work on implementing an effective garbage collection and solid waste management system, along with setting up a neighbourhood constabulary to patrol the communities and also the lighting up of streets within the residential areas. However, the group also plans to work on having animal free streets.
The group also has the vision of creating job opportunities in the area, and also to develop the Number 63 beach with the support from private investors. It also plans to ensure that all burial grounds are maintained to proper standards.
Meanwhile, in relation to funding of its plans, the group noted that it would not rely solely on rates and taxes and funding from central government but rather position the NDC so as to access funding in the form of "grants and soft loans for local government from agencies like the World Bank, the Inter-American Development Bank, the Caribbean Development Bank and others."
The group is calling on residents to take back their communities and change their living situations. "For years we have allowed people without vision and leadership qualities to manage the affairs of our community the time has finally come for us to change that," it says.