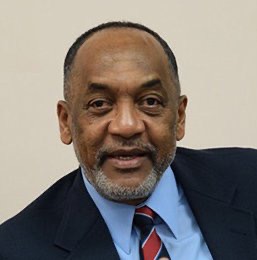 Dr Adams
November 23 ,2020
The services of the Director of the Environmental Protection Agency (EPA) Dr Vincent Adams were today officially terminated.
Termination of his contract came after Dr Adams had been sent on immediate leave while he was spearheading the EPA's input into ExxonMobil's third proposed well, Payara.
When he turned up for work last week at the end of his outstanding leave he was sent for a further period and was today notified that his contract had been terminated.
Adams confirmed, when contacted by Stabroek News, that he was this morning given the letter by Office of the President's Permanent Secretary Abena Moore.
Asked what are his plans for the future, he said that he will return to the United States soon but had already planned to continue his humanitarian work here as he focuses on helping this country prepare for the oil and gas industry.
He said that he remains committed to serve the country of his birth in whatever way his expertise can and that the PPP/C should not be reluctant to ask for his assistance, in the future.
On the 27th of August, and on the heels of a key decision on approvals for ExxonMobil's Payara well for which the EPA had outlined a number of critical concerns, Adams was sent on immediate leave.
It was Adams who was playing the "lead role" for the government side on discussions on Payara. He has decades of experience in the public and private sectors in environmental management, groundwater, and petroleum production fields, and worked on US$ billion dollar-projects at the United States Department of Energy, where he had served for some 30 years.
Adams' abrupt exit from a process that he was actively a part of, as well as being this country's lead technical person, drew public consternation and questions on the rationale for the move.
Adams is the holder of a Degree in Civil Engineering, a Masters' Degree in Petroleum and Geological Engineering and another in Geohydrology. The Linden-born scientist is also the holder of a PhD in Petroleum and Geological Engineering and another in Environmental Engineering.
He had told this newspaper in early 2018 that he felt that although Guyana is expected to become an oil producer, agriculture and renewable energy will actually be its keys to long-term sustainability. He had said, too, that he believes that ExxonMobil should have paid US$1B instead of US$18M sum as a signing bonus.