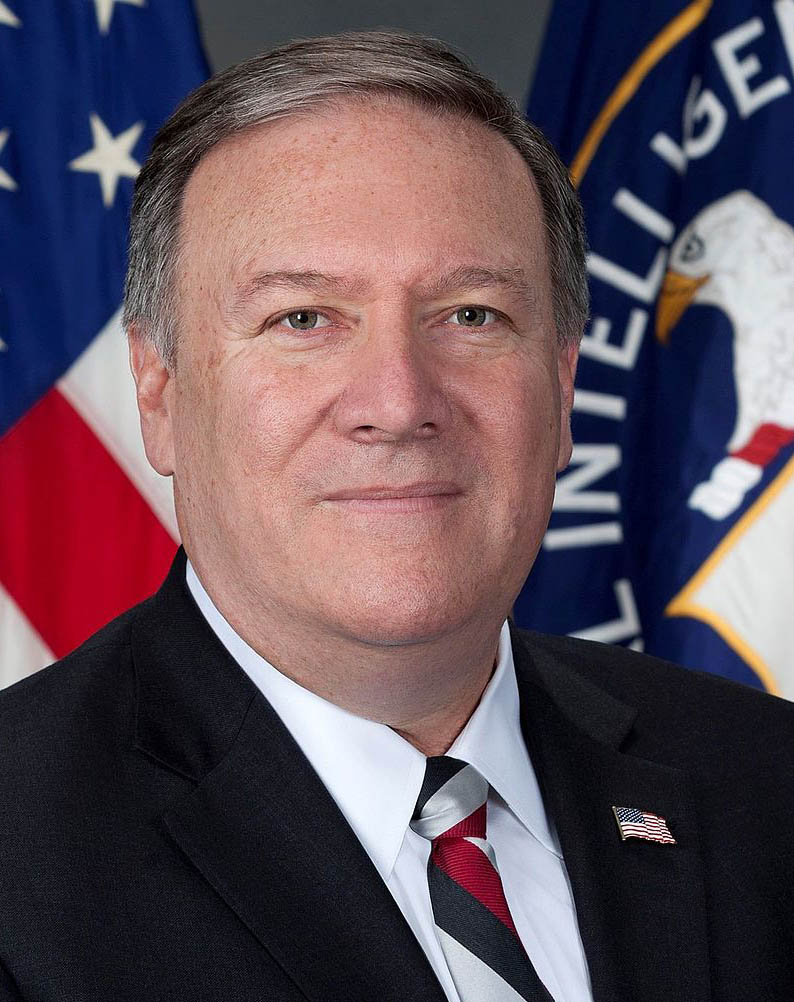 Michael Pompeo
September 17 ,2020
-state dep't official
When United States Secretary of State Michael Pompeo arrives here today he will be signing a MOU for joint maritime patrols with Guyana to interdict drugs and the security threats posed to the region by Venezuela will also be on the agenda
This is according to a US State Department official who provided a briefing yesterday in Washing-ton on the visit that also includes Suriname, Brazil and Colombia.
There has been widespread speculation that Pompeo's swing through northern South America is intended to intensify Washington's campaign to oust the Nicolas Maduro regime in Caracas. Guyana has been warned that any such entanglement could jeopardise its border controversy case at the International Court of Justice (ICJ).
Specific focus, when Pompeo meets with leaders of all the countries, will be the strengthening of security against threats emanating from Venezuela and finding a resolution to the influx of refugees. In Guyana, a commitment for joint maritime patrols to bolster the fight against the narco trade will be sought, the official said.
"The United States and Guyana will exchange diplomatic notes for joint maritime patrols to interdict narcotics. This step will help provide security for Guyanese and Ameri-can people. The Secretary will also sign a Growth in the Americas memorandum of understanding. This will permit Guyana to improve its investment-enabling environment so that the country can benefit from transparent infrastructure investment that respects Guyana's sovereignty," the Senior State Department official yesterday told reporters in the off the record briefing.
"The Secretary will also discuss with Guyana's leaders the impact on their country of the crisis in Venezuela, which is the hemisphere's largest refu-gee and humanitarian crisis," the official added.
"During this visit, the Secretary will reinforce our hemispheric partnership to defend democracy, combat the COVID-19 pandemic, revitalize our economy in the pandemic's wake and strengthen security against regional threats, especially the threat emanating from Maduro's Venezuela," the official said.
Washington's views on Venezuela and the visit differ from Georgetown's as this country's Foreign Affairs Minister, Hugh Todd on Tuesday told this newspaper that Venezuela will not be a focal point but enhancing economic and security cooperation.
"It is a regional visit and the visit obviously has interests of the US and has mutual benefits for all of the member states involved," he said.
"People are trying to insert it to create some amount of anxiety and confusion but I don't think that is the way to go. We all know we have to wait on the matter of the ICJ for jurisdiction (on the border controversy with Vene-zuela) and the US visit has nothing and should not be interpreted as anything to do with Venezuela. We all know what is happening in Venezuela. The focus should be on economic cooperation and assistance, the assistance that we get on building our social pillars as well as security measures that are concerning to us. I think we should keep it simple. It is a visit. Don't let's confuse it with Venezuela," he added.
The US official was asked yesterday about Guyana and what his government was looking for from this new government with regard to Venezuela, considering the ICJ matter and that the Trump administration believes both sides are peacefully resolving the issue though the court.
"On Guyana, yes, there is a border (controversy) between Guyana and Venezuela. It's been going on for a long time. I think our position on that is very clear, and remains unchanged, which is that any – there was an arbitral award way back when (1899). The matter has been submitted to ICJ review. Any disputes over the border should be resolved peacefully, as the two sides seem to be doing. So we don't see any change on that front," the official said.
Security problems
He added, "In terms of the problems that are created for Guyana by having refugee flows and also, I mean, it's not just that Venezuela produces refugees; they are producing security problems for all these countries by harbouring terrorists, harbouring narco-traffickers. When we're trying to interdict drugs – and we've put a lot more assets into that and working closely with all the Caribbean partners – where are those coming from? A good deal of the activity seems to be centred in Venezuela now. So basically we're looking to Guyana to remain – it's in Guyana's own interest, whether it was the previous government or this one, to try to work together to try to resolve the crisis in Venezuela".
Guyana's Minister of Foreign Affairs had stressed that at a sensitive time, when the border matter is before the ICJ, stirring up conjecture and speculation on Pompeo's visit would only undermine that process.
Todd had said the public needs to be reminded that the United States is a leader in the region and a traditional partner for Guyana and keep the focus on development for this country and the US' help in strengthening democracy here. "It is good to know that Washington has been paying particular attention to the hemisphere… it is good that we are getting that level of attention from the United States. It works well for regional security and economic cooperation and for us it is good for us because we get to enhance relations, so it is good for Guyana as a whole. I don't think it is anything new. If you look at our partnership between the US and Guyana we already have a track record out of mutual cooperation. We have economic cooperation, we get help and assistance with social and there is always strong attention to security. A lot of it has to do with trafficking in drugs, ensuring that we can deal with human trafficking," he explained.
The US official pointed out yesterday that while Washington celebrates the return of democracy not only here but in neighbouring Suriname when President Chan Santokhi was also recently elected, Venezuela is an important issue in relation to both.
"And I'd say also, another reason for this – I mean, we're supposed to celebrate the return of democracy in both those countries. But you also note these countries are all very close to Venezuela and have been affected in one way or another or in a number of ways by the insecurity and instability there. So that's another – another purpose of the trip is simply to talk to the neighbours and see what's affecting them and what can be done to try to ameliorate that," the official said.
Pertaining to aid or economic incentives that the United will offer to the countries bordering Venezuela, "I mentioned in Guyana, for example, we're going to do an MOU on joint maritime patrols, which are getting at interdiction of drugs and drug traffickers that are causing security problems for them. The Venezuela connection that I was mentioning is that those – those problems of drug shipments in the Caribbean have been much exacerbated because of the rampant criminality within Venezuela.
"The other security problem in the sense of just overwhelming your systems is the – is the flow of people from Venezuela, and I think we saw and you may have heard from another senior official who – otherwise known as Elliott Abrams that I think also is not named – that the UN fact-finding mission came out with their conclusions today that were quite striking. I mean, it's not – this is not just allegations by the US or the Venezuelan opposition. They've documented with thousands of witnesses systematic killing and torture of not only people in the political opposition, but also people in the Venezuelan security forces by the regime, and they named Maduro and his minister of defense and interior as specifically responsible for that," he added.
He said that while the US understands that refugees fleeing are looking for a better life than to face persecution from their own leaders, this is why substantial aid has been given to countries Venezuelans fled to, as governments of these countries are spending "in the hundreds of millions" in trying to deal with this.
It was why Pompeo will lead discussions on how a collective effort could be reached to address the situation holistically. "But we also want to talk about what can we all do collectively to reinvigorate the effort to bring that crisis to a satisfactory close where you don't just have that gaping sore generating more and more either physical security problems, like narco-traffickers and terrorists, or the soft security problem of just having hundreds of thousands or, in the case of Colombia, a million-plus people coming in and becoming dependent on your social services and so on," the official said.
"…another purpose there is simply is to thank the governments concerned. They've been – and the people of those countries. They have been extremely generous and welcoming to the Venezuelan refugees, and it's a real testament to their humanity. But that's not something you should just count on endlessly. We need to all work together to find a way to bring this to a close," the official added.