August 31,2017
Persons whose visas have been approved by the United States Embassy will no longer utilise the DHL service pickup, as the Embassy has established its own CSRA Document Service Center for this purpose.
The US Embassy was quick to point out that its document service centre, located at Lot 345 Middle and East streets, North Cummingsburg, was not a place to go to prepare visa documents, but only to retrieve their approved visas.
The centre's extended operating hours are from 8:30am to 5:30pm, Monday through Friday.
A new service offered is third party pickups, where adult applicants may authorise a third party to retrieve their passport documents.
However, the third party must meet certain security stipulations. The Embassy says that the person "must" identify themselves with a National Identification Card or an Official Driver's Licence. In addition, they will have to take a letter of authorisation containing their full legal name, signed by the applicant, and a Justice of the Peace or a Notarised Power of Attorney.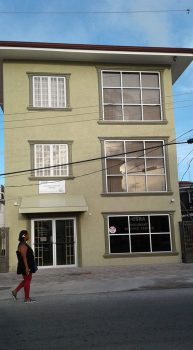 A photocopy of the applicant's National Identification Card or Official Driver's Licence is also a requirement.
Over the past three years the number of non-immigrant visas issued to Guyanese by the United States Embassy has seen increases by over 20,000 each year.
United States Ambassador to Guyana, Perry Holloway, had in July of this year informed that for last year, some 72,000 non-immigrant visas had been issued here, mostly due to the improving economic situation in the country.
"The improving economic situation over the last few years has led to our refusal rate coming down significantly, from a high of well over 50 percent five years ago, to one much lower today and luckily for us only a small percent of Guyanese, who go to the US actually abuse their visas and stay illegally", Holloway had stated.
The US envoy had pointed out that that bilateral relations between Guyana and his country "could not be better" and that the future was also bright since "there is a lot more to come."
Data obtained by this newspaper for non-immigrant visas issued for the period 2014-2016, revealed the sharp increases.
It was explained by the Embassy that the figures reflect the numbers for their "fiscal year" period, which runs from October 1 of the prior calendar year to September 30 of the current calendar year.
In fiscal year 2014 (October 1, 2013 – September 30, 2014), some 31,000 non-immigrant visas were processed by the US Embassy in Georgetown.
The following fiscal year, that number increased by sixty four percent (64%) when it climbed to 51,000.
In 2016, a staggering 72,000 visas were processed which is reflective of an increase of over one hundred and thirty percent (132.4%), in the two-year period.