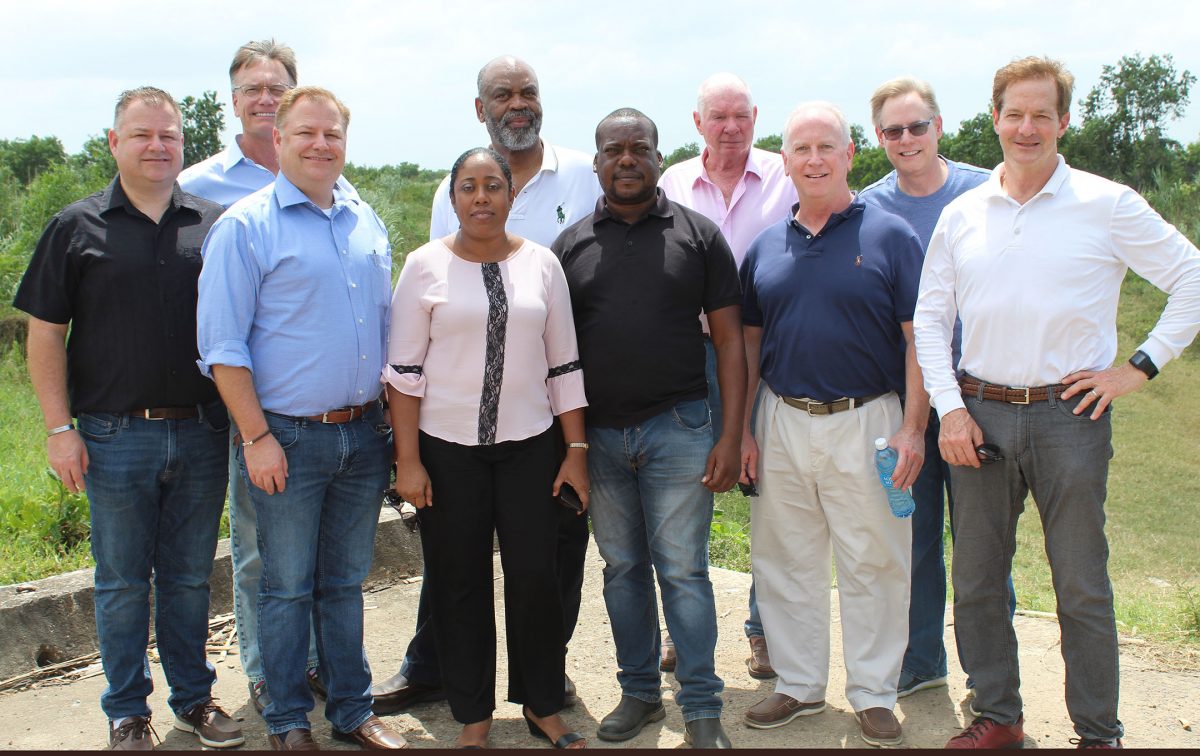 US-based businessman Edmond Braithwaite (5th from left) and some of the members of an investment team he recently brought here. Mike Elliott is 3rd from left.
February 17 2020
United States-based Guyanese businessman Edmon Braithwaite is behind the US$ multimillion dollar Hilton Hotel at Ogle and other investments here and he believes that diaspora input in ventures ensures the holistic development of Guyana.
"He believes that having diaspora input with these foreign investments is best for the country because Guyanese will always have the interest and welfare of their country first as against a company just coming here to invest for the financial aspect," a source close to Braithwaite's company, Caribbean Marketing Enterprises Inc (CMEI), told Stabroek News yesterday.
Braithwaite has promised to this week discuss in detail investment plans he has been working on.
On Wednesday, the sod will be turned for the construction of a Hilton-branded hotel at Ogle, East Coast Demerara. It comes on the heels of the sod turning last week for a US$75 million AC Marriott Hotel in Ogle. It was at last week's event that plans for the Hilton Hotel was revealed by acting Head of the National Industrial & Commercial Investments Limited (NICIL), Colvin Heath-London.
Braithwaite leads the investment team and this newspaper understands that over the past five years, he has been seeking out business opportunities here. He owns CMEI, which is located at Lot 199 Thomas Street, Kitty. The company, according to the Business and Commercial Registry, was incorporated in April 2017 and has Stephen Bradley, Michael Elias, Roy Klaus and Ray Murphy as its directors.
The Hilton at Ogle's main investor is Mike Elliott who NICIL said has built hotels for the world's leading hotel brands including Hilton, Marriott, IHG, Choice and Hyatt.
The Hilton Hotel will be built on some 20 acres of land at Ogle recently purchased by CMEI. The project will include the construction of two branded hotels "uniquely positioned in a complex driven by solar power, therein consistent with Guyana's "green economy" vision. CMEI will construct the hotels in the 120-130 room range with world class amenities inclusive of a miniature golf course, clubhouse, entertainment centre, swimming pool, solar farm and green space allocation," NICIL has said. It had noted that the division of the land would be 7.5 acres for a solar farm, 5 acres for a Club House/Entertainment Centre/Mini Golf Course, and one hotel and its supporting commercial establishments will cover 4 acres and the other hotel will cover 3.5 acres.
According to sources close to Braithwaite, he has done his scoping with Guyana's best interest in mind as, while he understands that investors' main aim is see returns on their capital, he believes that this could take place in tandem with social and other development of this country.
Living overseas for a number of years, Braithwaite is also passionate about the diaspora fusing with foreign investors coming here as he believes that they have much give. "What he wants is to use the investment opportunity to also develop the people here in Guyana," his associate said.
Braithwaite is not the only person who has been pressing for more diaspora involvement.
As Guyana plans for its future with oil and gas revenues, Head of the Environmental Protection Agency and member of many diaspora organisations, Dr Vincent Adams, has said that the diaspora is pivotal to Guyana's oil and gas future.
"When you bring foreign entities, companies, individuals, they are coming for one reason, and the bottom line is to make a profit. The diaspora, this is where their navel string was cut. They left Guyana and have accumulated the resources, wealth, education…not only had they been contributing to Guyana for the most part of their life," Adams had told this newspaper in a recent interview.
He also gave similar views to US financial
magazine Bloomberg which has said that whether Guyana becomes "immensely rich or just another Trump-hole" from oil revenues, depends largely on its ability to attract specialty experience and competencies in industry and sectors here.
"Guyana could attenuate the brain drain by reaching out to its diaspora," Bloomberg had last year reported.
"There are more than 100 reported expatriate organizations, and as a group overseas Guyanese consistently send more money back home than foreign investors plow into the economy every year," the report had said.
Adams said his views remain the same and he hopes government would plan its programmes around this.
"I have seen numbers as high as 40% of the GDP coming from the diaspora. They have never left here really. They might have left physically, but they obtained a lot and a lot has been coming into Guyana. This whole notion of a diaspora doesn't mean that they have given up and left. We have families and friends here, people we care about and it's what decisions would be based on when [we] think of investments for this country. What I know the diaspora would like to do now is share a lot of that which they have gained. A lot of them are retired and a lot wants to genuinely give back. They would bring part of the leadership. I know that a lot of people do come back and perform similar activities so they never really left; in spirit their souls are here," he said.
"I can find a job or position that we need here, any, and I mean any, I can find that in the diaspora. This is not a Johnny-come-lately thing. They had been contributing. I have been advocating that the government should have a diaspora plan and a directory of diaspora persons so if they need help there is that reference. I must point out too that they are networking and interfacing with investors and persons from all over the world and are proud to share about this country. They would look out for Guyana's interest because in a sense it is their own interests," he added.
Braithwaite is expected to echo these sentiments when he turns the sod for the planned 130-room Hilton at Ogle and as he unveils plans that could see the creation of jobs for as much as 300 persons during the construction phase and over 100 after project completion. "He is focused on local content and the development of Guyana's human resource. He just wants Guyana to develop and realise its full potential," Braithwaite's associate said.