September 10 ,2020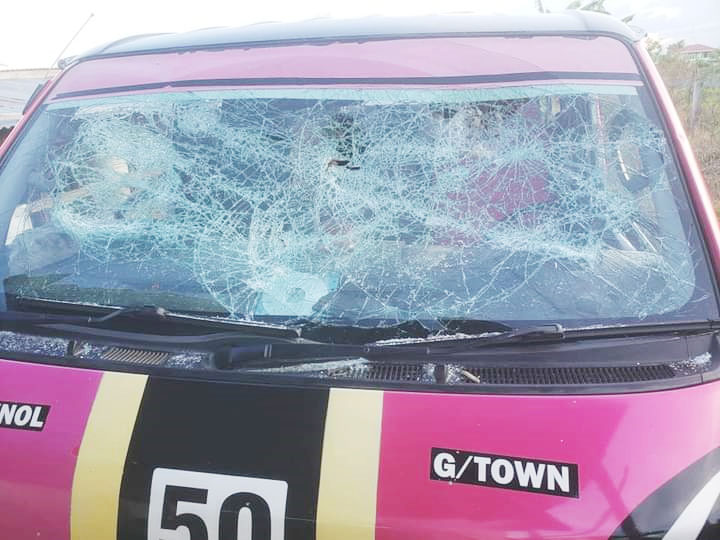 Stoned vehicle
The unrest in Region Five yesterday escalated with groups of armed persons attacking and robbing road users throughout the region, while reports have emerged of persons stoning and torching a house and a barber shop in two areas.
As of last evening, protest actions were still ongoing for Isaiah and Joel Henry in Number Three Village, Number 5 Village, Hopetown, Number 26 Village and other areas, while residents of Cotton Tree and Bath Settle-ment were also protesting over the death of Haresh Singh, whose body was discovered in Number Three Village, yesterday. The murders of Isaiah and Joel triggered the unrest on Sunday.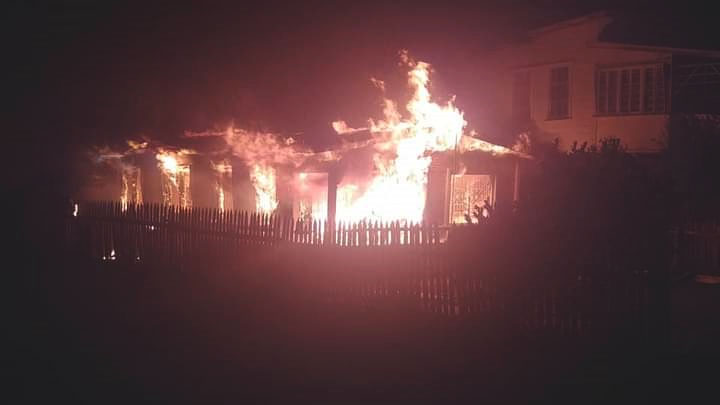 Torched home at Bel Air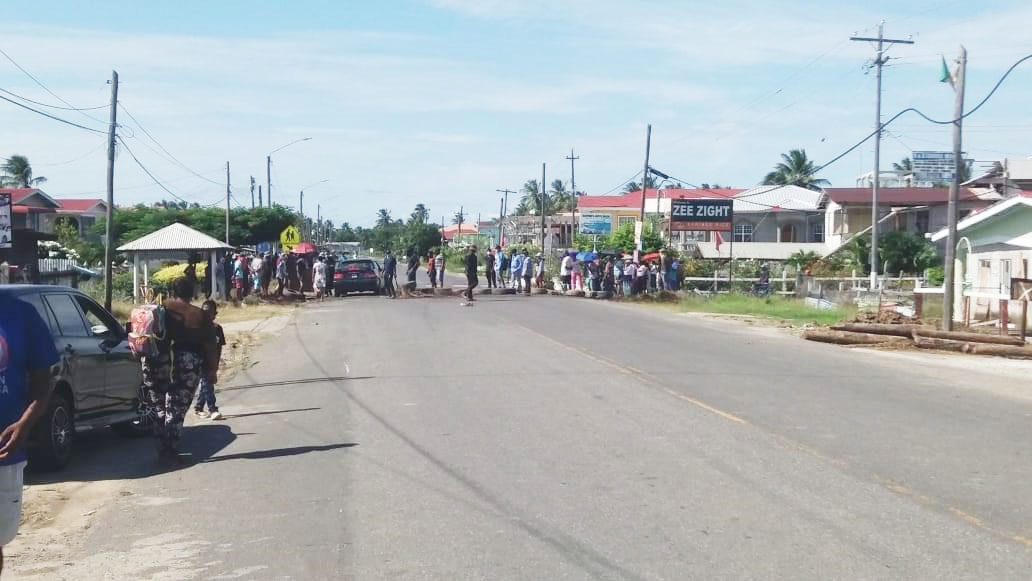 Blockade across the road yesterday
According to information reaching this newspaper, several residents and road users were attacked by groups of armed persons in all of the areas mentioned above and other areas as well.
A police source on the ground said that they were able to get the majority of the persons who were stuck since Sunday to their destination and off of the main public road yesterday morning.
He said, that persons had been ganging up in areas, imbibing and attacking buses and cars.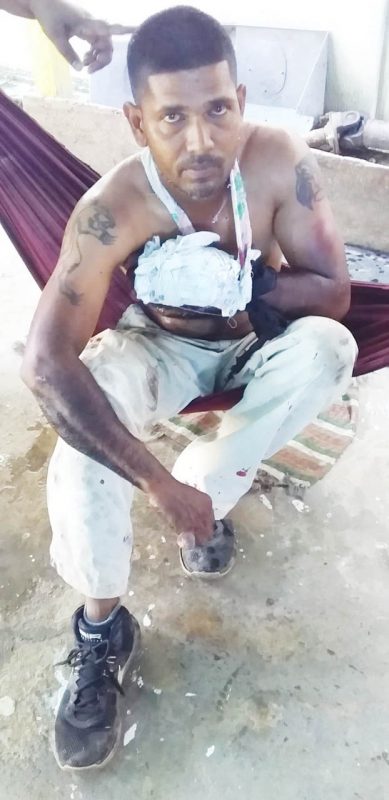 Rajendra Dasrat
Rajendra Dasrat of Golden Fleece, West Coast Berbice, sustained a chop injury to his hand and other injuries to his back yesterday after he was attacked and dragged out of his employer's vehicle, which was subsequently torched.
According to a relative, Dasrat was heading to the rice field located in Burma backlands when he was attacked by a group of persons, after which his employer's vehicle, GLL 8624 was torched. "He and another worker was going to the rice field and they pull he out and beat he … He say they go fa chop him in his face and he bar with he hand so come he hand get bad chop and he back."
The second person who was with Dasrat intervened and rescued the man but they were unable to save the vehicle.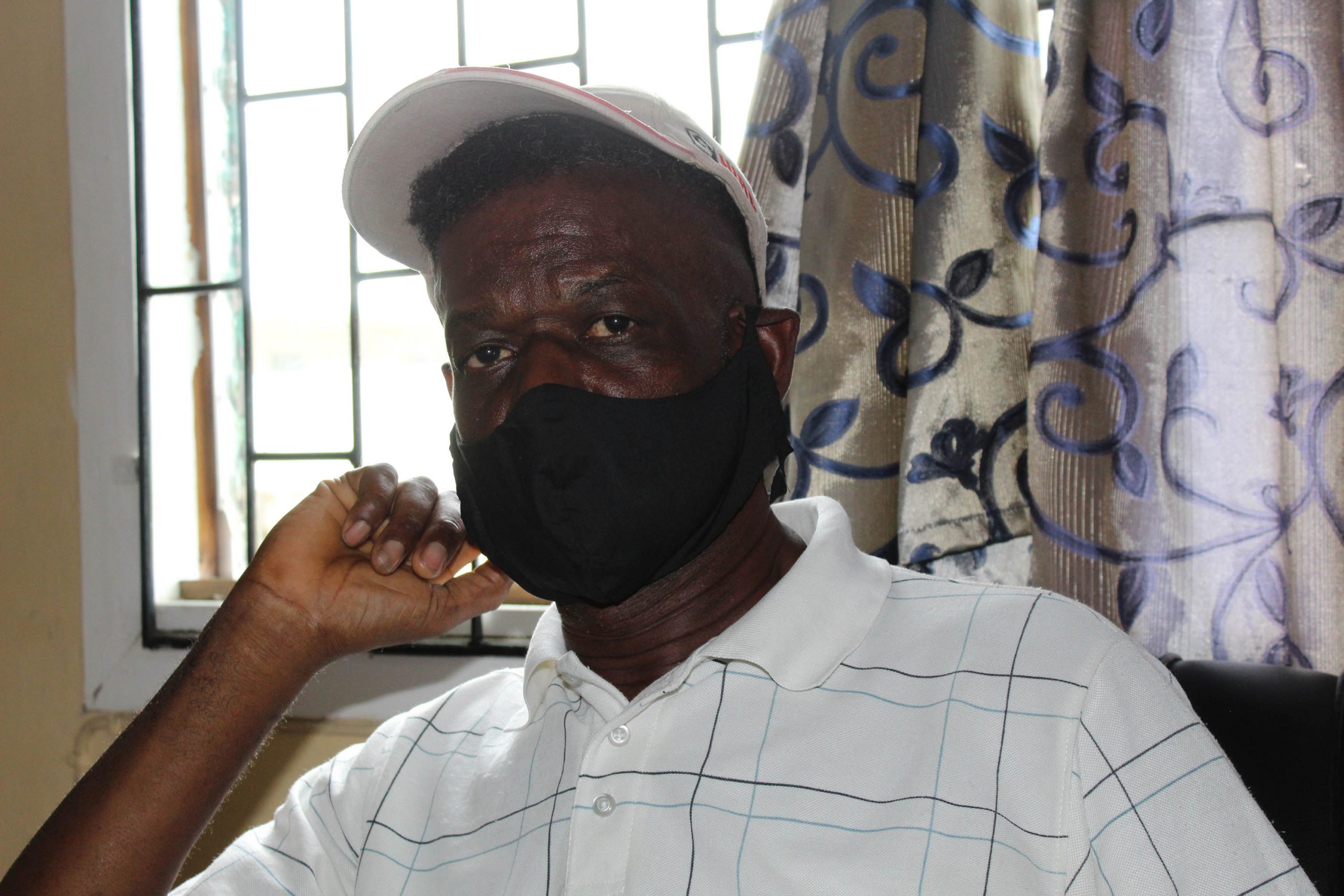 Ian Jones
Meanwhile, a tourist, Ian Jones, 64, yesterday recounted his experience after he was forced to spend the night in his car due to the protest action along the roadway.
The man who resides in London, UK, said that he left Georgetown on Monday morning but was stuck at Number Five Village, West Coast Berbice for the entire day due to the protest. However, he said, while the road was blocked, the protest seemed peaceful while he was there.
He said after waiting for some time, he decided to turn around but got stuck at Hopetown Village, West Coast Berbice, "They cleared the block and then the people put it back."
He then decided to turn around again to attempt to head to Region Six, where he first intended to go, "I get as far as Bath village, the people block the road and I tried to negotiate around it and as I went around they start throwing bottle and smash my back windscreen and then somebody come around and lash me with a wood," he recounted.
"This could have been anyone passing through and randomly somebody caused me actual bodily harm and damage to property and start pelting bottles and I had to drive away," he noted.
He then turned back to Number Five Village, where he met police officers and informed them of his experience, "But they did nothing," the man lamented.
"There is about twenty police standing there and as I was there it had a woman who hand was slashed on a bike and the police stood there and nobody went and see what was going on."
He said he also noticed two other vehicles arrive with their windscreens broken. "This was going on from 7 o' clock right up to 9 o'clock, people passing with damages."
The man stated that he spent the night in his vehicle and then decided to get out the following morning and walked until he was able to board public transportation.
After arriving in Region Six he visited the New Amsterdam Police Station, where he was asked to find and identify the people who attacked him. "So I must get out of my car [while] people rushing with cutlass, so I can find out who they is, that's what they [police] said to me."
Meanwhile, he added, "I want to tell other people who are touring or rushing around who will come into the country to do work and visiting you got to be aware of these places that are violent."
Brewing
People should not come to this country as tourist as long you have not sort this situation out that has been brewing for years, its unacceptable because it happen randomly so you cannot be safe." he opined.
The man said that he has been travelling around the world for many years and this is the first time he has had such an experience.
He is yet to locate his vehicle which he left in the West Coast of Berbice.
On Tuesday evening a group of persons torched a one-flat house in Bel Air Village, West Coast Berbice, and a barbershop in Number 28 Village, West Coast Berbice.
Sharon Hiralal told Stabroek News that her brother, who owns the house, was not a home at the time it was torched. According to residents in the area, a group of persons first began stoning the house after which it was torched. Hiralal said the family is unaware of what may have led persons to attack the house which has been in the family for several generations.
Meanwhile, a Bushlot barber who operates his business at Number 28 Village, West Coast Berbice, said he first received information that a group of persons were breaking into his shop. However, he was later informed that his business was on fire.
Protest action also continued in New Amsterdam and Skeldon yesterday in Region Six.
A police source told Stabroek News, that on Tuesday evening they responded to a total of nine fires in the town of New Amster-dam. He said, they arrived and quickly put out the fire while encouraging protesters to protest peacefully.
However, in New Amsterdam yesterday afternoon protesters gathered on the main road where they stoned a police officer's private car. Stabroek News was told that the rank had worked the night before and had responded to several fires with the other police.
There have since been reports that two houses were also stoned in Fort Ordinance, East Canje Berbice on Tuesday evening.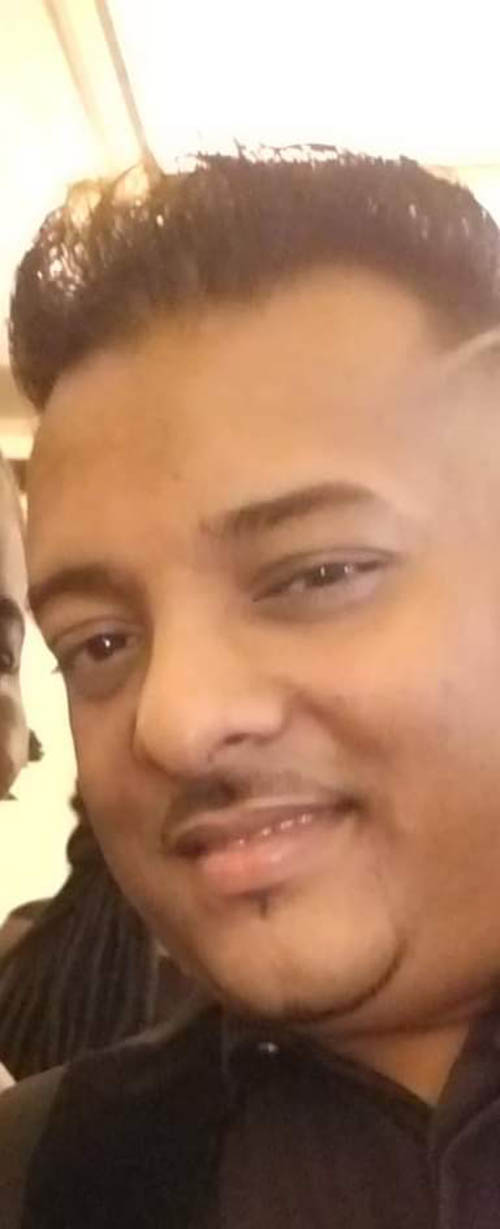 Roy Jafarally
Roy Jafarally, a chef who operates a catering service in Fort Ordinance told Stabroek News that his family, especially his daughters are extremely traumatized, "I don't know how I'm going to get my daughters over this and my wife," the concerned man said.
According to Jafarally, a group of men stormed his area around 11.45 and started to stone his house and two of his vehicles which were parked in his yard. "They blocked off the entrance so because I'm the chairman [of the NDC] people called me so I called the police and I think the police came and clear the area but I'm thinking after the persons did not get to start the fire they came in back the village to terrorize residents."
He related that he also found a bottle of engine oil in his yard yesterday morning. "I am an NDC chairman and my wife was chosen to be a regional councillor [for the PPP] so I don't know if that is why we were targeted."
Additionally, he said: "We are humanitarians, we do humanitarian work in Fort Ordinance, we share gifts, we share hampers, we help everybody in our village so we don't really have problems with anyone."
Stabroek News was told, that the house of a librarian who resides in Fort Ordinance was also stoned that same evening.
Regional Chairman, David Armogan, yesterday condemned the murders of the Henry boys and Singh while calling on persons to protest peacefully.
According to the chairman, they have received at least two reports from residents of Region Six of rice trucks being torched on the West Coast Berbice.
He suggested the government will now have to look at that situation with a view to helping those persons since one woman had indicated that the torching of her truck might have crippled her business.