Trump-Kim Hanoi summit gets off to shaky start
Newsletter: A closer look at the day's most notable stories
Jonathon Gatehouse · CBC News ·
North Korea's leader Kim Jong-un sits in his vehicle after arriving at the Dong Dang railway station in Vietnam, at the border with China, on Tuesday. (Athit Perawongmetha/Reuters)
The perils of speed-summits
The second "peace summit" between U.S. President Donald Trump and North Korean dictator Kim Jong-un has come together at lightning speed for a big, international event — in just over a month.
And as the two leaders arrived in Hanoi, Vietnam, this morning, the hasty arrangements were on full display.
The agenda for the two-day confab is still being hammered out, with an initial meeting and a "social" dinner set for tomorrow evening Vietnam time and then perhaps as many as four face-to-face sessions on Thursday.
U.S. President Donald Trump arrives at Noi Bai Airport for the summit with Kim in Hanoi, Vietnam, on Tuesday. (Kham/Pool/Reuters)
The purpose of the discussions is hazy, too, with Trump indicating he may come away without any sort of deal beyond the vague denuclearization vow the North Koreans made during the first summit in Singapore last June.
Although the clearest indication of seat-of-the-pants flying came when Kim arrived in the Vietnamese capital Tuesday and checked into the five-star Melia Hanoi — the same hotel where the White House media had booked rooms and set up a press filing centre. The reporters and TV crews were given an hour to clear out and find new digs, which isn't sitting well with some big U.S. network stars, still cranky after a 20-hour flight.
In nearly 10 years covering the

@

WhiteHouse

, having been on Presidential trips to more than 100 countries, I have never seen the White House Press Corps kicked out of our unilateral press/broadcast center by request of a foreign leader.
For example, in Buenos Aires, we were in the same hotel as French President

@

EmanuelMacaron

and there was zero problem. Kim comes to Hanoi and we get evicted from space we had bought and paid for just because he is in the same hotel.
The North Korean leader's trip was even longer, featuring a cross-China train trip of 50 to 70 hours (depending on which source you believe) including smoke breaks.
The green bullet-proof train with 21 carriages is reportedly quite luxurious, fitted out with comfy pink leather arm chairs, big-screen TVs, private sleeping and dining quarters and an all-white conference room.
It also carried the Mercedes-Benz limousine that ferried Kim over the final 160 km from the Chinese border, since the two countries' rail networks use different-sized tracks – a legacy of past invasion fears.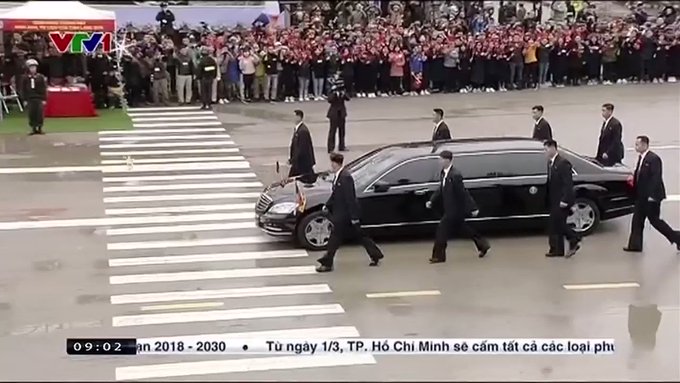 Reuters Top News
✔
@Reuters
The train trip may have been borne out of necessity, rather than travel preferences, since his official Soviet-era government jet is no longer considered safe enough for the Supreme Leader.
The sanctions that the United States and other Western nations have imposed on North Korea prevent Kim from buying a new aircraft, but apparently not luxury cars, as he has recently been observed tooling around Pyongyang in a Rolls Royce Phantom and a new armoured Mercedes Maybach S600, a vehicle with a base price of more than $500,000 US.
At a time when the North Korean government is seeking urgent assistance from the UN's World Food Programme, saying that the combined effects of drought, floods and sanctions have forced it to impose 300g per person rationing, Hanoi will provide a prosperous contrast.
Some of the face-to-face meetings will take place at the historic Metropole Hotel, which has hosted celebrities from Charlie Chaplin to Jane Fonda, and where Graham Greene wrote The Quiet American. There's a shopping concourse with Chopard, Patek Philippe and Hublot boutiques, and visitors can tour the Vietnam War-era bomb shelter that was tunnelled out beneath the hotel bar.
(Trump is staying down the road at the JW Marriott, which promises five-star accommodations and "the pinnacle of luxury," including a spa, indoor pool, "sumptuous bedding" and the Cool Cats Jazz Club.)
Deal or no deal, the U.S. president will fly home on Friday. Kim, however, may stick around for a couple of days of sightseeing, with members of his advance team having already scoped out the Ho Chi Minh Mausoleum and Halong Bay, a famous coastal beauty spot 160 km from Hanoi.
It's not clear if either leader will check out one of Hanoi's newest tourist attractions.
But some of the reporters already have.