Trump heads to India, where massive rally and Taj Mahal visit await: What to know
President Trump is headed to India for a huge rally with Indian Prime Minister Narendra Modi on a visit meant to highlight the relationship between two countries that have become strategic allies in recent years.
Trump may address the largest crowd he ever has on Monday before he and members of his administration attend a set of Tuesday meetings, concluding with a state dinner.
Here's what we know about Trump's trip to India:
He may address a crowd of about 110,000 at his Monday rally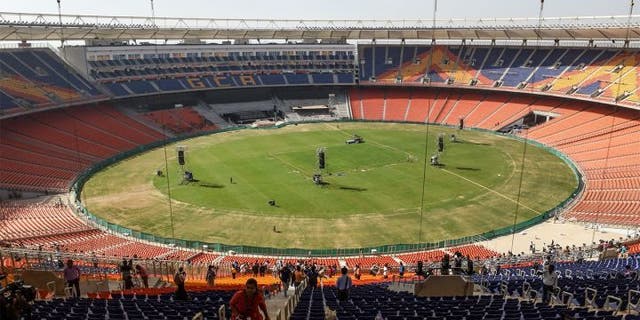 INDIA WANTS TO ELIMINATE TAJ MAHAL AREA'S 'FOUL SMELL' AHEAD OF TRUMP VISIT
The Trump-Modi rally on Monday will be the first event in the newly renovated Sardar Patel Stadium, the largest cricket stadium in the world, with a capacity of about 110,000, according to the Times of India. That is approximately the size of some of the largest college football stadiums in the United States.
The rally, named "Namaste, Trump," is a sequel to the "Howdy, Modi" rally Trump and the prime minister attended in Houston last September.
With little in the way of official proclamations expected to come from Trump's excursion to the subcontinent, the rally will likely be the highlight of the trip, with Trump taking advantage of the chance to speak before a large, adoring crowd in another country.
Trump and First Lady Melania are joined by a 12-person delegation
The president, who is joined by his wife Melania on the India visit, will also bring a 12-person official delegation, including some of the highest-ranking economic and foreign policy officials in his administration: