Top performers speak of career paths, and more studying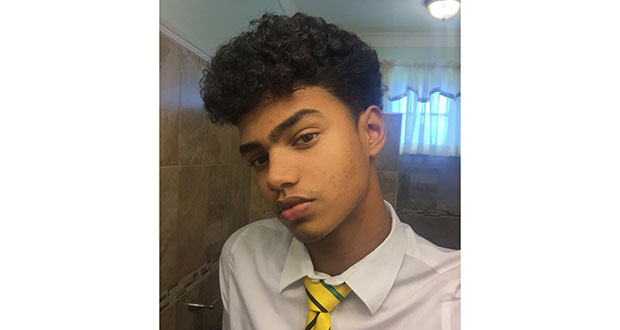 Kayshav Tewari – 19 Grade Ones
"TRULY, I always knew it in my heart that I could do this, even though seeing my results still sends chills into every inch of my body," said Kayshav Tewari, decorated with 19 grade ones, "I still get ecstatic even thinking about it."
In expressing his gratitude, he said, "I would like to thank mother Saraswattie for her grace and blessings in guiding me to do my best." He said his parents were his true inspiration, while his teachers molded him. He also had words of thanks for all his friends and colleagues. Giving advice to his fellow students, he said, "Excellence isn't a skill. It is an attitude. When students set out to accomplish a goal they must believe with all their heart that they can do it. The moment one loses that conviction you lose everything else. Believe in yourself and have faith in God." He also charged all his peers "to appreciate that as children of this great nation we must strive to put all our efforts to make it better." He said that he would like to pursue studies in engineering and later on in life, philosophy.
Aadilah Ali – 18 Grade Ones, three Grade Twos
Aadilah, en route to continuing her vacation Wednesday said, "I didn't expect to do this well, owing to the fact that some of the exams were a bit difficult. I'd like to thank God for blessing me with this achievement, my parents for their support in all aspects and for always believing in me."
The ambitious young woman, who achieved 18 grade ones, 3 grade twos and one grade three said that she will be furthering her education by attending Sixth Form at her alma mater- Queen's College and writing CAPE, where she plans on going into the Natural Sciences stream. She aspires to become a Pediatrician.
Sariah Singh – 10 Grade Ones
Earning 10 grade ones, Sariah Singh was full of gratitude for all those who helped her along this journey, including God; her family for their continuous support and love; her teachers for always guiding her; and her friends for always encouraging her to do better and being by her side. Though she is unsure of which area she would specialise in, Sariah would like to become a doctor. For now, she will be returning to Queen's College to further her studies.
Keval Lall – 15 Grade Ones
Surprised at the unexpected 15 grade ones he received, Keval Lall, from the Anna Reginal Secondary School, noted that "the exams were very hard" and he didn't feel as though he put in as much as he could.
His success indeed didn't come easily, as he mentioned having to attend many lessons and study diligently. However, he is thankful to everyone who helped him along the way to his success, most importantly his parents, brothers and school mates. He said his favorite subject was Electrical and Electronic Technology. Keval wishes to pursue a career in engineering.
Shafeek Rayman – 13 Grades Ones
This Queen's College student remains astounded by his performance after earning 13 grade ones and 1 grade two. He accredited his success to God, who he said helped him to overcome all obstacles, his parents, his aunt Merlyn and all of his teachers, especially his Business Studies teachers and of course, his friends. He sought to encourage all students writing the examinations in subsequent years by saying, "hard work and dedication definitely pays off." He is seeking to have a career in the field of accounting.