Teixeira mulling run for PPP/C's presidential candidate
July 30 2018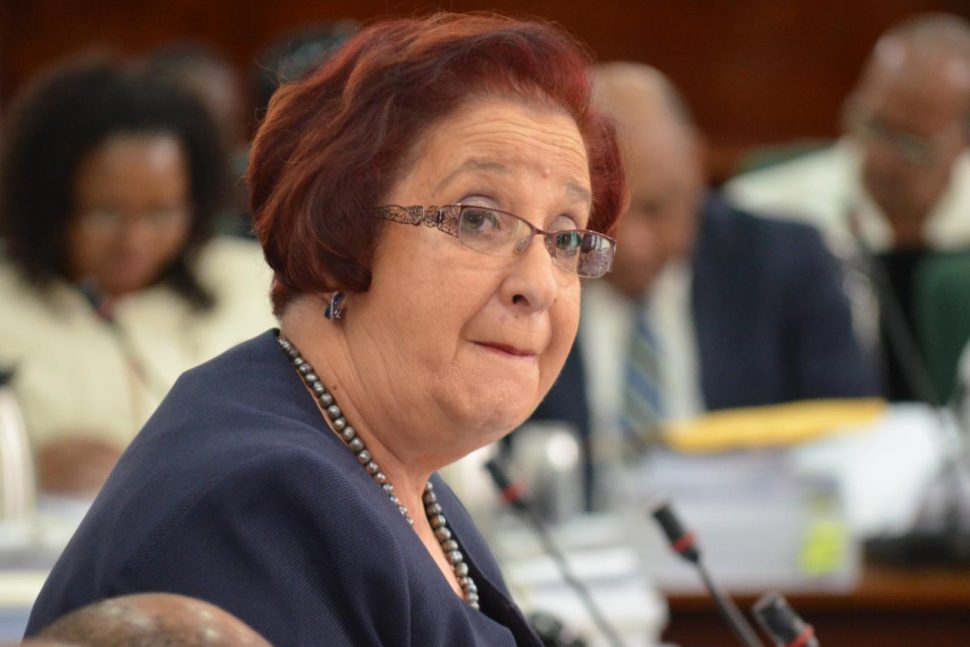 Gail Teixeira
Long-serving executive of the People's Progressive Party, Gail Teixeira, is considering contesting for the presidential candidate of the party when it holds its nominations later this year.
"There are some of us who are considering, not only the ones named so far and we will make our decisions known at the appropriate time," Teixeira told Stabroek News yesterday.
A People's Progressive Party/Civic (PPP/C) presidential candidate will be named before this year's Local Government Elections but party leader and General Secretary, Bharrat Jagdeo, has warned potential nominees to be cautious in their public campaigning.
Sources told this newspaper that it is not the first time that Teixeira, has considered running for the position since she was also nominated back in 2011 but chose to stand with former President Jagdeo in his endorsement of his successor, former President Donald Ramotar.
One source said that Teixeira has "great internal support" and is respected and admired for the performance of her Chief Whip duties in the National Assembly.
"She is just as capable and is as deserving, if not more, than many who have shown interest. Gail is a powerhouse, do not mind her height. She has great support, I think always had, great internal support and she is respected by all for that Chief Whip position she holds," the source said.
"Gail stands by Bharrat in all of his decisions and when in 2011 Donald was proposed, although she wanted that chance, she allowed him. I guess she thinks it is only fair that now be her chance …but I am not sure if she will get the support from Jagdeo that she thinks," the source further added.
Although Jagdeo as PPP General Secretary is currently the de facto party leader, his ineligibility as the next presidential candidate is being seen as an opening for younger members of the party who fancy their chances of running or being part of a ticket. Former Minister of Culture, Youth and Sport Dr. Frank Anthony and PPP/C MP Dr. Vindhya Persaud are both seen as potential candidates who can be successful.
Jagdeo has already declared that he intends to be a part of the next PPP government, but sources within and close to the party believe that he is likely to also face resistance from both younger members who have their own support bases as well as the party's old guard, with whom he has long had an uneasy relationship, including during his 12-year presidency.
Former Parliamentarian Charles Ramson Jr has publicly announced that he wants to be the party's Presidential Candidate while former Attorney General Anil Nandall has said that he will serve in whatever capacity his party sees fit.
Sources had previously told this newspaper that Anthony, Nandlall and former Housing Minister Irfaan Ali were seen as being the most likely presidential candidates in the event that the CCJ upheld the presidential term limit. The CCJ has upheld the constitutional provision and there is much anticipation about who will be the PPP's candidate.
While he has personal favourites, Jagdeo has said that he will not be lobbying publicly for any candidate but says that he wishes all of them well in their nominations and selection.
"There are lots of people that I like and very competent people too. I wish them all well," he said as he assured that the selection process will be finished by the end of the year and the party will focus on its 2020 campaign strategies.