February 28, 2017 Source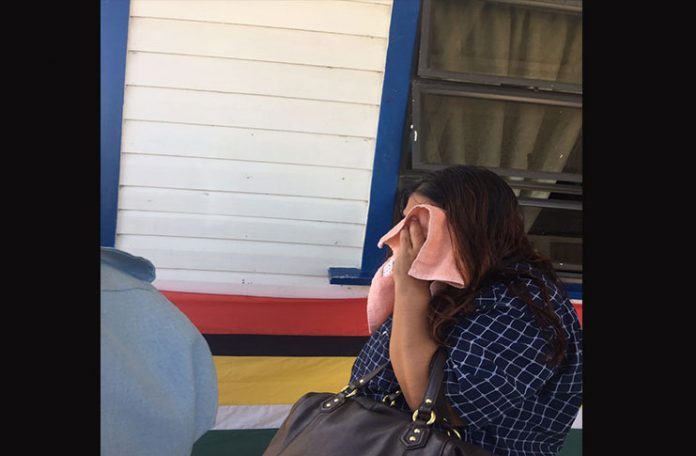 Suspected mastermind, Indira Outar hides her face as she leaves the Whim Magistrate's Court
THE alleged mastermind in the murder of domestic worker, Lelawattie Mohamed, who was gunned down in her Tain, Corentyne home on February 7, was charged with the indictable offense on Tuesday.
Indira Outar, 43, of Lot 8 Block 4, Tain Settlement, appeared before Magistrate Charlyn Artiga at Whim Magistrate's Court and was not required to plead to the indictable offense of murder.
She was represented by Attorney-at-Law Mursaline Bacchus. The businesswoman, who owns a sawmill at Edinburg East Bank Berbice, was remanded to prison until March 14, 2017. It is alleged that between January 1 and January 7, 2017, she procured five persons namely: Oliver Permaul, 34, and his wife Nazeema Permaul, 42 both of Lot 100 Tain Settlement; Andre James, 26 called "Tatoo man", of Lot 46 George Street Rose Hall Town; Rohan Johnson 39, called "Jamaky" of Claredon Jamaica and of 107 Second Street Rose Hall Town and Shabiki Alert Thompson 28, the common law wife of Johnson.
These five persons were jointly charged with the murder of Mohamed on February 15, 2017. On February 27, Outar in the presence of Attorney-at-Law Chandra Sohan turned herself into the Whim Police Station; she was subsequently placed under arrest after investigators received pertinent information.
On the day of the murder, two men stormed into the Lot 145 Sixth Street Tain Settlement home of Lelawattie Mohamed, 45 and cold bloodily executed her in the presence of her son and daughter. They shot her in the throat at point blank range under the guise of a robbery
According to reports, the motive behind the murder of the mother of four is jealousy. Itis alleged that the husband of the alleged mastermind was having an affair with Mohamed; this allegedly made her angry and she ordered the hit on the woman. It is believed that that Outar was having an affair with a barber and solicited his help in getting the hitmen.
Reports indicate that Johnson and James were the hired hitmen who reportedly carried out the act for an agreed sum of $4M, however only $400,000 was handed over to the men, while Alert-Thompson was given the cash by Johnson that was collected. Additionally, Oliver Permaul is said to be the one who solicited the men on behalf of the businesswoman who lives at Tain, while his wife Nazeema Permaul assisted in planning and also acted as an agent, who allegedly handed over the cash to another woman, who then handed over to the "hitmen."