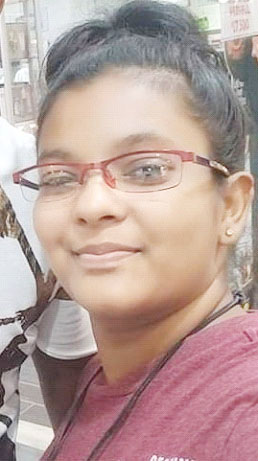 Shaliza Jafferally
Feb 11 2019
The police have obtained legal advice to charge the student accused of making bomb threats that forced the cancellation of classes at the Turkeyen Campus of the University of Guyana (UG) and she is expected to appear in court today.
Attorney Latchmie Rahamat, who is representing the accused Shaliza Jafferally, last night told Stabroek News that her client remains in police custody and will be appearing in court today to answer to the charge.
She said that police yesterday afternoon informed her client that she will be charged with the offence of misuse of a telecommunication device under the Telecommunica-tions Act of Guyana.
The attorney said that her client's constitutional rights have been breached as the maximum 72 hours detention period expired yesterday at 10 am. She contended that calls to Crime Chief Lyndon Alves and investigating ranks went unanswered throughout the day. It was at 4 pm yesterday, she said, that her client was informed that she will be charged and because of that she would not be granted bail.
Stabroek News understands that the woman was arrested after records from her phone linked her to the threats. The young woman was arrested on Thursday morning at her workplace.
On Thursday, UG announced that classes at its Turkeyen Campus had been cancelled for the remainder of the week following a second bomb threat. The first threat was issued on Tuesday, while the second was on Wednesday. The University, in a statement, had said that the campus will be closed to the public, students and non-essential university personnel to enable a thorough assessment of the situation.
The release had said that police and fire service officers conducted a thorough search of the campus on Wednesday. "No explosive of any kind or suspicious object was found during this search. The closure of the campus will enable the Administration, staff and Student Leaders to review the situation and enhance preventive and responsive measures for such threats," the statement said.
Classes and full operation of the university are expected to resume today.