Shawn Hinds claims he was hired to kill Journalist Ronald Waddell … says two Police officers beat him to 'hit'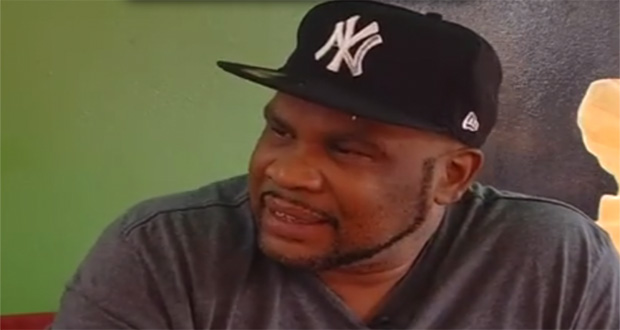 Shawn Hinds claims he was hired to kill Journalist Ronald Waddell … says two Police officers beat him to 'hit'
SOME nine years after the death of Guyanese journalist Ronald Waddell, who was gunned down in front of his home in 2006, self-professed former Death Squad member, Shawn Hinds, has come out to say that he was hired to kill the journalist, but was beaten to the job by two senior Police officers. Waddell met his demise in 2006 after he was gunned down in front of his Bel-Air residence. The Police presented details on the case, but investigations have not borne fruit.
Hinds, in an explosive exclusive interview with HGPTV Nightly News, told anchorman Travis Chase that he was given a contract to murder the now-deceased journalist, who was known at the time for his harsh criticisms of the People's Progressive Party/Civic (PPP/C) Government in his television programme, 'Taking Care of Business'. "I deh pun de seawalls looking out for the man, cause I tell them I on the seawalls. They operate like Special Branch," Hinds told the news agency about the night of Waddell's murder. "When you feel is you alone got a job, other people got em to." He recalled that he was in the vicinity of the seawalls when he received a phone call informing him that Waddell was on the move. Hinds then proceeded to Waddell's Bel-Air residence, but the journalist was gunned down before he got to him. "By de time de man come out de yard. De man ain't went home, yah know," Hinds said recalling the night of Waddell's death, "The man ain't come from the road. He went in he house and as he come out he yard, a car swing Sherriff Street, a blue 212 swing from Sheriff Street." Hinds said a round of gunshots was heard, during which he crouched down in his vehicle. Hinds failed to mention who called him informing him of Waddell's whereabouts, and also who hired him to carry out the acts. He did say however that Waddell was murdered at the hands of two Police officers (whom he named, and one of whom is a retired Assistant Commissioner of Police).
The retired Assistant Police Commissioner has been fingered in a number of other high-profile killings and has been named as being involved in the U.S. visa fraud and the death squad that haunted Guyana after the 2002 jailbreak.
He had also played a leading role in the Target Special Squad of the Guyana Police Force at a time when that unit was named in extra judicial killings and several police abuses. Hinds' revelations come as Police have issued a wanted bulletin for him. The police have not stated what Hinds is wanted for, but other reports point to a possible link to the death of political activist Courtney Crum-Ewing, who was gunned down in the height of the May 11 elections campaign. Hinds not only denied involvement in the murders of political activist Courtney Crum-Ewing, but also the cold case of the death of the former Agriculture Minister under the People's Progressive Party/Civic Government, Satyadeow Sawh and members of his family in Sawh's La Bonne Intention, East Coast Demerara home. (Derwayne Wills)