Shaddup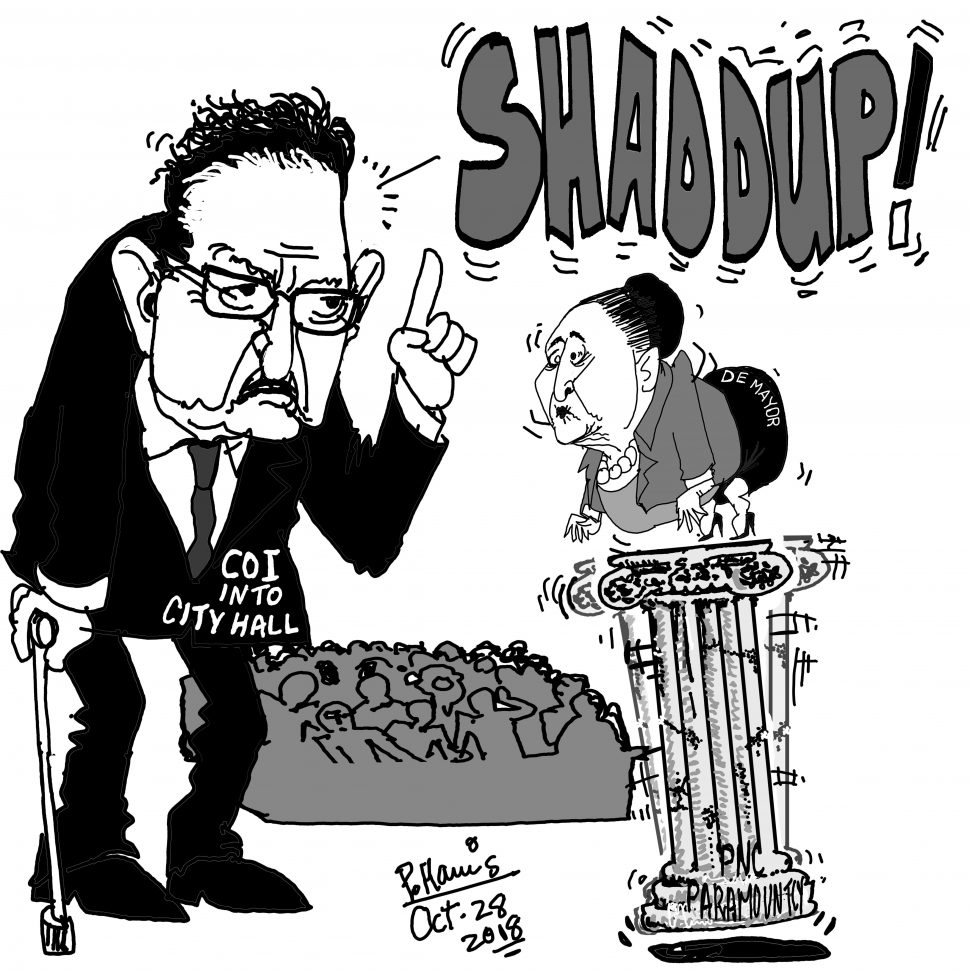 Sunday cartoon, By Staff Writer , Stabroek News, https://www.stabroeknews.com/2.../sunday-cartoon-201/
Original Post
Replies sorted oldest to newest
Demerara_Guy
Moderator
This is not City Hall -- Shut Up
Kaieteur News Cartoon-Oct.-28-2018, Oct 28, 2018 Cartoons, Features / Columnists, https://www.kaieteurnewsonline...cartoon-oct-28-2018/
Demerara_Guy
Moderator
I have no apology for ordering Mayor to shut up – City Hall COI Chairman
Oct 30, 2018 News, Kaieteur News, https://www.kaieteurnewsonline...y-hall-coi-chairman/
Retired Chancellor of the Judiciary, Justice Cecil Kennard has said that he has no apology for ordering Mayor Patricia Chase-Green to shut up during a hearing of the Commission of Inquiry into City Hall, last Friday.
Justice Kennard had upbraided the Mayor for her conduct as she was being cross-examined by Counsel for the Commission, Everton Singh-Lammy.
Chase-Green was at the time facing questions over the no-confidence motion brought against Town Clerk, Royston King.
During an exchange, Chase Green responded to a question by the lawyer by asking him a question. It was then that Justice Kennard interjected and warned the Mayor not to answer in that manner. "You have to answer questions," Kennard had said.
Well, I'm answering, but I did not appreciate the question he asked, Chase- Green responded "Well, say that…Don't attempt to be rude," the Chairman stated, thereafter telling Chase-Green that she needed to shut up listen to the questions.
However over the weekend Justice Kennard faced criticism over his comments.
When the inquiry resumed yesterday, he sought to address the issue.
"First of all, I just have to say that I have no apology for making that statement," he said.
The Judge noted that instead of answering questions, Chase-Green was asking questions of the Commission's lawyer, and even after she was upbraided, she continued to "prattle" Kennard also told those gathered at the public hearing that he is appalled at suggestions that he was unlikely to be fair.
The Judge noted that he intends to perform his duties in accordance with the oath that he has taken to ensure a proper investigation is conducted and recommendations made.
The retired Judge alluded to his qualification and experience as a jurist, noting that he has never been faced with any accusations of being biased in his professional career.
"I can assure all concerned, regardless of political affiliation or otherwise, I will assure everyone that I conduct my duty in accordance with the guidance of the Lord above ," he said.
"No one has ever accused me of being biased and I don't intend to be biased on any issue," said Kennard, who noted he is also the holder of two National Awards – the Order of Roraima and Cacique Crown of Honour – stressing too that his views will not necessarily have any bearing on the recommendations he will have to make to the Local Government Commission.
The retired Chancellor also emphasised that he intends to perform his duties in accordance with the oath that he has taken.
"I intend to act in accordance with the evidence that has been led and will be led," he said.
Add Reply