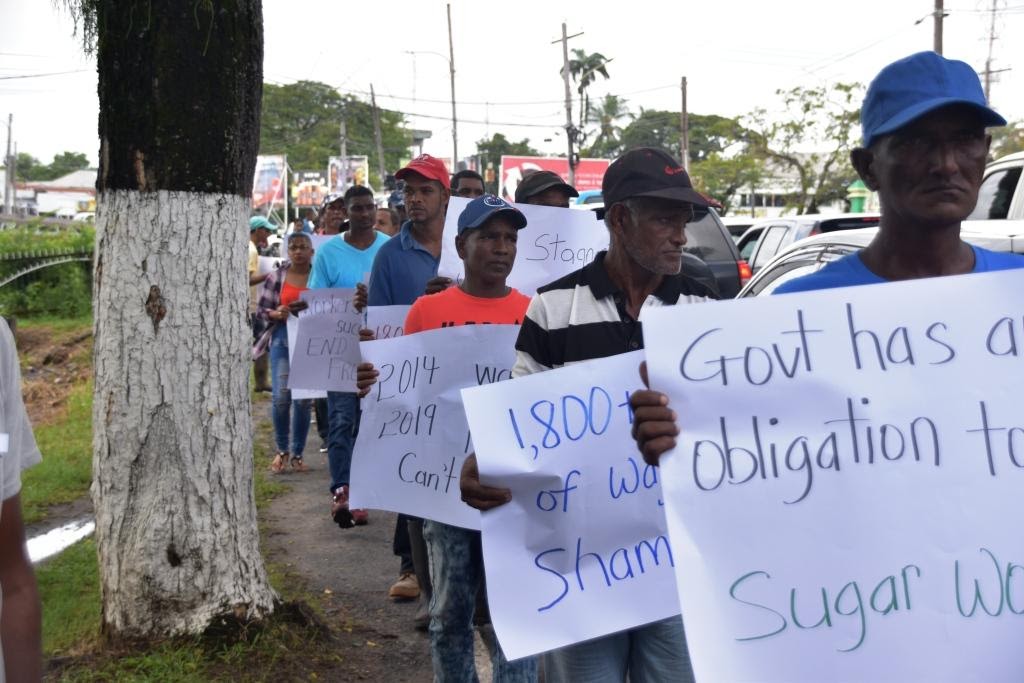 Some of the sugar workers protesting today outside of the Ministry of the Presidency (GAWU photo)
December 3 2019
GAWU says thousands of sugar workers on strike over pay freeze
GAWU says that thousands of sugar workers at the Albion, Blairmont and Uitvlugt Estates have downed tools as they heightened their call for a pay rise.
GuySuCo has not paid increased salaries since 2015.
In a release today, the Guyana Agricultural and General Workers Union (GAWU) said that scores of workers together with officials from GAWU and NAACIE also participated in a picketing exercise outside of the Ministry of the Presidency as they called on the Government of Guyana to bring an end to the wage freeze and to approve a pay rise to them.
The workers and the Unions are contending that the Government ought not to ignore the plight of the workers who are employed by a state-owned enterprise.
The release said that the workers have dismissed utterances by several Governmental officials that it is the Board of GuySuCo which is required to approve a pay increase to them. The workers questioned if this was indeed the case, why was it the Government, and not the Board, that engaged the Unions and other stakeholders on the closure of four sugar estates in recent times. They reminded that it was President David Granger himself, who admitted, that it was the Government that made the decision to close Wales Estate.
"The workers are of the strong view that the Administration has more than a moral obligation to assist them as they reminded that even former President Forbes Burnham, who founded PNCR, the largest party in the Coalition Government, had not treated them as (terribly) as his successors are today", the release said.
The protesting workers echoed the sentiments of Opposition Leader, Bharrat Jagdeo who recently said that there are monies available for a pay rise to sugar workers. They said they were at a loss to know why the Government, which had embraced them prior to attaining office, was treating them with such derision.
"In the meantime, the GAWU is well aware that the Corporation has seen the necessity of granting workers a pay rise. We are knowledgeable of certain proposals that have been put forward by the Management which stress the urgency to grant a rise in pay to the workers. We also have come to know that those proposals have received the support of some in the GuySuCo Board of Directors. Clearly, a pay rise to sugar workers is no longer optional but it is now an imperative. Moreover, the necessity has gained traction and it appears that the decision is ultimately left up to the powers-that-be. Of course, their inaction, thus far, is a clear indicator as to where they stand on the issue", the release added.