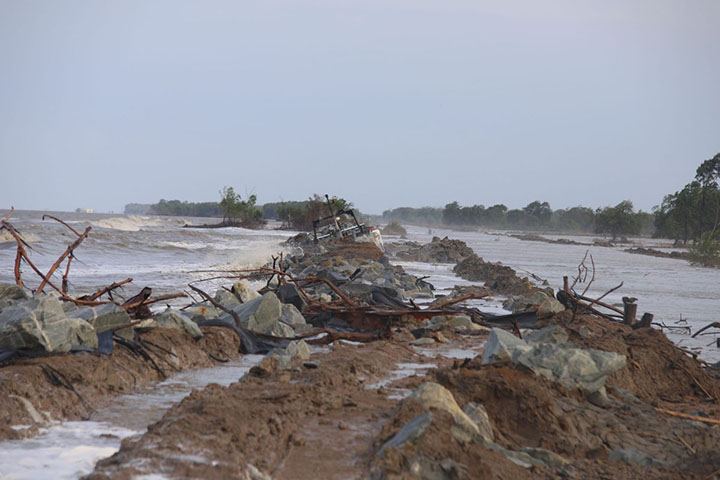 One of the eroded areas at Mahaicony
November 28 2019
Public Infrastructure Minister, David Patterson says $14 billion is needed between 2020 and 2022 to effect "urgent" repairs on 32.9 kilometers of Guyana's sea defence, failing which, locations across the coast will suffer a fate similar to what Mahaicony, East Coast Demerara, has been seeing in recent weeks.
Patterson said that the significance of the financial undertaking required must be considered in light of the fact that his ministry's usual yearly allocation for sea defence work is $2 billion.
The minister made these disclosures last night at the University of Guyana's 21st installment of its Turkeyen and Tain Talks. Last night's theme was "Green Building for Resilient Future Cities", and Patterson said that the subject engaged the attention of Cabinet during its meeting on Tuesday.
He reminded the event's organisers, panelists, and attendees, that Guyana has 473.3 kilometers of sea coastline, which runs from Shell Beach to Corentyne, and shared that of this expansive coastline, "32.9 kilometers are under imminent threat as we speak."
The Minister then warned that without urgent repairs, what has been happening in Mahaicony will begin to happen "all across the country."
In the November 18th issue of the Stabroek News, it was reported that residents between Fairfield and Dantzig, Region Five had been hit by spring tides which had flooded their homes and destroyed crops. The residents became vulnerable as a result of breaches in the sea defence along Dantzig to Fairfield. The three-kilometre stretch along the shoreline was being impacted by major erosion of the foreshore, and depletion of the mangrove fringe.
As a result of such occurrences, Patterson said "we have to start the difficult and painful talk…the costs for 32.9 kilometers is $14 billion…project wise, the ministry is given $2 billion per annum for sea defence work."
Patterson told the gathering that he hoped that the conversation which was to take place focuses on not just theoretical notions of moving Guyana's capital, but includes specifics, such as likely locations, and what or who will be relocated if it is decided that relocation is necessary.
Patterson also acknowledged that moving the capital, if decided on, would constitute a mammoth task, which would, if proceeded with, necessitate the establishment of a high-level committee to look at the relocation of administration centres, and the establishment of an entity tasked with urban planning and development geared toward the necessary considerations.