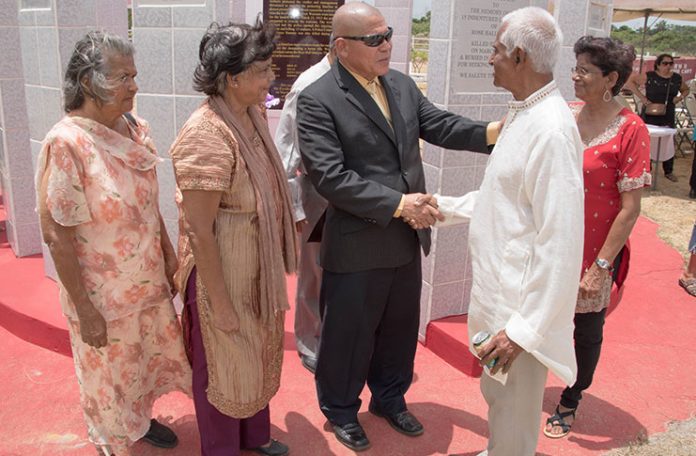 Minister of Social Cohesion with responsibility for Culture, Youth and Sport, Dr. George Norton interacts with Dr. Fred Sukdeo as Ms. Devi Sukdeo (second, from left) and Ms. Pamela Sukdeo-Badley (right) the grandchildren of one of the slain workers look on.
March 14 2018
UNITY was the call as Dr George Norton, Minister of Social Cohesion participated in a memorial and wreath-laying ceremony to mark the 105th Death Anniversary of the 15 sugar workers who were killed at the Rose Hall Estate by colonial masters.
The wreath-laying exercise is an annual event used to pay homage to the 15 labourers, including a female, who were shot and killed on March 13, 1913 for standing up against their colonial master who wanted them to work on a four-day holiday which they had earned and were granted for a good harvest. Fifty-six other persons were injured as the workers protested against warrants issued to those who were seen as instigators.
The police in a bid to get the crowd to comply with their demands opened fire killing Badri, Roopan, Juggoo, Gafur, Bholay Hulas, Motey Khan, Sarjoo, Durga, JugaI,Gobindei, Lalji, Sadulla, Nibir and Sohan.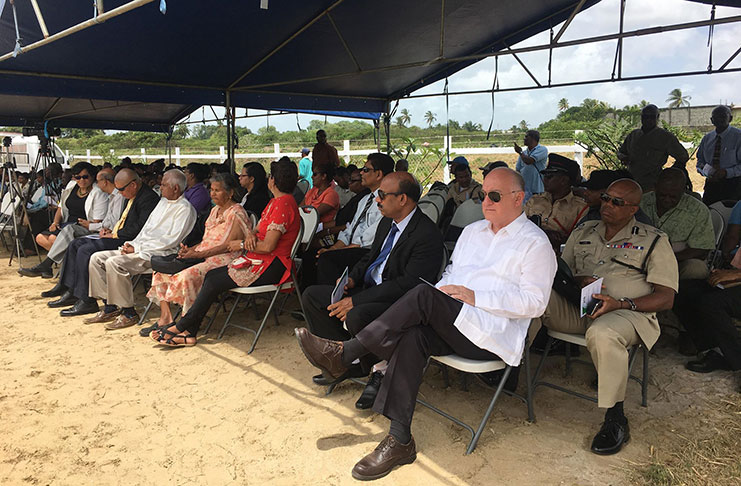 Meanwhile, at the simple ceremony held at the estate's compound in front of the monument, Minister Norton called on everyone to celebrate and emulate the bravery of the fallen heroes. "Those lives were not lost in vain. These men and the lone woman were heroes, they are our martyrs, their struggles lend support to the fight against indentureship, which ended four years after… Not only must we be proud and recognise their contribution to the world we live here in Guyana today, but as Guyanese we must emulate the bravery of those fallen heroes."
Dr Norton continued, that in order to honour the fallen heroes, Guyanese need to unite and stand firm against any form of injustice, not only to self but to everyone. "The events that occurred on that fateful day more than a century ago were an appropriate display of great unity and unity as Guyanese we must emulate. It shows us that when we work together we can influence in a positive way the changes that we wanted."
He went on to challenge the audience to work in unity for betterment of the country and let the martyrs be the inspiration on the path to prosperity. Also addressing the gathering was Regional Executive Officer Region Six, Kim Stephens, who too called for unity, noting that the struggles of the martyrs ensured that future generations can have a better life.
"It is time to put our energy together to ensure we have that good life, it is time as Guyanese we recognise the importance of unity. Each one of us can make a difference and can contribute to the better life of people in Guyana and by extension the world at large. We can see the testimonies of better infrastructure around us, better health and education systems, these are things our foreparents would have worked hard for." She said the time has come "for us to cooperate and build our beautiful country…"
Meanwhile, the PPP's Regional Councillor Zamal Hussain led a handful of supporters who protested the wreath-laying exercise. The protesters were of the view that the government is not looking into the affairs of sugar workers. Hussain is also calling on the government to act on a motion that was passed by the Regional Democratic Council of Region Six for transportation subsidies to be granted to children of sugar workers.