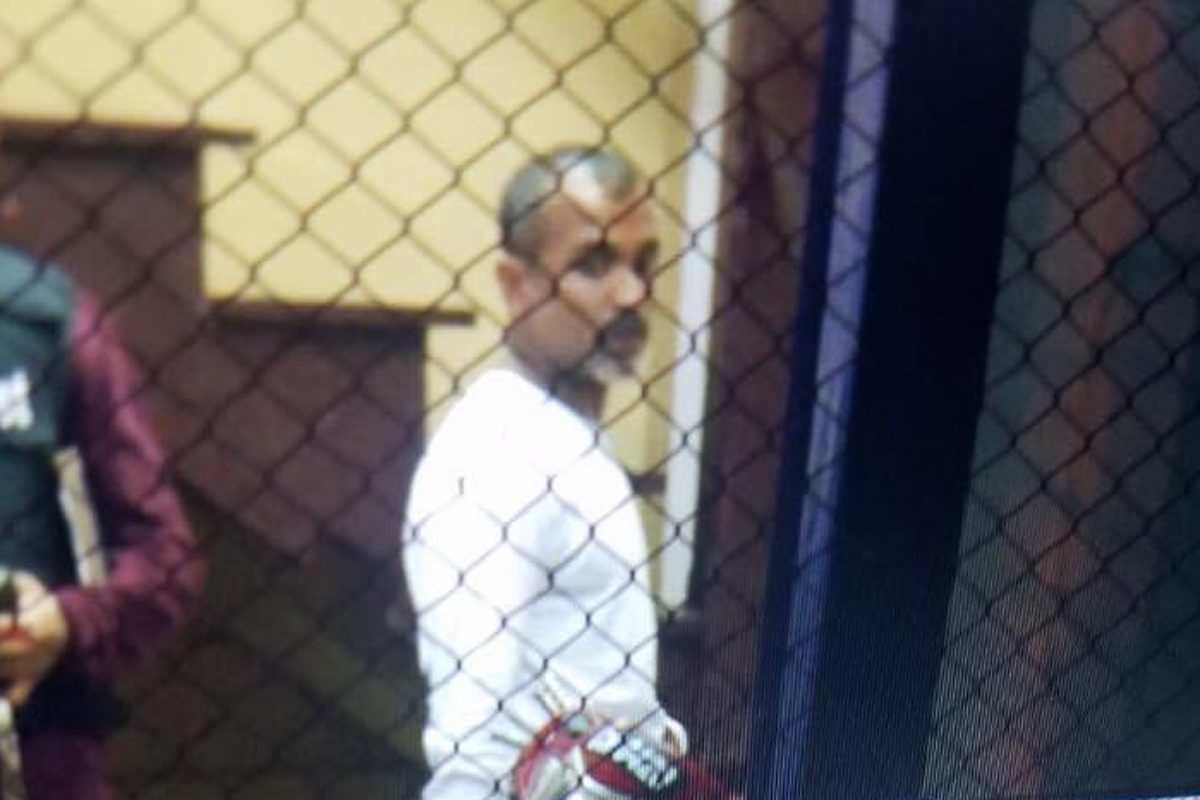 Guyanese drug trafficker Roger Khan
September 21 2019
After serving 10 years in a United States prison for drug trafficking, Roger Khan returned to Guyana last night and was kept in custody by police pending investigations of his alleged involvement in the murders of political activist Ronald Waddell and boxing coach Donald Allison.
Arriving at the Cheddi Jagan International Airport on an American Airlines flight from Miami, which touched down shortly after 11.30 last evening, the 47-year-old Khan was whisked away under heavy police guard to police headquarters in Georgetown.
Although Police Commissioner Leslie James had said Khan would be treated like any other person upon his return, there was an unusually large police presence of uniformed and plain clothes police, as well as members of the Special Weapons and Tactics (SWAT) Unit.
Khan also wasn't escorted out of the airport using the regular exit for arriving passengers; he was brought out through a side entrance in a heavily tinted white pick-up.
The police did not use sirens or lights during their exit and sped off with armed officers heading for the capital and a large contingent of media personnel following.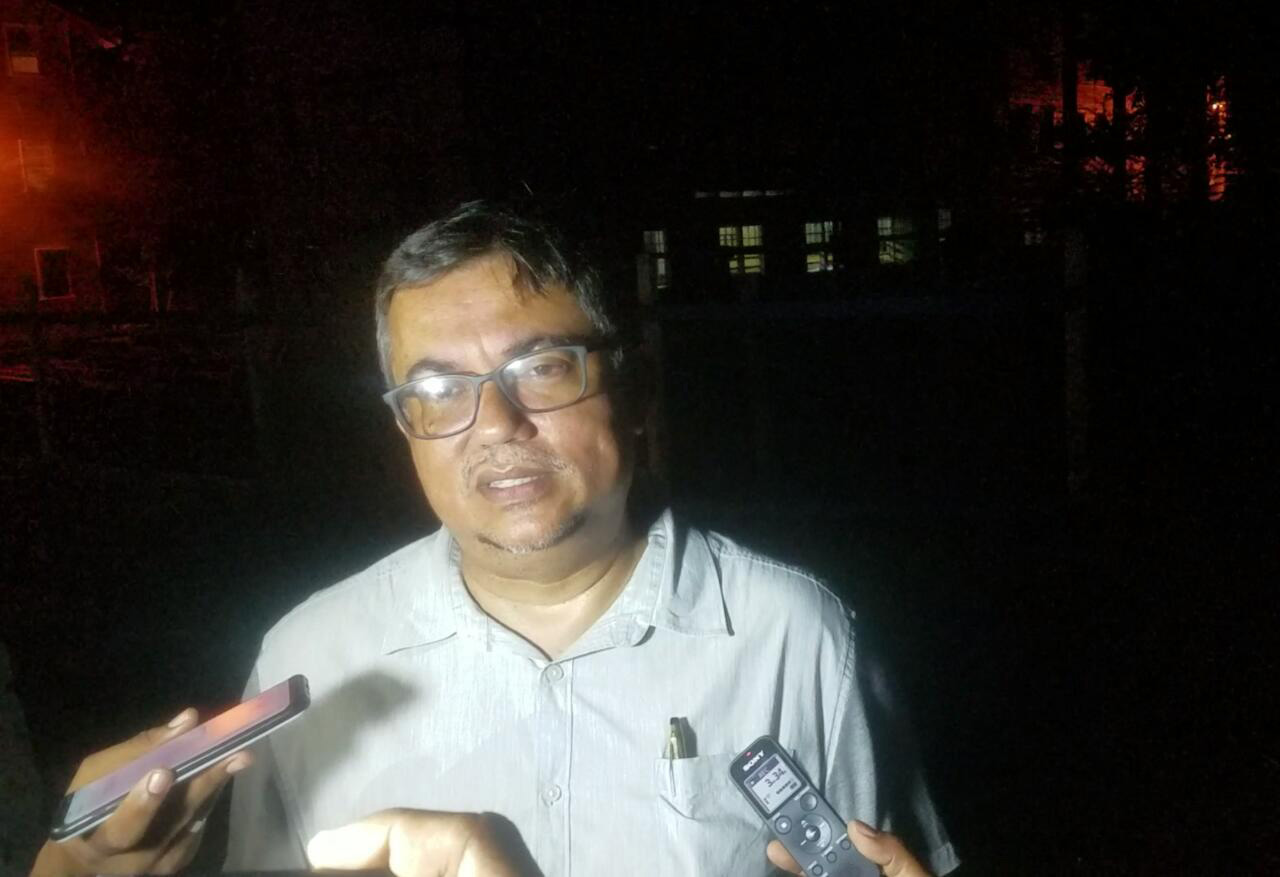 Khan's attorney, Glenn Hanoman, as he spoke to members of the media this morning outside of CID Headquarters.
However, there were police roadblocks set up at Providence and Agricola, which caused traffic congestion. No one was searched at the roadblocks and no explanation was given as to why they were set up.
After calls by press personnel to the Commissioner of Police complaining, the barricades were removed.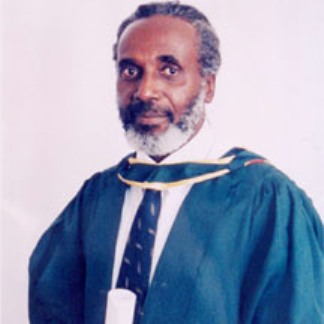 Khan was taken to the Criminal Investigation Department (CID) at Eve Leary, where he was processed.
After spending close to an hour at the CID headquarters, during which time he was briefly allowed to see his attorney, Glenn Hannoman, he was transported to an undisclosed holding facility this morning.
Hanoman said Khan told him that the police had explained to him that he would not be released and instead would be held for questioning about the murders of Waddell and Allison. He said Khan would continue to declare his innocence, even as he expressed that he was "happy" to be back in Guyana.
Asked if he believes that Khan would be kept for 72 hours by police, Hanoman said that he hoped not as he would object because it is not a legal position.
He said that Khan told him that he was treated well by the police.
However, he raised objections when police held up video cameras in both their faces when they were meeting, which Khan's attorney believe is a breach of client/attorney privilege.
Hanoman said that he will continue to have access to his client.
Waddell, 57, was killed in January, 2006.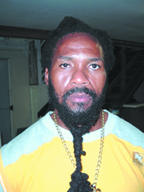 At the time, it was reported that a dark-coloured car took the gunmen to the scene, where they were apparently watching Waddell's movements from the seawall. As soon as Waddell got into his car, two gunmen ran across the road and opened fire on the vehicle. They then ran back across the road, jumped into their car and sped away east along the highway.
Allison, meanwhile, was killed in September, 2005. He was executed in a drive-by shooting carried out by men armed with machine guns. Allison, 43, came under a barrage of gunfire outside the Ricola Boxing Gym on the Agricola Public Road. He was sitting in front of the two-story building with a female student when the men pulled up in a dark coloured vehicle and opened fire. Allison, who sustained wounds to his head and upper body, was clearly the target of the attack.
Police had arrested freed murder accused Shawn Hinds and two relatives of dead 'hitman' Axel Williams, but the men were all released. It was believed that a city-based death squad with links to the underworld carried out the killing.
However, an informant for the US government, during the witness tampering trial of Khan's former lawyer Robert Simels, had claimed that Khan ordered the execution of both Waddell and Allison.
Selwyn Vaughn, a professed former member of Khan's alleged "Phantom gang" who was granted immunity from prosecution, had testified in the United States that he had served as the lookout for the hit on Waddell.
Vaughn said he was in a Burgundy AT 192 motor car when four other named members of the squad turned up and shot Waddell. He told the court he had been the lookout man who was tracking Waddell and he called Khan on his cell phone that night and reported that the talk show host had left his residence and his car was idling on the roadway. Within minutes, four members of Khan's squad, all former members of the Guyana Police Force named by Vaughn, turned up and shot Waddell.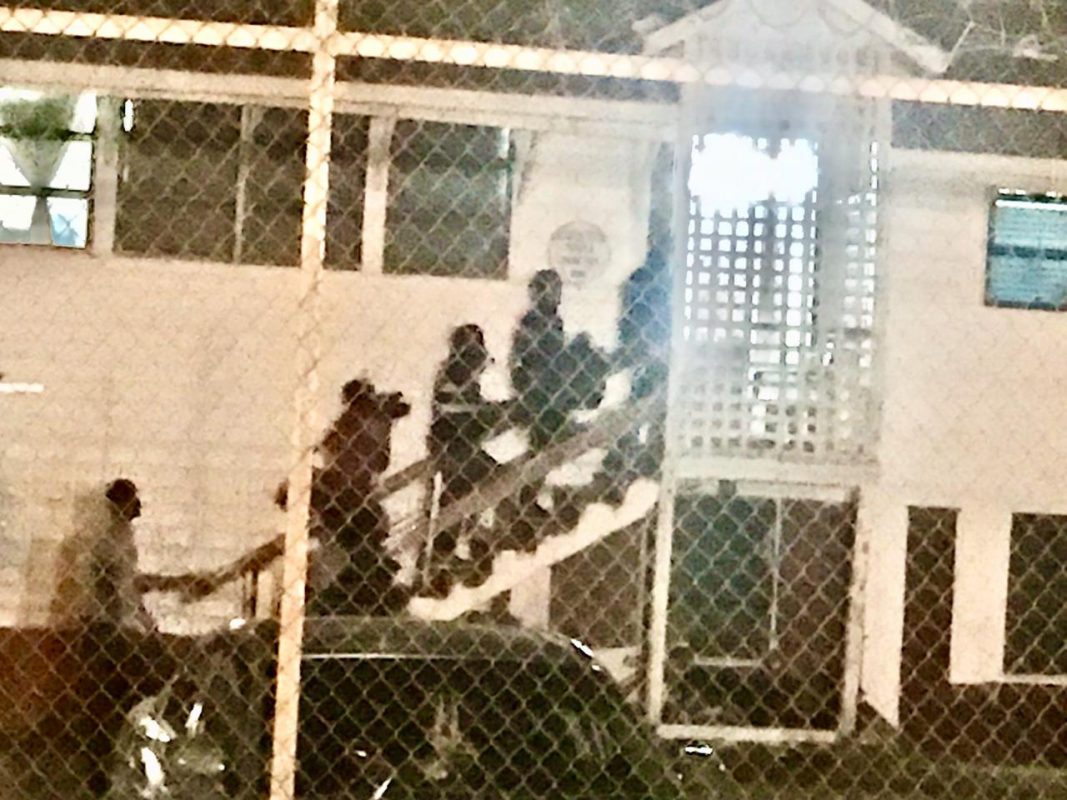 Roger Khan (at top of the stairs) being escorted into the CID headquarters at Eve Leary.
Speaking about the murder of Allison, Vaughn said he was the lookout in that hit as well. Khan, he said, called him to ask for the location of Allison and after receiving the information members of the "Phantom squad" came out and shot Allison dead.
Khan is returning to volatile circumstances here, smack in the middle of a political stalemate in which his alleged deeds are constantly invoked. Given that he was known to be connected with the drug trade and to have mobilised a small private army, there are many questions about his role in a series of events during what President David Granger has dubbed `The Troubles'.
Under the Bharrat Jagdeo administration, Khan was thought to have been given free rein to go after persons he determined to be criminals in the period following the 2002 jail-break when five escapees triggered a crime wave the likes of which had never before been seen in the country.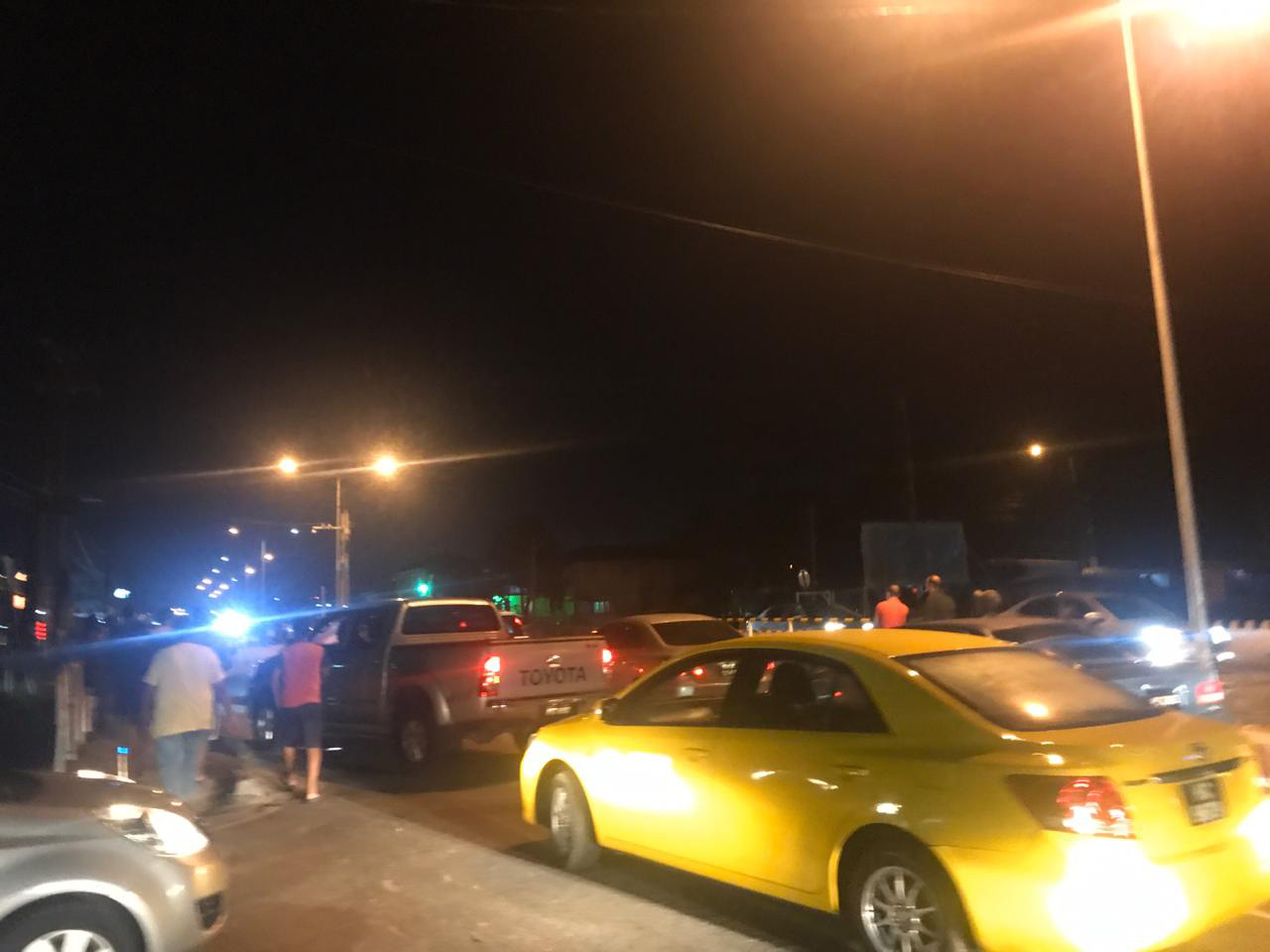 A congested traffic scene along the Providence Public Road, where a second road block was erected.
There is the view that Khan could be prevailed upon to provide information on his activities here post the 2002 jail-break and up to the point he fled from Guyana. He was later arrested in Suriname and was seized by US authorities in Trinidad while ostensibly en route to Guyana.
Khan was released from a US prison in early July after serving almost ten years of a 15-year sentence for drug trafficking. He was sentenced after he pleaded guilty to trafficking cocaine, witness tampering and gun-running.