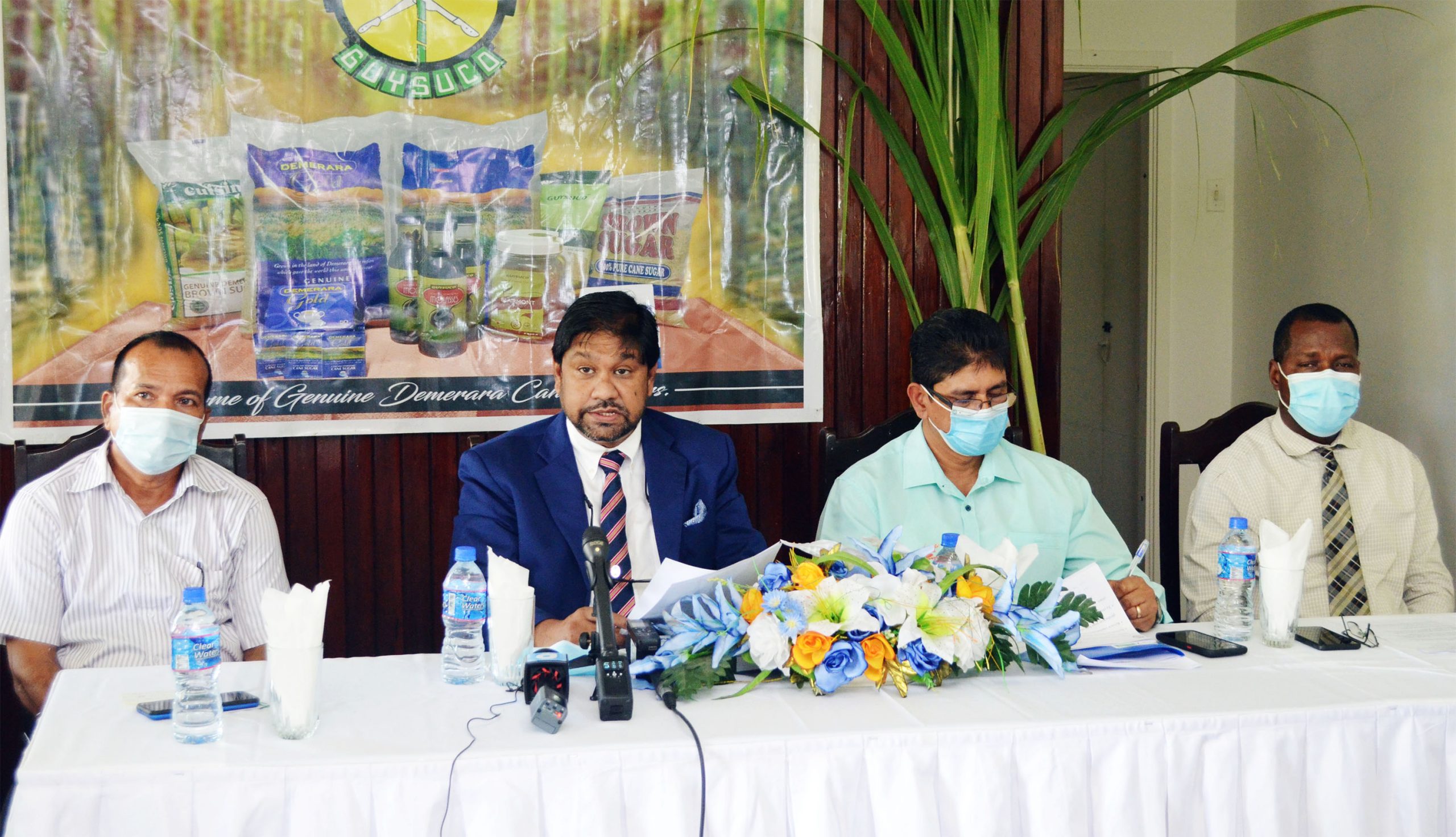 CEO Sasenarine Singh (second from left) with the GuySuCo panel
November 24 ,2020
- $126m spent so far
Efforts to reopen the Rose Hall, Skeldon and Enmore estates have so far cost the Guyana Sugar Corporation (GuySuCo) $126 million and resulted in the rehiring of 690 workers.
In 2021, the estates will cost a total of $6.3 billion to resurrect with $2.8 billion to be at spent at Rose Hall, $2.1 billion at Enmore and $1.4 billion at Skeldon.
According to Director of Field Operations, Yuri Persaud the company has had to start from zero in their re-opening efforts as all field equipment was gone when they attempted to re-cultivate the lands.
"We had to start from zero. We commenced clearing the land while at the same time procuring equipment for tillage," he explained to a press conference yesterday at GuySuCo's offices at LBI.
According to Persaud, so far the company has managed to create 60 hectares of seed beds at Enmore, 100 hectares at Rose Hall and 128 hectares at Skeldon. These beds are expected to be instrumental to 2021 production.
Additionally, GuySuCo has commenced the pro-cess to purchase 44 articulated tillage tractors to contribute to the soil improvement programme being implemented at these estates.
Persaud stressed that the intention is to go back to the practice of "doing everything at the right time" and achieving textbook standards. He explained that the intention is to achieve a maximum production of 80 tonnes per hectare by the end of 2024.
The director who has been in the sugar industry for over 20 years noted that these standards have not been achieved in the recent past because of poor equipment. The seemingly all-important tractors are to be purchased from Game Equipment LLC, formerly Cameco; a brand used in Guyana as "recently as the mid-90s".
GuySuCo Chief Execu-tive Officer, Sasenarine Singh while responding to questions from Stabroek News stated that attempts had been made to reach out to the local private sector to rent tractors but after a less than satisfactory response the company has moved to procure "sugar specific tractors" through an accelerated procurement process.
"Over the last six weeks we've set up a team and we've focused our minds on what we need. So every week we sit and say these are the list of items that government has approved that we purchase from their $3 billion and we look at the value chain every week…There is a determined effort to see the project moves every week," he stated.
These tractors are projected to cost nearly half, $1.5 billion of the $3 billion allocated by government for the revitalization of the sugar industry.
Tillage
"Tillage is everything in the sugar industry," he reiterated in defence of the spending adding that the company is also facing the challenge of a reduction in the number of days during which it can plant.
Sunny weather and pliable soil are essential, he explained, adding that previously the company had 120 days for tillage but now because of weather changes those days have reduced to 70.
With this reduction in planting time the intention is to have all equipment on hand by February 2021 so that they can hit the ground running and produce 97,000 tonnes of sugar.
The CEO explained that while the company is hoping to produce a total of 90,000 tonnes of sugar for the year 2020 the goal is nearly out of reach.
"It was possible in September but after the November rains it has become impossible," he told a press conference at Roraima House on the LBI Estate.
According to Singh production currently stands at 80,674 tonnes but after a record 394 millimeters of rain was recorded at Albion in the first week of this month the company has lost $354 million in production.
"Production was flushed out," he lamented adding that the $354 million lost was a large sum of money which could've been invested in the 2021 programme of the company.
Moving forward, GuySuCo is hoping that with the support of policymakers they can move up the value chain both horizontally through the reopening of the estates and vertically by the development of value added products such as ethanol, industrial grade white sugar, liquid sugar, packaged sugar and an agro-heritage business.
In keeping with this vision, attempts have already been made to locate partners for this value added development through the private sector.
As part of the diversification efforts expressions of interest had been invited for "joint venture, partnerships, or a leasing arrangement on the now re-opened vested sugar estates at Enmore, Rose Hall and Skeldon and also on the operational sugar estates at Uitvlugt, Blairmont and Albion."
Singh explained yesterday that there have been 10 expressions of interest with nine originating from foreign companies and one from a local 'entity'.
Agro energy
While he stressed that confidentiality is necessary at this stage, the CEO revealed that these companies have expressed interest in a sugar refinery, ethanol production, several agro energy projects, a distillery and packaged sugar.
These proposals have come from Asia, North America, South America and the Caribbean, he noted.
"There are private sector participants globally who are serious about value added sugar related products coming out of Guyana," Singh assured adding that a market exists both locally and regionally for white sugar.
Guyana he stressed is advantageously positioned because of the CARICOM Common External Tariff (CET) to access this market.
In the short term, however, the focus is on moving from the export of bulk sugar to package or bagged sugar hence the reopening of the Enmore packaging plant.
"The world market price for sugar is US15 cents now so let's be real. That's the dump market we are talking about but listen to this. This sachet of sugar basically can be sold in the world market for 60 cents per pound right now so this is where the money is," he explained.
Singh contended that nine weeks ago Enmore was a collection of scrap iron which GuySuCo engineers have so far turned into two production lines. Efforts are underway to import parts for a third line which will be up and running by early 2021. The fourth is expected to be operational by mid-2021.
He further noted that new factories would be installed at the Rose Hall and Enmore estates by 2022, as part of plans to increase the number of sugar mills from three to six.
It is not clear what the exact plans are for the problematic Skeldon factory as questions about its future were not answered yesterday.
GuySuCo's first crop ended in June this year with a total of 37,015 tonnes of sugar. This was equivalent to 79.6 percent of the budgeted target of 46,476 tonnes of sugar.