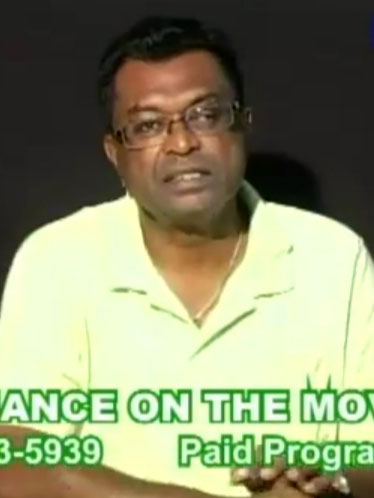 Minister of Public Security Khemraj Ramjattan speaking on Berbice TV
July 15 2019
Minister of Public Security, Khemraj Ramjattan on Saturday assured Berbicians that if there is civil strife in the country the government is prepared to ensure stability.
He was at the time speaking on the rulings and consequential orders which came from the Caribbean Court of Justice (CCJ) on Friday, on the Alliance on the Move programme tele-vised throughout Berbice.
He said, "We have all the powers as I have said and we will utilize all those powers to maintain that we have credible elections".
He added, "We have all the monies that we can now proceed to put by via our parliamentary system if we extend the parliament to give the GECOM for purposes of holding the elections and of course if they (the opposition) feel they want to create civil strife and all of that in the streets of Georgetown or Port Mourant or in Anna Regina where so ever, we have what it takes to ensure that we have stability and security in this country".
The minister, who spoke at length about the need for house-to-house registration so as to ensure that a credible election is held, also attacked Opposition Leader, Bharrat Jagdeo calling him a dictator and accusing him of fooling and confusing Guyanese.
He stressed that he had to be in Berbice after he heard the opposition was confusing the citizens. "But don't be confused we will remain in government until the next president is sworn it and we want the elections at the earliest possible time and the election must be credible", he said as he banged his hand on the table in front of him.
"That (voters) list is not valid any longer under the laws of Guyana", he stressed.
"… and it can only be credible with an appoint-ment of a GECOM chair-man and a credible list, we have stated this to you a long, long time ago. So many people have been removed from Berbice and they gone to Parfaite Harmonie, their names on election day will remain if we don't do a new house-to-house and so on but we can fast-track a house-to-house and we can employ more people and things like that", the minister declared.
"These people when they said that they did not know that you have to have house-to-house, last year in the budget they supported $3B for a brand new house-to-house registration how now they can come and say we shouldn't do house-to-house"?
Furthermore, Ramjattan contended, that Steve Surujbally, while holding the post of GECOM chairman, had made it public in 2016 that they had voted for house-to-house registration to be done, "But we knew that there was no need for that because elections (were) going to come around 2020 because we thought we would have gotten that done and then didn't make much of it. Plus we didn't have $4B to give the elections commission because we had to deal with sugar, you know what is $4B? So instead of taking it and putting it to elections we had a big sugar problem then as you all know in Berbice here, we say let the money go there to GuySuCo".
Severance benefit
However, he noted in 2018 it was agreed for a house-to-house registration to be done but the money was still not there "because we had the problem with severance benefit me na know wah and wah we had to do, billions of dollars, when you do that now for sugar workers and so on all of a sudden why you didn't do that then?"
Ramjattan pointed out that despite reasons being given explaining the important need for house-to-house registration to be done, the opposition is still calling for early elections.
As such, he once more pointed out the possibility of the two sides going to parliament and extending the time, "Because if he (Bharrat Jagdeo) is saying the 18th (of September) is the day and we know we can't get nothing done by the 18th and if you get an election and the list ain't ready and people start take pon the streets and do all kind of madness and when the observers from international gon say a lot of people names was left out, people start doing all kinda stupidness from the streets insecurities all of that, what will Bharrat say? Oh because he want early elections, he probably don't know what he is playing with".
Ramjattan, who was recently named by his party as the prime ministerial candidate for upcoming elections, said it is alarming that other senior members of the PPP/C are not trying or willing to "haul him (Jagdeo) in". "He is the dictator", he claimed.
He also told the viewers of his interpretation of the ruling which was handed down by the CCJ. "Yes indeed the constitution provides a certain timeline in which you can have elections after a valid no confidence and what it did say that was because the matter was taken to court this issue as to when the three months start was put on pause and largely then that pause was in a sense started back as of the 18 of June and so because within three months you must have the elections the opposition is misreading a lot of things in that to mean elections must be held on or before the 18 of September and they will go around the entire country to say that".
He opined that the opposition would say that "because they want a very mathematical calculation" in relation to what that three months period is and have not realized that "the CCJ also made a very important ruling that they cannot fix an election date".
Ramjattan further opined that the Leader of the Opposition and his associates are running a "little crazy" because they feel the government is illegal. "I want the Berbicians to understand, Region Five and Six what is going on in Bharrat's head I don't know but don't be too bothered by it he is running crazy".
He also contended that there is no provision for a "caretaker" government in the constitution.