Russia election: Vladimir Putin wins by big margin.
BBC News. March 18. 2018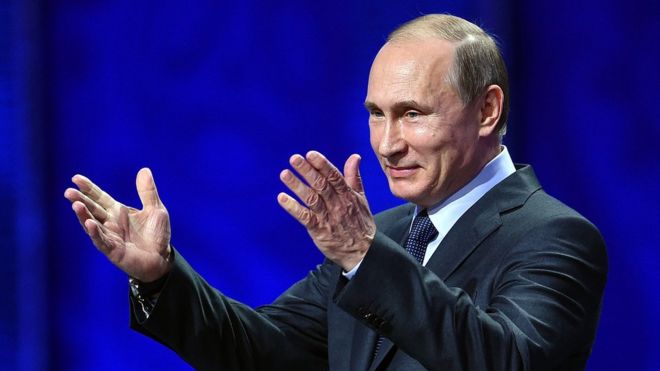 Vladimir Putin will lead Russia for another six years, after securing an expected victory in the presidential election.
With most of the ballots counted, he had received 76% of the vote, the central election commission said.
The main opposition leader, Alexei Navalny, was barred from the race.
Addressing a rally in Moscow after the early results were declared, Mr Putin said voters had "recognised the achievements of the last few years".
Speaking to reporters after his win, he laughed off a question about running again in another six years.
"What you are saying is a bit funny. Do you think that I will stay here until I'm 100 years old? No!" he said.
The scale of victory - which had been widely predicted - appears to be a marked increase in his share of the vote from 2012, when he won 64%.
Mr Putin's nearest competitor, Pavel Grudinin, had received about 12% so far, according to the central election commission.
Mr Grudinin is a millionaire communist, but the race also included a former reality television host, Ksenia Sobchak (2%), and veteran nationalist Vladimir Zhirinovsky (6%).
A state exit poll put the turnout at over 60%. Mr Putin's campaign had hoped for a large turnout, to give him the strongest possible mandate.
His campaign team said it was an "incredible victory".
"The percentage that we have just seen speaks for itself. It's a mandate which Putin needs for future decisions, and he has a lot of them to make," a spokesman told Russia's Interfax.
In some areas, free food and discounts in local shops were on offer near polling stations.