Prison Officer caught with ganja in haversack
A law enforcement officer serving at the Guyana Prison Service (GPS) has found himself in hot waters after he was caught with cannabis in his possession while on duty.
He was detained after the illicit substance, weighing 348 grams, was unearthed.
The 39-year-old officer was performing duties at the Lusignan Prison, East Coast Demerara (ECD).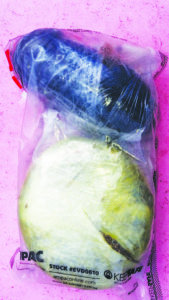 According to the Director of the GPS, Gladwyn Samuels, the discovery was made after a search was executed on all Prison Officers.
He stated that the GPS would usually conduct such searches on all of their employees who operate at the various prisons and that is done sporadically but regularly.
Meanwhile, the Guyana Police Force (GPF) is said to be investigating this matter.
In recent times, several raids and searches were conducted on the various prisons throughout the country, and numerous contrabands were discovered and seized.
Some officers of the GPS were also fingered in corruption allegations which facilitated contraband to pass into the prison.
Earlier this month, ranks of both the GPS and the GPF conducted a routine search of the Mazaruni Prison where a number of contraband items were discovered.
These included three SIM cards, 10 cellular phones, 59 packs of cigarette, six pairs of scissors, 11 improvised weapons, eight lighters, two smoking utensils, eight chargers, eight pieces of broken mirrors, and over 1400 grams of cannabis.
Additionally, on November 6, a search operation carried out by the GPF at the New Amsterdam Prison unearthed several improvised weapons among other prohibited items.
Police found three improvised weapons, 65 packs of cigarettes, 19 razor blades, 10 grams of marijuana, six improvised chargers, five grams of fronto (a tobacco wrapper leaf), 20 metal spoons, five bottles and a bucket of locally made wine, Digicel SIM cards, one improvised smoking utensil and two cell phones.
This operation was executed within two hours and thirty minutes and all items were seized.