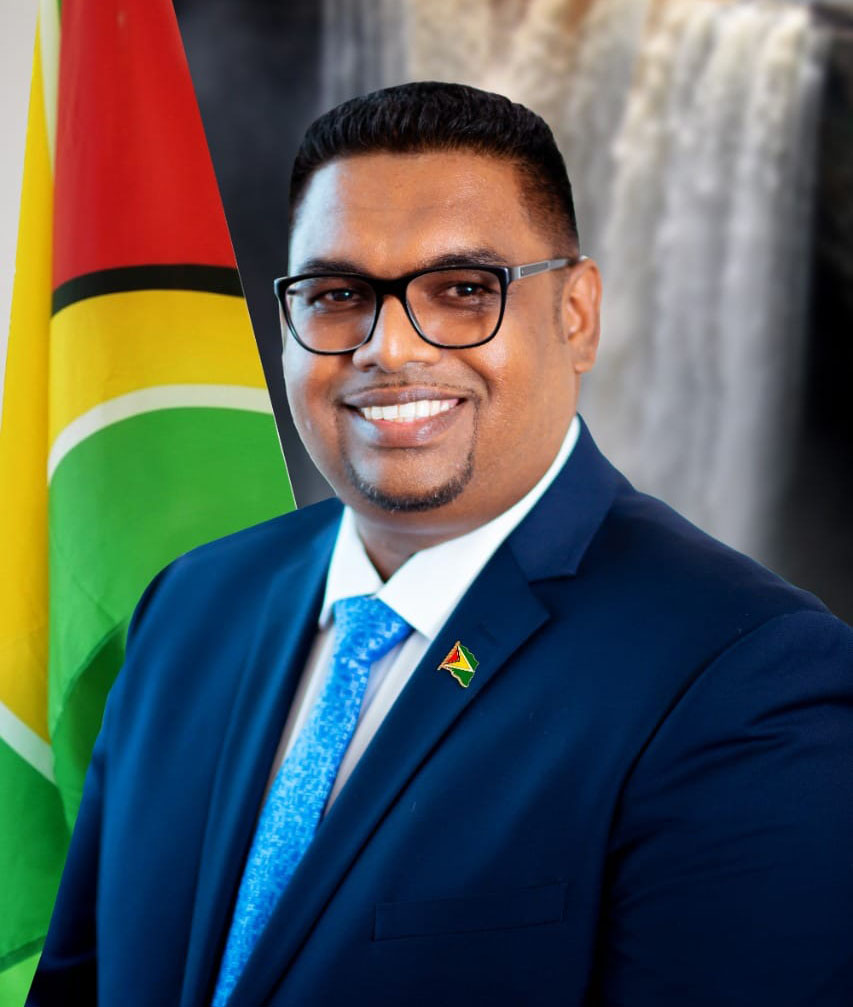 Irfann Ali
November 18 ,2021
-following barrage of criticism
Sixteen days after it had been revealed that the statutory period for the auditing of US$9.5b in ExxonMobil's expenses had expired without an audit firm being hired, President Irfaan Ali yesterday said that the forensic scrutiny of this massive figure will be done.
The President's response to Stabroek News via his spokesperson came after his government had been pilloried for allowing the two-year period to expire without the appointment of a firm.
The announcement of the lapse had been made by Vice President Bharrat Jagdeo on November 1st at a press conference. It was not until yesterday that both Ali and Jagdeo sought to assure that auditing will still be done. Neither of the two said whether ExxonMobil and its partners had been approached to extend the period to allow the auditing to be done.
In response to questions from the Stabroek News on Jagdeo's announcement on November 1st that post-contract costs from 2017 have not been audited because a local firm was not found and the evaluation of a tender to find a company was discontinued, Ali said he was reiterating all that his Vice President stated, as he dismissed talk of not auditing the oil majors here as "a fairytale."
"The President reiterated what the Vice President has said and he said that VP has made the government's position very clear; that unlike the APNU+AFC government that had no interest in conducting the audit, this government is committed to getting it done and it will be so," Ali's Press and Communications Officer, Suelle Findlay-Williams told Stabroek News.
"The Vice President had also said that the government is looking at the composition of local experts and technical persons in keeping with his commitment to local content policy and he [the President] said that process is ongoing. The idea that the government is not pursuing the audit is a fairy tale and the President is committed. The audits will take place and that the process is ongoing," she added, while explaining that Ali's response to the questions came between meetings in his hectic schedule yesterday.
Ali's statement did not acknowledge that the statutory period had expired without the government appointing an auditing firm.
Meanwhile, the Department of Public Information (DPI) later yesterday quoted Jagdeo as saying that the audit will be done. He, too, did not acknowledge that the two-year period had expired.
"We have made it clear what our intention is, to have local people involved," DPI reported Jagdeo as saying.
On November 1st, Jagdeo announced that ExxonMobil's post-2017 expenditure for the Liza-1 and Liza-2 wells would not be audited as government was not able to select a strong local group to undertake it. This statement was at odds with the fact that the government had advertised this year for foreign firms.
"We have been very disappointed that we have not been able to select a group to do the audit of the post-2017 expenditure on Exxon. The reason is we did not have a strong local content. We had two local groups that came in but they were not strong enough. We want to build a capacity in Guyana to do this audit," the VP posited.
"We think our people have enormous skills, forensic skills, auditing skills, and we are looking to see if we can't have an arrangement where we have a consortium of local people partnering with a foreign company so we can build capacity right here in Guyana. We are disappointed that from the individual bids we have not been able to do this. When I get back from Scotland [from the COP26 conference] I have asked the minister to see if we can't get all the groups that expressed interest to see how we can partner, they can partner with a foreign company to do this audit. We also have to build this capacity in GRA [Guyana Revenue Authority]. GRA has been mandated to build a capacity to do this. But it is a disappointment because it has been quite a while," he added.
If the US$9.5b in expenses is inflated it means that Guyana would be getting less profit oil than it is entitled to. Prior to Jagdeo's casual announcement on November 1st there had been no statement by the government that it was having difficulty sourcing an auditing firm and that there was a risk of the statutory period for doing the audit expiring.
Fully transparent
ExxonMobil told this newspaper this week that it is confident of its bookkeeping matters and transparency of the company. It added that it has never shied away from audit requests and that it submits periodic reports on its spending to a number of government agencies here.
"ExxonMobil Guyana considers audits a normal part of our operations and cooperate with the government so it can fulfill its obligations. We are fully transparent with the Government on our budgets and cost banks for each block and have implemented extensive cost controls across our business in line with our contracts and the laws of the country," ExxonMobil spokesperson Janelle Persaud said in response to questions from this newspaper.
"Audits are just one part of a comprehensive framework of controls established by the government. These include setting annual budgets for each block we operate which are reviewed by the Ministry of Natural Resources, and reporting actual spend against these on a monthly basis to the Ministry. We also steward and report costs for each project that is approved and each well that we drill," she added.
The company boasts that its procurement strategies and processes leverage the latest international methods, capturing significant market value for Guyana. "We employ modern information technology systems and a professional workforce, many of whom are Guyanese, that ensure we operate with robust processes and controls," the company declared.
"We publish the statutory financial statements and the independent auditor's report, made by a Guyanese audit company. ExxonMobil Guyana is also audited by internal auditors, its co-venture partners and multiple government agencies, including the Ministry of Natural Resources, Guyana Revenue Authority and Guyana National Bureau of Standards, as a final step in verifying our compliance with relevant contractual commitments and laws," it added.
Self -serving
In addition to the torrent of criticisms it has faced on the issue, the Opposition APNU+AFC has taken to Parliament seeking answers and has asked for a copy of the US$460 million pre-contract audit report it had initiated. The pre-contract auditing was done by UK firm IHS Markit and Ali's government has not explained why it has not released this report.
In the name of Shadow Minister for the petroleum sector, David Patterson, government is being asked a number of questions on why it abandoned the procurement process to find an auditor, along with who made the decision to allow the audit to fall into default.
Government is also being asked if the Ministry of Natural Resources or any other agency with oversight of the oil & gas sector has approached ExxonMobil for an extension of the deadline for the auditing of their US$9.5 billion expenses. If it did, then the opposition wants proof as it has asked that "this Parliament [be provided] with such documentation including the response by ExxonMobil."
The PPP/C was flayed on Monday by Chair of the Public Accounts Committee (PAC), Jermaine Figueira, who said that that the failure of the government to undertake an audit of ExxonMobil's expenditure of US$9.5 billion is a glaring example of its real position on transparency, accountability and good governance.
In a comment to Stabroek News on the revelation made by Jagdeo, Figueira said: "All the talks the now government had pre-2020 about ExxonMobil and their promise to change the contract, was just that, talks. Nothing they promised to do to ExxonMobil and that contract was done and quite frankly, the government's attitude to this new form of economic colonialism [is that] nothing will be done."
Figueira, a Member of Parliament for APNU+AFC, said that Jagdeo's disclosure at a press conference last week was more of a "mixture of an academic and political response to evade the failure of the government to make right the combined failure of both administrations [APNU+AFC and PPP/C] for the benefit of the Guyanese people".
The PAC Chair said that the government is squandering yet another opportunity to right a wrong.
Nonchalant
On November 9th, Chartered Accountant Christopher Ram flayed the government's nonchalant attitude on the audit saying it could have asked Canada for help.
"And if the Government was so interested in auditing those costs, it could have called on the Audit Office, which has easy access to Canada and its wealth of experience in petroleum audits, to provide assistance, even as a short-term measure," Ram told Stabroek News.
Pointing to an April 2021 notice and terms of reference by government which called for only firms with extensive experience to bid for the auditing contract, Ram said that Jagdeo's statement was disingenuous.
"It is both misleading and unfortunate for VP Jagdeo to lament the absence of local capacity to audit the costs reported by the oil companies. The statement is inconsistent with the Government's own advertisement, inviting bids to audit the contract costs: it was directed to `internationally recognized accounting and audit firms with extensive experience in …. auditing petroleum costs under production sharing contracts and other petroleum agreements and its fiscal implications.' Were firms expected to lie about their status and capacity, or was it a condition of the World Bank's US$20 million for a project which includes the audit?", Ram questioned.
In the April notice, Guyana Oil and Gas Capacity Building Project (P166730), the government had outlined that the audit would entail the company, among other objectives, understanding the methodology applied in conducting the audit and interpreting the findings while communicating those findings to the contractor. It was expected that the auditing process would take four months. No further word was heard from the government on this project.
As Opposition Leader in 2018, Jagdeo had vowed that should the party get back into government, it would ensure that all of ExxonMobil's claimed expenses are subjected to rigorous scrutiny.
He had been vocal in criticising the APNU+AFC government for its sloth in auditing the US$460M pre-contract costs. In June of 2018, Jagdeo had questioned why auditing of the pre-contract expenses had not begun given that ExxonMobil would not refuse to have its books checked.
"What surprises me is that ExxonMobil says that we are open to the audit… but it is still not done," Jagdeo had told a press conference.
He also said that while he had no immediate plans if the government refused to commission an audit, should his party return to government it would ensure that one is done.
"It has to be done and we will do it," Jagdeo stated.
He had emphasised that it was only through auditing that this country would know if costs submitted were indeed the sums spent.
"Imagine the people said they will do the audit. So, the government should have said, 'Okay, we will get a firm to [do it] and at your cost, too. Whatever the figure is we will put that figure in the agreement.' Easily that could have been done because they had no push back from the company. But the people said US$460 million and [Minister of Natural Resources Raphael] Trotman said 'Put it in there, put it in.' They already made a huge fundamental mistake by putting it in the contract, a figure that was not audited. The company said they are not unwilling to have this done all you have to do is ask our own government…I wish they would do it," he said.
Jagdeo had said that while the figure submitted by ExxonMobil and partners reflected purported costs prior to the discovery of oil in 2015, he could not comment on if he believed the US$460m figure was accurate.
"If I say that to you, I will be just like Trotman. You have to submit the invoices. You have to say here is a contract for the rig. The Government of Guyana then says 'Yes, we can verify that it cost US$30 million.' Then the next questions should be 'Was this competitively sourced? Could we have gotten it for US$20 million, because the going rate at that time was US$20 million?' Then: Was it a company related to the oil company? Because if it was related, the cost could be inflated," he stated.
"These are questions for everything that comes out of every expenditure of the company. At the end of the day, you aggregate and come up with a figure and you say, this is real because we have asked the questions and have gotten the answers," he added.