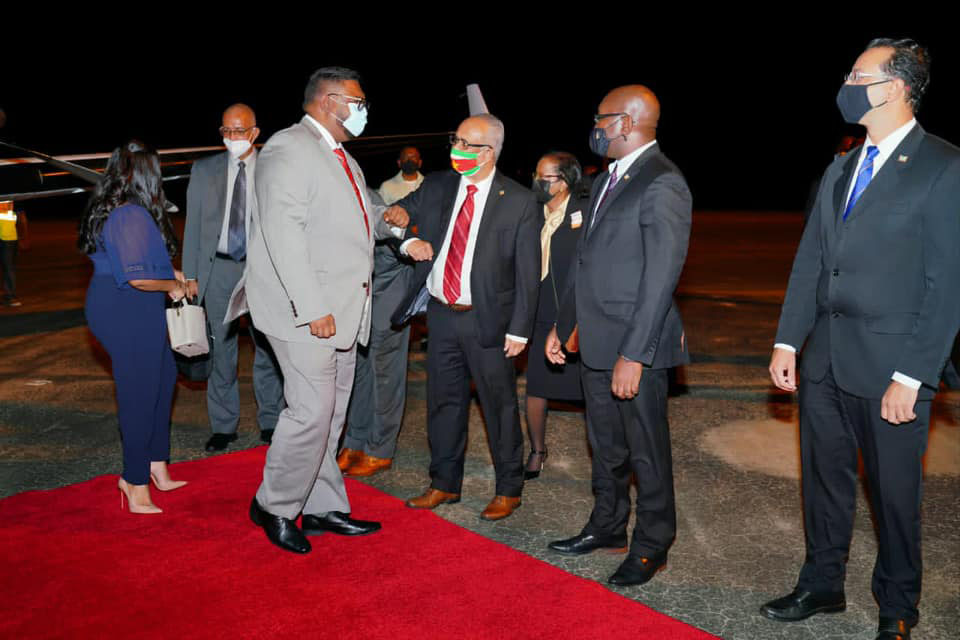 President Irfaan Ali (left) being greeted on his arrival in Suriname last evening by that country's Foreign Minister Albert Ramdin. First Lady Arya Ali is behind the President.
November 24 ,2020
-Corentyne bridge agreement on the agenda
President Irfaan Ali is on an official three-day visit to the Republic of Suriname.
According to a statement yesterday from the Office of the President, the Head of State will be in the neighbouring country until Thursday and will have discussions with Surinamese President Chandrikapersad Santokhi to build on the issues raised during the visit of the latter to Guyana last August.
The two leaders are expected to finalise agreements to advance the proposal for the construction of the Corentyne River Bridge and to establish a new mechanism for enhanced dialogue and cooperation.
Suriname will celebrate the 45th Anni-versary of its Independence on November 25. An Extraordinary Session of the National Assembly will be convened at which time President Ali will deliver a congratulatory message, the statement said.
The President is accompanied by a high-level delegation which will also be engaging in discussions in several areas.
President Ali said that both nations share "similar challenges, circumstances and opportunities, as such, it is very critical and important for us to work together to find common solutions, to collaborate and to support each other in tackling the challenges while at the same time confront the opportunities for the people of both countries will benefit from."
This is Ali's first overseas state visit since his inauguration on August 2nd. It also means that this will be the first time that Prime Minister Mark Phillips will perform the functions of President.