PPP to restore 30,000 jobs lost under APNU/AFC – Ali tells Industry residents
…ignore APNU/AFC's call to gather at polling stations on elections night – Phillips
Thousands of Guyanese have expressed a sense of hopelessness given the current economic state of the country, coupled with the lack of job opportunities available and the first thing that the People's Progressive Party/ Civic (PPP/C) intends to do once it returns to office this year is to restore, enhance and create new jobs for all categories of workers.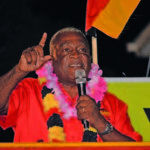 This is according to PPP/C's Presidential Candidate, Dr Irfaan Ali, during his address to hundreds of persons at a campaign meeting held at the Industry Market Square, East Coast Demerara (ECD) on Friday night.
According to Ali, the PPP/C is all set to embark on its policies as listed in its Manifesto, to restore and rebuild hope among the populace— which persons lost since the APNU/AFC coalition government took office in 2015.
"It is a very critical time in our country and the PPP/C has embarked upon a journey to share its vision, its plan to bring prosperity to all, to create jobs, improve living conditions and give you a better life in Guyana. A vision and plan not to give PPP supporters a better life but all Guyanese regardless of which political party they are supporting. It is a plan that will give our young people a better future that will provide more opportunities for the children of tomorrow."
He reminded that the once-vibrant and booming sugar, rice, bauxite and forestry sectors began declining in 2015 when the current administration began governing the nation.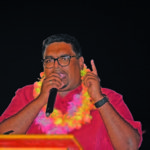 "We have to restore the 30,000 jobs that we lost in our economy and we have to reverse the taxes. We have to reverse those increases in licence fees, we have to put back more money in your pockets so that you will have more disposable income and the economy can kick-start again with greater spending and great opportunity. We have to be able to implement a strategy that will have the right policy to rebuild the forestry, mining, agriculture sectors, the sugar industry".




The PPP/C's Presidential Candidate reminded that prior to the APNU/AFC coalition taking office, it had promised the nation to provide a "better life for all" but to date, the now caretaker Government has done the opposite.


"We are paying $88B more in taxes after the Government promised to reduce taxes, on every $1000 you earned, the Government is taking back $300 in taxes. That is why you don't have a disposable income, that is why things are difficult for your families, that is why the village economy cannot perform… People's lives are worse off, the communities lives are worse off, our country is worse off today," he told the mass of supporters on Friday.
According to Ali, the PPP/C has a track record in developing and transforming Guyana which cannot be disputed.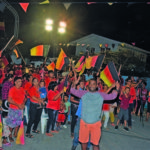 He committed to ensuring that after the March 2, 2020 General and Regional Elections, once the PPP/C is restored to power, there will be the creation of an enabling environment that will reignite the vibrancy in the country's economy by recreating jobs in each sector.
Ignore APNU's call
Meanwhile, Prime Ministerial candidate of the PPP/C, Brigadier (ret'd) Mark Phillips, called on Guyanese to ignore the calls made by A Partnership for National Unity (APNU) for persons to converge at the various polling stations on elections night.
"You have to remain focused and there is no need to lime at any polling place…be vigilant to ensure that we have free, fair and credible elections…we have had complaints of our supporters that there are acts of incitement and such at their workplaces and these acts will be intensified, many were threatened, but we should not reciprocate in this manner," he told the hundreds gathered at the Industry Market Square.
Phillips reiterated the Presidential Candidate's remarks, noting that the APNU/AFC Government has proven to be an uncaring administration where only a select few can benefit from "having a good life".
However, he reminded that the PPP/C, in the 23 years it had been in office, ensured that the masses benefitted in various ways, such as proper roads and infrastructure, educational developments, health benefits, and more.
"The APNU/AFC coalition is big on promises but low on delivery," he said, while urging PPP/C supporters to ensure that come Election Day 2020, they turn up at their respective polling stations to cast their votes.
"It is your democratic right to vote," he added.