https://guyanatimesgy.com/pm-p...gy-telecoms-sectors/
…to sit on Defence Board, overlook CDC, lead Govt's business in Parliament
Unlike his predecessor, Prime Minister Brigadier (retired) Mark Phillips will have a major role in Government, with responsibilities for major sectors, including energy and telecommunications.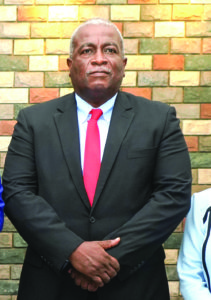 The former Army Chief will also be in charge of the Government information sector, besides sitting on the Defence Board and leading Government's business in Parliament.
Further, he will be overlooking the Civil Defence Commission (CDC), the agency tasked with responding to disasters in Guyana.
In an invited comment, Prime Minister Phillips told Guyana Times that his first order of business would be to meet with the various staff within each sector, to better understand the state of affairs there, and from there he will devise plans to be able to transform each sector in a strategic manner for the benefit of all Guyanese.
Energy sector
As the person responsible for the country's energy sector, PM Phillips is expected to have control of the Department of Energy, which is currently headed by Dr Mark Bynoe. That Department was established under the previous A Partnership for National Unity/Alliance For Change (APNU/AFC) Administration and fell under the leadership of the then Minister of State, Joseph Harmon. The Energy Department was established with the intention of managing the hydrocarbon sector in Guyana to optimise the value proposition for Guyanese through the adoption of efficient and effective modalities, transparency, balance, and pursuance of an evidence-based approach to decision-making.
Under the energy portfolio, the Prime Minister will have oversight over agencies such as the Guyana Power and Light (GPL) and the Guyana Energy Agency (GEA).
Telecoms
The telecommunications sector was previously managed by AFC's Catherine Hughes under the entity of a ministry. The telecommunications sector deals with the country's information and telecommunications technology (ICT) and e-governance initiatives.
Previously, the Ministry played an integral role in pushing the Science, Technology, Engineering and Mathematics (STEM) projects, especially among the youth population. Of major public interest is liberalisation of the country's telecoms sector, which would pave the way for more investments and a more competitive industry.
Other portfolios
Regarding the information sector, this would translate to oversight of agencies like the State-owned media such as the Guyana Chronicle and the National Communications Network (NCN).
Under the previous David Granger-led administration, this was perhaps the only portfolio held by the then Prime Minister Moses Nagamootoo.
As a member of the Defence Board, PM Phillips will have an integral role overseeing the country's security sector. Particularly, he will have oversight over agencies like the Guyana Defence Force (GDF), Guyana Police Force (GPF), Guyana Fire Service (GFS), Guyana Prison Service (GPS) along with other agencies that deal with the country's security.
Additionally, as is conventional for the Prime Minister, Brigadier Phillips will be the leader of Government's business in Parliament.
Moreover, he is expected to have a lead role in the Government's COVID-19 response initiatives, and will be working closely with President Dr Irfaan Ali on other projects which will be launched in time to come.
Phillips has had a long and distinguished career in the GDF, spanning nearly four decades and culminating with his appointment as the 8th Chief-of-Staff of the GDF, from September 2013 until he retired in October 2016. As a member of the Army, Phillips, held a number of crucial leadership positions at various levels and ranks, and his consistent upward mobility clearly demonstrated that he acquitted himself with distinction in every position held.
Phillips possesses a Bachelor's Degree in Public Management, a Master's Degree in Public Management, and several post-graduate Diplomas in Defence Planning and various areas of Management. (G11)