-gov't cites largest single investment, says expecting trillions in returns
October 1 ,2020
The Irfaan Ali-led PPP/C government yesterday inked the licence agreement for ExxonMobil's US$9 billion Payara project in the Stabroek Block, its first major oil & gas agreement since it took office on August 2.
While the project was approved since last week, Minister of Natural Resources Vickram Bharrat explained that yesterday was chosen for the signing as the company did not want to go past the September 30 deadline that the company and its investors were working with and run the risk of this country also losing out on opportunities the venture would afford.
"As you would know, and I used to think also, that Exxon has all the money to invest, but they have big investors who invest into their projects. People not into oil and gas but seeking investments and returns on their money. Had they not had a signing agreement by the end of this month, those people would have taken their money or it would have held up the project by a year or two," Bharrat told Stabroek News when asked why there was a rush for the signing yesterday and not today or tomorrow.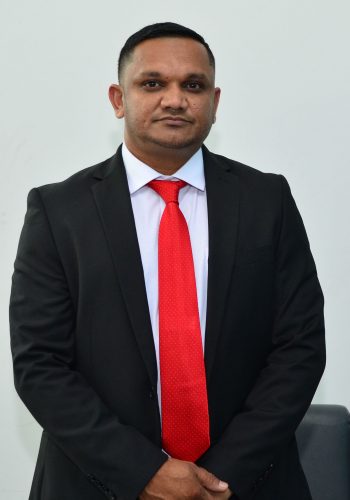 He underscored that returns from the single US$9 billion project would see this country raking in returns in the "trillions of dollars" and since the company has met all the necessary safety, environmental, and other criteria, and waited for months and then an extended time for reviews, government did not want to keep them waiting any longer.
"Nine billion dollars is the single largest investment in the history of Guyana. It is estimated, if oil per barrel is at US$50, we will get US$35 billion or $7.4 trillion over the life of the Payara. This is just Payara alone, so this is huge for this country. Our start up time for this project is aimed at 2024 and we are working to meet that [goal]… US$35 billion for a well? I would take that any day. We will work towards that any day," he asserted.
Prominent Guyanese and civil society groups had urged the PPP/C government to use the Payara well as leverage to im-prove the 2016 Production Sharing Agreement which had been clinched under the APNU+AFC government and which had been widely castigated for agreeing to a royalty rate of only 2% and sprawling opportunities for Exxon to claim expenses which would diminish returns to Guyana. The PPP/C government refused to use Payara as a bargaining chip and the signing of the basic licensing agreement yesterday will likely trigger further criticisms of the government's decision.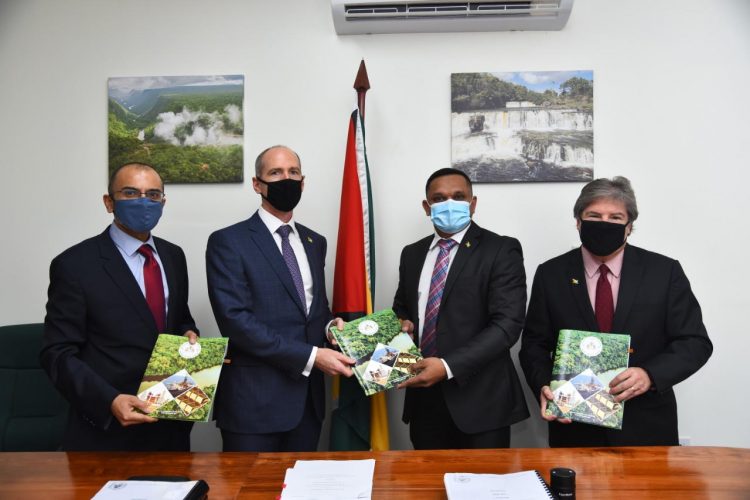 From left to right are: Anand Gohil – Executive, CNOOC Petroleum Guyana Limited; Alistair Routledge – President of Esso Exploration and Production Guyana Limited; Vickram Bharrat, Minister of Natural Resources and Timothy Christian – Director and Vice President of Hess Guyana Exploration with copies of a document. (DPI photo)
When President's Ali's decision for a review was announced via Stabroek News, ExxonMobil had expressed to this newspaper that it had been waiting on approvals for the project for a long time and iterated its longstanding position that delays would impact its investments decisions.
"We understand the new government's desire to satisfy itself the Payara project has been appropriately defined by ExxonMobil and assessed by the relevant regulatory agencies. Over a year has been spent on the approval process for Payara. The process has been exceptionally rigorous and the Development Plan and Environmental Impact Assessment are in line with or ahead of industry norms. We believe everyone understands that delays will reduce the value of the project for the country and no-one wishes to unnecessarily extend the review process. We will continue to provide clarifications on any aspects of our proposal, as necessary," the company had said.
While not making any direct reference to Ali's announcement, the company also said in a statement, "Continual development of projects will help further progress local content and provide opportunities and confidence to the local business community, which will lead to additional opportunities for workers and continued capacity building.
Ready to move
During its second quarter earnings call in late July, the company's president Neil Chapman stated that ExxonMobil was ready to move ahead here as soon as it gets the Payara approval but he cautioned that the longer the wait, the more this country stands to lose. He said too that both the then APNU+AFC government and PPP/C which was in opposition knew the situation.
"It is very simple, everything we and the partners can do to progress Payara on schedule, we are doing and we have done. I have said to our organization many times, we need to be ready to move when the government is ready and we are ready. We are ready to FID [Final Investment Decision] this project but we need an approved development plan and that approved development plan needs to come from the government," he explained. Chapman was responding to the Bank of America's Doug Leggate on what he was "signalling" in terms of the risk or the potential for delay of the Payara project.
"Of course we are waiting for a resolution like everybody else of the election and I think you are very familiar with what happened down there. There was a vote there was a recount and then there was a series of legal actions… [what] we know is that all parties in Guyana want to progress this development. Of course we are in regular contact with President [David] Granger and the APNU+AFC coalition and we are also in discussion with the PPP and [Bharrat] Jagdeo and Irfaan Ali. What we continue to stress to the government is that if the project gets delayed, it is a loss of value to the country and they understand that. It is very, very clear. The government understands, the Ministry of Energy understands," he added.
And along with developmental setbacks, Chapman reasoned, other factors should be taken into the matrix since weather conditions are also critical when planning for offshore works and noted that a late August timeline was what the company hoped for.
Yesterday, the company released a statement announcing the signing of the agreement and played up the benefits.
"The (US) $9 billion development will target an estimated resource base of about 600 million oil-equivalent barrels. Ten drill centers are planned along with up to 41 wells, including 20 production and 21 injection wells. ExxonMobil is committed to building on the capabilities from our Liza Phase 1 and 2 offshore oil developments as we sanction the Payara field and responsibly develop Guyana's natural resources," declared Liam Mallon, president of ExxonMobil Upstream Oil & Gas Company. "We continue to prioritize high-potential prospects in close proximity to discoveries and maximize value for our partners, which includes the people of Guyana," the statement also said.
ExxonMobil said that it was evaluating additional development opportunities in the Stabroek Block, including Redtail, Yellowtail, Mako, and Uaru resources, and plans to have five drillships operating offshore Guyana by the end of this year.
2,000 Guyanese
"As new projects proceed, investment in the Guyana economy increases. More than 2,000 Guyanese are now supporting project activities on and offshore, a 50 per cent increase since 2019. ExxonMobil and its prime contractors have spent over (US)$300 million with more than 700 local companies since 2015. More than 2,500 Guyanese companies are registered with the Centre for Local Business Development, which was founded by ExxonMobil and its co-venturers in 2017 to build local business capacity to support global competitiveness," the statement said.
Echoing the views of its minister, the Ministry of Natural Resources also issued a statement where it pointed out that what was important was that the Canadian-funded team of technical experts assessed the project to ensure that all relevant regulations are complied with and that they can be enforced.
"This included environmental standards and reservoir management to safeguard the interests of the people of Guyana and that their resources are developed in a sustainable and responsible manner to the benefit of the country. Further, in the licensing agreement, the government has insisted that routine flaring is strictly prohibited without the approval of the EPA. Flaring to maintain oil production will not be permitted. Esso Exploration and Production Guyana Limited (EEPGL) will pay the Government for the cost of gas wasted during flaring and will also be subject to fines under the EPA related to emissions from flaring. The EPA will establish a framework for a price on carbon to conform with international standards," it said.
"Additionally, the government has insisted that EEPGL manage produced water to an international standard to minimize the effects of discharging produced water. EEPGL is required to update its base design to include tie-in points and space for produced water injection equipment. EEPGL will carry out a study overseen by the Minister of Natural Resources to be completed by the first quarter of 2021 to examine the safe and efficient reinjection of produced water, including the effects on the reservoir. This is in keeping with government's commitment to preserve marine life and water quality. As such, the Government of Guyana remains committed to manage and harvest Guyana's oil and gas resources sustainably in keeping with internationally recognized acceptable environmental standards and transparency for the benefit of all Guyanese," it added.
The project in the Stabroek Block is expected to produce up to 220,000 barrels of oil per day after startup in 2024, using the Prosperity floating production, storage and offloading (FPSO) vessel. The US$9 billion Payara development will target an estimated resource base of about 600 million oil-equivalent barrels and is the largest single investment in the history of Guyana.
Bharrat said that with the agreement signed, he wants to emphasize and make clear to the public two key points to clear up misconceptions surrounding the project. He said that the first pertains to legal requirements that ExxonMobil must meet and pointed out that the licence agreement will now see fines for flaring for periods other than at start up. In addition the company has to dispose of reservoir water using first-world international standards.
The second he said was the belief of some persons that this was a renegotiation process of the 2016 Production Sharing Agreement and that government could press for additional fiscal terms.
"There are fines and penalties for flaring. EPA will fine EEPGL for excessive flaring. We understand there must be flaring at start up but it would not be for lengthy periods we see. EPA is going to fine the company and then the government is going to put monetary penalties for the wastage of the gas also. Our intention is to bring the gas to shore in another two or three years from now. Payara will be a big boost so we don't have this issue," he said.
"Water, gas and crude comes from the wells. The water can be reinjected but that is very costly. Exxon is taking the crude, the cost for reinjection is very expensive and we would have had to bear fifty per cent of that cost. So we looked at developed countries where the development and the depth is similar to ours and what it is that is practiced in first-world countries, to treat to international standards. So they have to do that. We set out also that the EPA must be allowed at all times to test that water," he assured.
He said, "There seems to be a misconception that we are signing a new contract with this Payara project. This is not a PSA agreement, this is a licensing agreement. One is technical and one is fiscal. One deals with contract administration and the other doesn't and we seem to be forgetting this."
Amid the negotiations for the Payara licence, the government sent the Head of the Environmental Protection Agency, Dr Vincent Adams on leave. His being sent on leave was seen as a bid to ensure that the licensing agreement would go ahead as planned. Dr Adams had taken a strong line on Exxon as it relates to environmental matters.
Stabroek News was not invited to yesterday's signing.