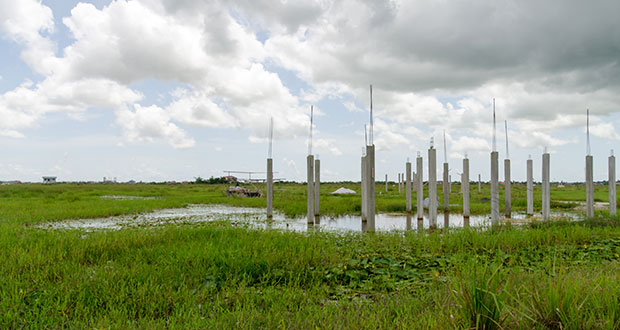 Patterson promises to fix deplorable housing schemes
— at Cummings Lodge, Farm and Covent Gardens
By Vishani Ragobeer
MINISTER Valerie Patterson, who is the Minister within the Ministry of Communities and has responsibility for Housing, on Friday gave a commitment to fix deplorable conditions at the housing schemes at Cummings Lodge, Farm and Covent Garden.Many residents who were given lands in the mentioned schemes have been complaining about the conditions under which they live. Lands in these areas were distributed to citizens under the previous administration, but the minister noted that a cadastral survey was not done, and the plans that were done on the lands are allegedly illegal.
This will be rectified, as the Guyana Lands and Surveys Commission will record the land maps and develop them.
The housing scheme in Section 'C' Cummings Lodge, East Coast Demerara, also known as Cummings Park, was filled with overgrown vegetation, and there were neither utilities nor access roads. The minister noted that this is "virtually maiden land", but more than 300 persons have been allocated house lots in this area.
The housing schemes at Farm and Covent Garden, on the East Bank of Demerara, also have some amount of overgrown vegetation. Dilapidated access roads are in evidence, and some of the lands allocated for housing development are located in swampy areas.
Some persons have already commenced building their houses in these two schemes, but there is no access to electricity in some parts of Covent Garden.
Minister Patterson said the lands in these schemes were allocated to citizens who applied to the previous administration in the early part of 2015. Some were also given out by this current administration, but Patterson said she was unaware of the deplorable conditions.
The minister pledged to rectify these shortcomings in the best interest of the residents, and noted that discussions are ongoing for a work programme in the housing schemes.
Residents have engaged the Central Housing and Planning Authority regarding the deplorable state of the schemes, and have made several proposals. Some have asked for alternative lands in other areas, and some have asked to be refunded.
Minister Patterson noted that there is no alternative location on East Coast of Demerara for those in the Cummings Lodge Housing Scheme.
The situation of persons being awarded lands in deplorable state, Patterson said, is one the current administration has inherited, but will work diligently to rectify.
Infrastructural works for the Farm and Covent Garden Housing Schemes were budgeted for this year, and will commence shortly.