November 18 2018
The United States Embassy here in Guyana has issued over 100,000 visas over the past three years.This was revealed by Deputy Chief of Mission at the US Embassy, Terry Steers-Gonzalez.Steers-Gonzalez was at the time speaking about the achievements of outgoing US Ambassador Perry Holloway at a farewell reception held in Holloway's honour on Friday evening.

"The Consular Section, in the Ambassador's time here, has issued over 18,000 immigrant visas and 86,133 – not to be too exact – non-immigrant visas, which is over half of all the non-immigrant visas issued by this Embassy so far this 21st century," Steers-Gonzalez said.Over the past three years, the number of non-immigrant visas issued to Guyanese by the United States Embassy has seen increases by over several thousand each

year. In fact, at July 2017, the US Embassy had processed more than 72,000 non-immigrants and 7000 immigrant visas with a low refusal rate.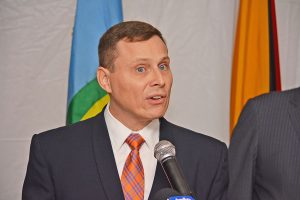 Deputy Chief of Mission at the US Embassy, Terry Steers-Gonzalez
At the time, Ambassador Holloway had attributed this trend to the improving economic situation in Guyana."The improving economic situation over the last few years has led to our refusal rate coming down significantly, from a high of well over 50 percent five years ago, to one much lower today and luckily for us only a small percent of Guyanese, who go to the US actually abuse their visas and stay illegally," the US Diplomat had stated.Moreover, the Embassy's Consular Section and the Regional Security Office has been working with local law enforcement to obtain the first successful prosecution for visa fraud in Guyana, which resulted in an Internet Café vendor being imprisoned.

Ambassador Holloway had also sought to alley fears of a change of his country's policy to Guyana."The fears that we were disengaging or even forgetting about Guyana were quite simply misplaced fears. Bilateral relations could not be better… a lot is going on and there is more to come," he had indicated.In 2015, some 51,000 non-immigrant visas were processed by the US Embassy here. This figure was a 20,000 increased from the 31,000 processed in 2014. In 2016, 72,000 visas were processed.
With regards to the immigrant visas, however, there has been a declining pattern. A total of 6,403 immigrant visas were processed in 2014; 6,154 in 2015 and 5,600 in 2016

.
On the other hand, there has been a crackdown on illegal immigrants in the US in recent months and Guyana was listed as one of the countries which could lose visa access if the Government refuses to accept deportees.