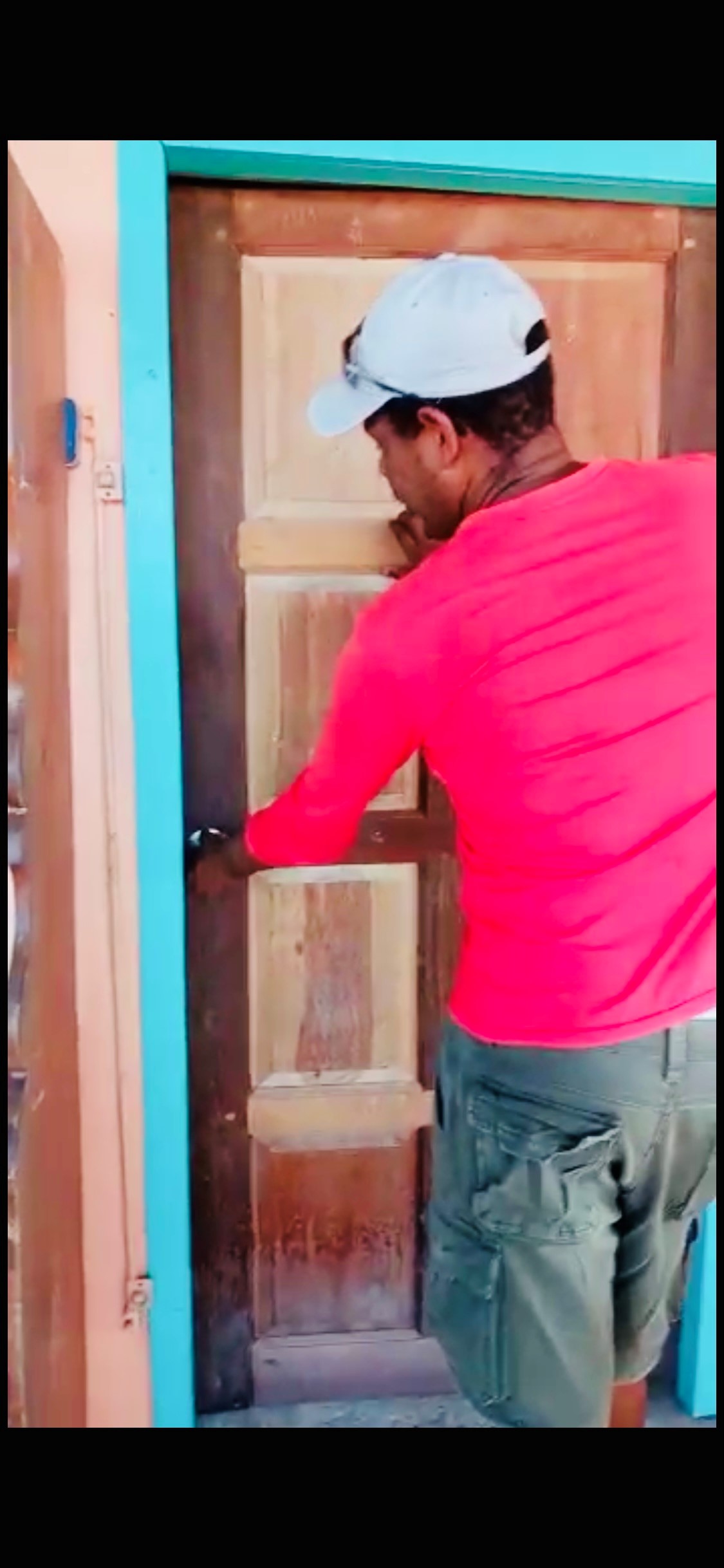 Orin Klass pointing to the door that SWAT Members broken to enter.
September 16 ,2021
As questions grow about what a SWAT team was doing on the Essequibo Coast yesterday when one of its members fatally shot a Dartmouth businessman, a resident from another village today said his door was also kicked down by the same team and h is children traumatised.
Orin Klass, a father of five from Phase Two Onderneeming, Region Two told Stabroek News today that he is angry and dissatisfied at the way members of the Special Weapons and Tactics (SWAT) unit searched his premises yesterday morning. Klass said that he was assaulted and many of his household items including two doors and a wardrobe were damaged. He also said that his children were traumatised during the process.
The search took place around 3 on Wednesday morning. During the search, his 21-year-old stepson was arrested. Klass said police told him that his stepson was wanted for questioning concerning a robbery/murder. The father is maintaining that even if that was the case then the lawmen could have asked him to see his son instead of damaging his items.
"If they had told me that they wanted my son then fine he would have gone or a police from Region Two could have come peacefully," Klass said.
He added that when the ranks kicked down his door his children woke up and were screaming. He also related that his daughter started to scream when she saw the gunmen.
Klass said that he suffered a broken arm eight months ago and when the lawmen approached him they hurt the limb. He said that they tied him up along with his family whilst they were ransacking his house.
"I only came out the interior last week. I already pack to go back in, I don't have no money, now how do I get back money to buy back my doors", Klass asked.
Klass is therefore calling on the Acting Commissioner of Police Nigel Hoppie to investigate the matter and provide clarity as to why the search was conducted in such an unprofessional manner. He also questioned who will replace the damaged household items.
Later that morning, the SWAT team kicked down the door of the bedroom of businessman Orin Boston at Dartmouth and fatally shot him. The rank involved in the shooting is now under close arrest.
This newspaper was informed that the SWAT team visited the Region on Tuesday night after intelligence was provided to the police about a number of illegalities that are taking place in various areas. Klass' premises was among the first spots targeted by the lawmen.