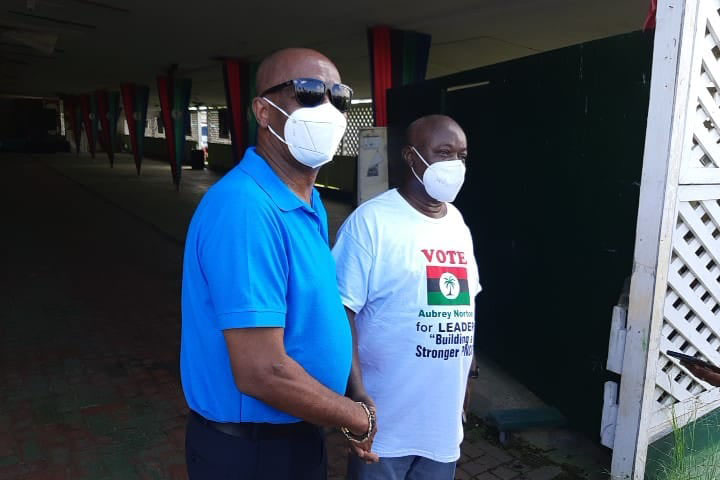 May the best man win? Two of the three contenders for the leadership of the People's National Congress Reform (PNCR) Joseph Harmon (at left) and Aubrey Norton shaking hands during the party's Nomination Day process at Congress Place on Friday. The other candidate for the post of leader is Dr Richard Van West-Charles. The party will elect a new leader at its upcoming 21st Delegates' Congress. (Photo by Marcelle Thomas)
November 13 ,2021
With long-awaited party polls set for next month, the three leading candidates to be the new PNCR Leader were yesterday nominated by various party groups and former General Secretary Aubrey Norton appeared to have the most public support.
The Nomination Day proceedings also confirm-ed that incumbent leader and former President David Granger will not be running for another term. Granger is also on leave from the party. Once considered a favourite for the post of leader, there was also no sign that the current PNCR chair Volda Lawrence will be contesting.
Norton and the other main contenders, Opposition Leader, Joseph Harmon and former PNC Health Minister Dr Richard Van West-Charles declared that win or lose, they will unite in the opposition's fight against the PPP/C government. They, however, differed on if that person should also be Opposition Leader. Analysts say that were Norton to win the leadership, that would spell the end of Harmon's tenure as Opposition Leader.