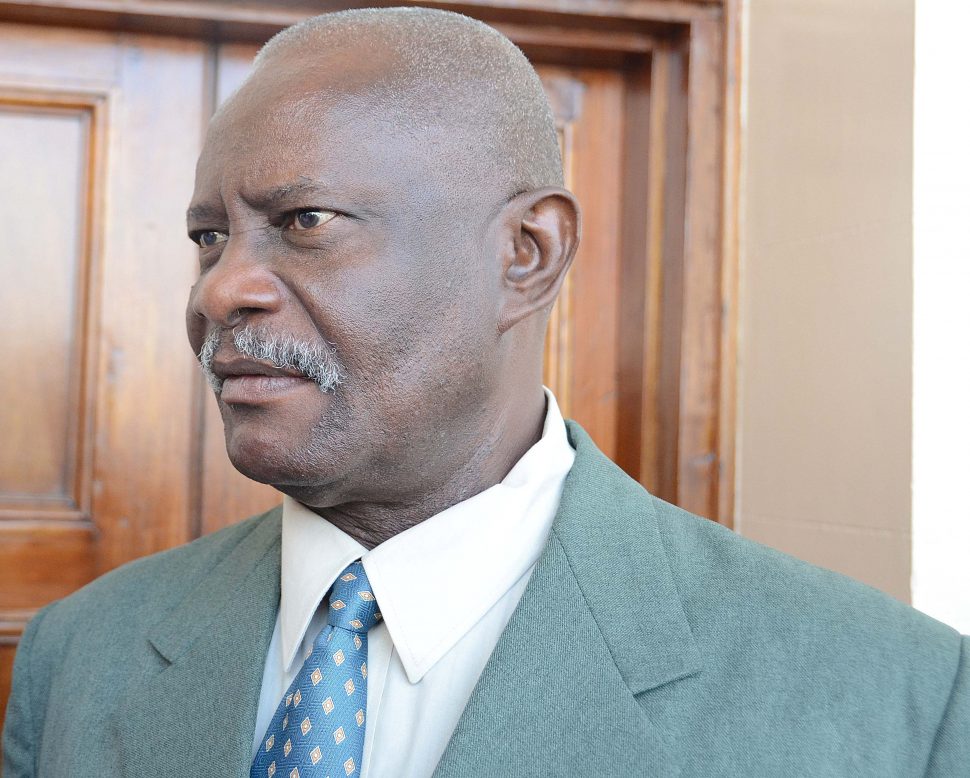 Winston Felix
August 10,2018
In the face of concerns raised over the whereabouts of a large amount of Cuban and Haitians who arrived in Guyana, Minister of Citizenship Winston Felix yesterday said that data from police and other records show that they are not being trafficked.
"Where is the trafficking? Our evidence on trafficking so far suggests it is not the Haitians who are being trafficked," Felix yesterday told the Parliamentary Sectoral Committee on Foreign Relations.
"We have seen in the hundreds, Venezuelans, and if I have to look for trafficking in Guyana, I am looking at the Venezuelans because three times the number of women come from Venezuela and women are the victims of trafficking more than men," he added.
In February, questions had been raised about reports of a large number of Haitians entering Guyana legally but no records that they had left these shores, although there was no evidence that they were living in Guyana.
Felix had subsequently submitted data on not only Haitians but on nationals from eight countries. It was during discussions at the committee's meeting on June 13th that the "alarming" statistics on the number of Cubans and Haitians overstaying their time in Guyana, and who could not be accounted for, were brought up and a decision was taken by members to summon Felix and Foreign Affairs Minister Carl Greenidge to discuss possible human trafficking.
"When you have a large number of people that cannot be found then something is definitely wrong…we have to find out what is really going on," PPP/C Member of Parliament and Committee Chairperson Gail Teixeira had said during discussions of the findings.
"It's not a question of who is trickling in. The issue is not who is coming and going; it's the issue of the numbers remaining and where you can't find them, you can't see them… this is trafficking, this is trafficking," she added.
Appearing yesterday after four prior cancellations, Felix told the Committee that his government has a no-nonsense stance against human trafficking and that there has been no reporting or suspicions that there is trafficking of citizens from the two countries.
"You are assuming that given the numbers of Haitians [that have not departed], there is trafficking. We have not suspected any trafficking of Haitians in Guyana, through Guyana or whatever. At least up to this point, [there is] zero reporting, [and] no suspicion of any trafficking. And if ever we suspect anything, we are not going to wait for another nation to deal with, it will be counted in the figures that we have produced," he said.
He reiterated a previous stance that Guyana is possibly being used as a transit point for those making their way to other countries such as Suriname and French Guiana. "Trafficking in Persons is a crime taken very seriously by his administration as it approximates enslaving another human being, holding them against their will and having them work against their will. It is not encouraged by Guyana. Now, if we want to get trafficking in Guyana, let's check the hotels, the clubs, interior locations, one thing I will assure you, you won't find Cubans neither would you find Haitians. There are other nationalities you would find there. The Haitians arriving in Guyana, as far as I know, have been arriving possibly in the mid-70s but I have encountered them around 1982 at the airport. They came in on two flights a week. BWIA brought them. In many [instances], they slept at that airport and left for Suriname en route to Cayenne and from then on, there have been large numbers of Haitians in Cayenne and they have large families back in Haiti," he said.
"So what has been happening subsequently, I think, Suriname has put a visa requirement for Haitians entering and that slowed up the passage through Suriname. So all that they do is come to Guyana, and we are assuming that they leave backtrack for Cayenne. There are a few Haitians here–the numbers not accounted for are not in Guyana. I assure you of that. Had they been in Guyana, all of us would have known. We know where the Brazilians are, we know where the Cubans are but nobody can tell you they know where the Haitians are. Haitians are not accumulating in Guyana," he added.
Felix said that officials from another country have been in contact with Guyanese authorities since they have noticed movements of Cubans there from here. "As a matter of fact, the Cubans have been detected moving to another country, who are in contact with us, concerning the Cubans who have been arriving here and they have told me this," he noted.
Small village
He said the situation today is that the world is such a small village that people are travelling from one country to another in search of a better life. "The unfortunate thing is… we are not tolerating the illegality associated with it. Guyana is such a country that on both ends… we have jurisdictional problems because we tried—unsuccessfully, when I was in another life [as a policeman]—to close down the backtrack route in Region Six but we failed. So people used the backtrack… and any part of the Corentyne you can move out by boat unrestricted and coming in worse yet. The border with Brazil is so long …we have police stations at Orinduik, Monkey Mountain, Annai, Karasabai, Lethem, Aishalton… the distance is far. We are not talking about easy distances and these are not areas which are easily policed, whether by vehicle, horse etc. They are not easily policed," he added.
Teixeira agreed, noting that she does not believe that the Haitians are living here as the linguistic differences would easily be picked up.
PPP/C member Nigel Dharamlall questioned why government would legally allow Haitians into Guyana knowing that they would illegally leave in the thousands. "Don't you find that our government is complicit?" he questioned.
But Felix responded that as a sovereign nation this country has the right to accept any person at its ports subject to them meeting legal criteria. "No, sir, we are a sovereign nation and our visa policy with CARICOM permits the arrival of Caribbean nationals. We are not going to stop them, full stop," he stressed.
"The Haitians are CSME covered…they are entitled to six months upon landing in any CARICOM country. Earlier, the Haitians who came with certain diplomatic and service passports were given the privilege to stay, the ordinary Haitians did not. They arrive here as visitors, they are given the time to stay and they stay for whatever period they want and if they leave that is a different issue altogether. Once they leave, they leave [at] their own risk. Once they are found, they are dealt with accordingly," he added while noting that French Guiana authorities are aware that many travel here possibly on their way to get into that country.