Nandlall slams sedition clause in Cybercrime Bill
-says it has to go
April 30 2018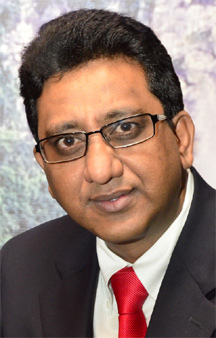 As public outcry against a sedition clause in the proposed Cybercrime Bill grows, former Attorney General Anil Nandlall has sought to distance himself from its contents.
Nandlall, who was a member of the Special Select Committee appointed in August 2016 to review the bill, stated on his Facebook page that "the sittings of that Committee conflicted with [his] rigorous Court schedule."
"As a result, I was unable to attend most, if not all, the sittings of this Committee. Therefore I did not support the provisions of this Bill in that Committee as is being alleged," he stressed.
He further said that he holds strong objections to certain clauses in that Bill and identified Clauses 17 and 18 when contacted by Stabroek News.
With his party, the PPP/C having supported these provisions at the committee stage, it is left to be seen how he responds to the bill when it comes up for second reading and debate.
Clause 18 which defines the use of a computer system to commit offences of sedition has come in for particularly severe attacks with commentators on social media labelling it an illustration of "creeping dictatorship"
The clause states that a person commits the offence of sedition if the person, whether in or out of Guyana, publishes, transmits or circulates by use of a computer system a statement or words, either spoken or written, text, video, image, sign, visible representation or other thing that "brings or attempts to bring into hatred or contempt or excites or attempt to excite disaffection towards the government established by law in Guyana."
According to the definition in clause 18 (4) disaffection includes "disloyalty and all feelings of enmity".
For Nandlall this clause represents "a retrograde step [since] an offence like sedition has no place in a modern democratic society."
In an interview with the Newsroom which he posted to his Facebook page he elaborated on his complaints noting that the offence itself has been abolished in England and no one had been charged with sedition for over a 130 years prior to its abolition
Speaking directly to the clause contained in the bill, Nandlall said it cast the net very wide therefore almost anything you say which would amount to causing disloyalty can be seditious
He noted that the nature of media meant that "everyday news agencies would be exposed to the perils of being called before the court on sedition charges."
"It is a colossal attack on freedom of speech, freedom of expression and freedom of the press as is guaranteed by our constitution as a fundamental right and freedom. There are exceptions in the constitution but…this bill legislates a far lower threshold than the constitution," he explained.
The practising attorney later drew attention to the possible impact on parliamentary debates.
According to Nandlall every day opposition politicians as part of their duties as parliamentarians are duty bound to expose excesses of the government, its corruption and incompetency.
"When we do so a natural consequence is that persons will have disaffection. What we say will not excite love, it will not excite affection…it will excite ridicule, it will excite disloyalty but that is what we have a right and responsibility to do. It is what every citizen has a right to do," he stressed.
The clause, he declared has to go. He argued that such a provision has no place in modern jurisprudence and will not withstand constitutional scrutiny as it collides with freedom of expression.
"We have responsibility as lawmakers to ensure that any laws we advocate are in sync with common realities, with common expressions and notions of what is fair and just, what is considered democratic and civilized. We are also duty bound to recognize the type of legal system in which we operate. We are a constitutional democracy every law that is enacted must comply with the constitution and any which expressly or by implication does not is null and void," Nandlall argued.
Minister of State Joseph Harmon does not however share Nandlall's concerns. Responding to questions at Friday's post-cabinet press briefing, Harmon said that from the wording of the clause one can recognize that "there is so much there that is about national security".
He said that the kinds of attacks which utilize the internet and computers to attack systems is one of those "silent means" to destabilize national security.
"In particular, the government is concerned…about the security systems of the state. It is about espionage… sabotage …subversion. All of these are security issues which are important enough to the state", Harmon said.
He expressed the view that the conversation is taking Clause 18 (1) out of the act and "trying to discuss it on its own. We must understand that the section must be seen as part of the entire suite of measures that are being put in place under this bill that will eventually become an act".
He expressed certainty that when the matter comes up in the National Assembly there will be a "very healthy and robust debate on that section and several other sections that I am hearing about".