High tides swamp West Demerara
-authorities mobilising sand bags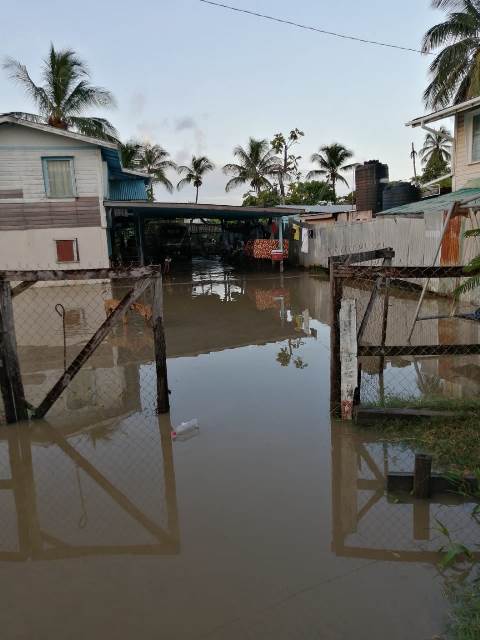 Spring tides this morning swamped parts of the West Demerara and the authorities are scrambling hundreds of sand bags to bolster defences for when the high water returns at around 3.30 pm.
According to the Department of Public Information (DPI) the Civil Defence Commission (CDC) and Region Three Administration are working to mobilise 1000 sandbags for distribution to residents of Blankenburg, Den Amstel, Fellowship, Cornelia Ida, Anna Catherina and Uitvlugt/Oceanview.
According to the Director-General of CDC, Lt. Col Kester Craig the high tide will occur around 3.30 pm at a height of 3.6 metres.
Craig, according to DPI, is advising residents living in the areas to immediately secure the entrances to the lower flat of their homes with sandbags and to lift furniture, appliances, electronics and other valuables household items. Residents are also being advised to seal off electrical outlets which are less than one foot above ground level.
This advisory follows earlier flooding that occurred in the villages just after 4:00hrs this morning.
A high tide of 3.42 metres, caused overtopping and DPI said that some residents were affected when approximately one foot of water entered their lower flats.
Cleaning supplies have been distributed to the affected residents and the clean-up exercise has already begun as the water has receded from most of the homes, DPI said.
Teams from the CDC and the Ministry of Public Infrastructure are on the ground checking for possible breaches.
The Ministry of Public Infrastructure on Wednesday advised the general public to take all necessary precautions during the spring tides period of September 26, 2019 to October 2, 2019.The predicted tide indicates above normal levels for this impending period. The Sea and River Defence Department considers the following areas to be particularly susceptible to possible flooding as a result of storm surges which may induce overtopping of sea/river defence structures:
• Pomeroon River Banks
• San Souci to Sarah and Maria's Pleasure to Meerzorg, Wakenaam Island
• Cane Field/Amsterdam, Endeavour/Blenheim, Cane Garden – Leguan Island
• Windsor Forest to DeWillem, West Coast Demerara, Parika Market Area and Salem to Sparta, E.B.E
• Water Street, Georgetown, Helena # 1 & 2, Mahaica.
• Fairfield/Dantzig, Mahaicony.
• Wellington Park/Tarlogie, Corentyne
The highest tides are expected to be on Sunday September 29, 2019 at 4:38 pm at a height of3.36 metres and onMonday September 30, 2019 at5:18pmat a height of3.32 metres.