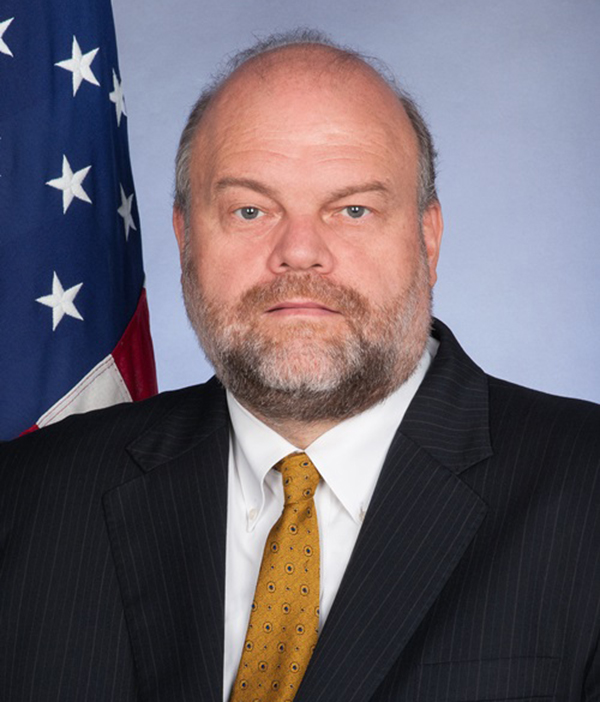 Perry L. Holloway
July 11 2018
US Ambassador Perry Holloway says Guyana is one of the safest countries he has lived in but if it wants to stop crime from ramping up the Government has to spend more money.
"None of us like paying taxes. I don't like paying taxes but you can't have police or GDF (Guyana Defence Force) or other officials going after 21st century criminals with 19th century equipment and institutions. It just can't be done."
In the feature address yesterday at the Guyana Manufacturing and Services Association business lunch at the Pegasus Hotel, Kingston, Holloway said, "I haven't done the exact math but when I look at the amount of spending Guyana does, on a per capita basis on security it is one of the lower ones in the region."
However, he added, that both the previous and current governments have spent a lot on security.
With revenue to increase with oil production, he said, "you are going to have a lot of money and a lot of people coming into Guyana. With more people and more money, the bad guys will want to profit. Now is the time to get everything right, so when the increase comes, you will be ready to deal with it."
Oil and gas do not attract crime but more people and more money, he said, whether it comes from agriculture or gold. "The criminals out there are also business people," he said, and they want profits, too.
Holloway, who served in Afghanistan, Colombia and Guatemala said he "readily" tells people that Guyana is the safest country he has lived in over the last 30 years. Not trying to minimise the problem, he said, Guyana should do everything to keep it from happening.
Fighting crime, especially in Colombia, he has learned, "is always three steps forward and two steps backwards."
"These guys aren't scared of any of us. They are not scared of the police. You are going to do wonderful actions to stop them and you will succeed but they are going to do counteractions. You have to be prepared", he warned.
From the regional perspective, transnational criminal organisations (TSOs) such as money launderers, gold smugglers, human smugglers, drug traffickers all of which Guyana has as other countries, he said, are a serious threat to the rule of law and basic way of life.
"They are self-perpetuating machines. They are smart. They are well-funded. They do not have to play by the rules", he stated. Guyanese may not be as well-funded as the criminals, he said, but Government and the people will have to decide whether they want to spend more on security or not. All institutions, and not only security services, he said, will have to work together.
It is fine for the American and British to have security programmes and want to assist but if the government and the people do not want to commit to them, all the programmes are going to fail.
The US Government over the last 10 years, he said, invested close to US$80 million in security in Guyana, and a couple of hundred millions in the region with significant results.
"We, the US Government, are going to continue to put in millions of US dollars here in security in Guyana and tens of millions in the region, but again our money helps, only if there is political will and everyone else is willing to invest their time and energy", he cautioned.
One great concern, Holloway said, is Guyana being a transshipment route for cocaine due to increased production of coca in Colombia. It is easy to transship to Venezuela and from Venezuela to Guyana.
There is much crime going on and while people may think they are victimless, he said, they are not as they are being robbed through the loss of revenue via crimes like gold smuggling and even human trafficking. "When the gold smuggler does not pay taxes on that gold, the whole country suffers," he said.
Guyana has made strides in recognising human trafficking and in trying to deal with it, he said. "As your economic base increases, there is more money here. There are more people, you will likely see more people being trafficked. We have already seen a few cases of Venezuelans and Haitians being trafficked to Guyana."
Holloway said trust has to be built between the people and security services. "They (criminals) have lots of money and money is very tempting. When an ounce of cocaine is worth more than an ounce of gold, it is a very tempting thing", he asserted.
Noting that more than half of the population of Guyana is under the age of 26, he said, programmes and employment have to be put in place to guard young people against the temptations as many want instant gratification. "There are very few aged super criminals out there."
Asked about the safety of Guyana's ports, Holloway said, the US Coast Guards do ports assessments every year and Guyana has achieved "very high on port readiness and security." More could be done to improve, he said.
On the piracy involving Guyanese fishermen in Suriname and Guyanese waters, Holloway said that after the most recent incidents, he spoke with the US Southern Command and they said, "maybe in the next year or two we can find ways to help Guyana and Suriname" and how to deal with piracy.
Asked about the negative travel advisory about Guyana when he said that the country was relatively safe, he said, the current advisory system was less intrusive than before. It is now based on a lights system. Guyana is ranked among 195 countries and appears in the same category as about 150. "There are some worse. There are very few that are green lights in the world. If we are to rate the United States which we do not have to do, I suspect many parts of it would not be a green light."
On Guyana being a focus for the US, he said, it was not in recent years in terms of law enforcement, intelligence agencies, and satellites among other things.
"There is a lot of focus on a neighbour that you may have, whom I won't name, that sometimes contribute to more information about Guyana." This was a clear reference to Venezuela.
On talk of the Dutch Disease hitting Guyana, he said jokingly, "I cannot find an American outside of a Harvard-trained economist who knows what the Dutch Disease is."
Guyana in terms of Dutch Disease is in a great position as the country will "get a tremendous revenue streams" from oil to do what it wants, he added.