More "first-class hotels" for Guyana under PPP/C Govt – Ali
– international hospitality institute to be established with free services
– thousands of scholarships to be available in all sectors
– care facilities to be built for pensioners, elderly folk
The APNU/AFC coalition Government, prior to taking office in 2015, had criticised the PPP/C Administration for investing in the Guyana Marriott Hotel, citing that the building was a "white elephant" and a waste of taxpayers' monies, but now that tune has changed and the hotel is deemed as "too profitable" to be sold.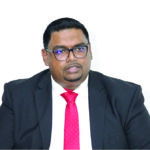 According to Presidential Candidate of the PPP/C, Dr Irfaan Ali, his party had known that such an investment would not only reap financial gains for the country but also provide jobs for many while aiding in Guyana's tourism industry.

As such, the PPP/C has committed to invest heavily and provide incentives to have at least four more "new first-class hotels" in Guyana once the party returns to power after the March 2, 2020 elections.
Free training and certification
While addressing hundreds of his party's supporters at the Industry Market Square, East Coast Demerara (ECD), on Friday night, he stated that many of these facilities will be placed along the ECD corridor to ensure that jobs are created which residents there can directly benefit from.
"And to support the industry we recognise that we have to have training. We recognise that we have to have the right set of skill set so that you will be equipped to benefit from that opportunity. Therefore, we are going to build a first-class international hospitality institute to train the young people and to train our people to get the jobs."
Ali stated that for persons desirous of working at these hotels, they would need to be fully equipped with the relevant skills to provide quality services at a first-class international hotel. As such, the PPP/C will ensure that individuals are provided with such opportunities without having to incur costs which they would have to pay from their own pockets.
"We are going to make the training and certification from this centre free of cost. The (PPP/C) Government will make this investment on behalf of you to create that opportunity because for us we understand the world is changing and education is a business but we want to create educational facilities that are linked to economic empowerment. Educational facilities that are linked to job creation, educational facilities that are linked to the improvement of life."
Educational investments to boost communities' economies
The PPP/C Presidential Candidate pointed out that when the Texila University had signalled its intention of offering programmes in the country at Providence, East Bank Demerara (EBD) area, former President Donald Ramotar had stated that the move would have created economic wealth in that community and neighbouring villages.
"Today, that university is the cause of hundreds of persons in Eccles repaying their loans because the students are renting apartments there to attend that university…we are going to link this to the economy and creation of jobs because the output of the educational sector must be the input of the economic sector. These are a few key investments that we must make if we are to improve life in our country."
While touching on the topic of education in Guyana, Ali reiterated that while the PPP/C has already announced that it will ensure that education at the University of Guyana (UG) is free of charge, his party is embarking on developing a strategy that would target persons who have loans to repay at that tertiary institution.
"These are the things that matter to people. These are the things [that] matter to mothers and fathers. We have committed to thousands of scholarships and our commitment is to have 20,000 scholarships in every field, expertise in our country."
Care facilities for the elderly
According to the PPP/C Presidential Candidate, his party plans to put the benefits of the elderly and pensioners high on its agenda when it once again is in the seat of the Government.
He explained that major investments are to be made in the introduction and construction of "care facilities" which will provide the aged populace with the necessary care that they may require in safe and secure environments.
"Not daycare facilities, because the care facilities go beyond the children, we have to invest in care facilities so that on one hand, the children can have some facility to support their young parents who are professionals and at the same time, we have to build facilities that give our pensioners access to recreation. Facilities that give them a place where they can socialise, that give them a place where they can congregate, where they can talk, where they can reflect and enjoy their old age in dignity and comfort."
Ali reiterated his party's commitment to increasing the pension payments which pensioners currently receive to $40,000 monthly and the reversal of additional expenses which they are subjected to pay on utility bills as a result of the APNU/AFC coalition's actions.
"What we want to do is to allow our pensioners to retire in dignity…these are the things that will improve standard of living and these are the things that will improve the way in which we live in our country… Not only are we going to return the $10,000 grant to children but we are going to make it $50,000 per child within the next five years so that every single child will benefit from this regardless of whether you are APNU, AFC, PPP, every child will benefit from $50,000 because we care," he added.