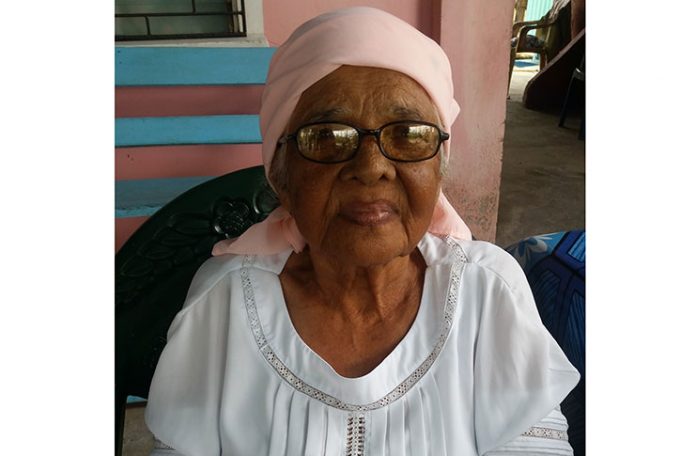 By Indrawattie Natram
– Daughter of indentured labourer talks of the days of old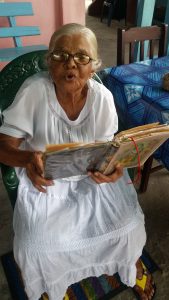 Last week, Guyana observed the 180th Anniversary of the Arrival of Indians, and as this time comes around, more than ever, there remains several Guyanese who can clearly recall the experiences of their fore parents, having lived to hear some of them tell the stories themselves. One such person is 88-year-old Rajkumarie Prashad aka 'Aunty Baby' of Perseverance Village on the Essequibo Coast.
'Aunty Baby' is one of the oldest women in her village. The Pepperpot Magazine conducted an interview with her and her story was quite interesting as she traced back with vivid memories that her father- who was an immigrant- left with her. 'Aunty Baby's' father Pansham (only name given) was among the thousands of Indians who were brought to Guyana for indentured labour between 1838-1917. She stated that Pansham came to Guyana with his parents in the early 1900s. Her father later got married to her mother, Bhagpat, and started his life in Guyana after he opted not to return to Calcutta, India.
Unveiling her story, she said that she can vividly recall growing up in a Logie- a house that accommodates several families and was constructed by the Indians when they came to Guyana.
LIVING IN A 'LOGIE'
"In those days they call it range houses or Logie. Different families lived in different compartments. Everyone had their privacy… [and] the unity and love were there," 'Aunty Baby' related.
She said that for over 16 years she had lived in a Logie and still remembers those golden ages when no one locked their doors and persons were living in comfort and trust. The only daughter of her parents, 'Aunty Baby' said that she enjoyed life long ago much better than in the modern age.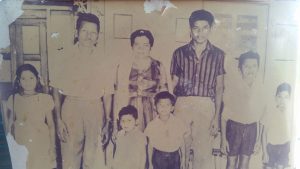 "Growing up in the 40s was peaceful. We enjoyed cooking on we fireside. We [use to] wash we clothes in a trench and after my mother [would] bathe we and then send we home. The life was so good and children were honouring their parents," she recalled.
After marrying at the age of 16 on May 10, 1947, to Kamta Prashad, 'Aunty Baby' said her life continued to prosper. She lived 70 years with her husband happily before he passed away in 2016. During her lifetime, she had many different jobs, including manually planting rice, selling vegetables and planting in her own farm.
From rice planting, she began selling at the Bourda, Suddie and Anna Regina markets to fend for her children. During her marriage with the now deceased Kamta, she gave birth to eight children, all of whom are still alive except for one of her sons- a lawyer- who passed away while he was still young.
'Aunty Baby' said that although today's life is much more comfortable because of the many technological advances, she enjoyed the bond families shared in the simpler days.
"Long ago not only your parents can scold you, but anyone from the village can pull you up whenever you erred and no one get upset. These days you can discipline nobody children. Long ago was strict and loyal days," 'Aunty Baby' further reminisced.
She also recalled the poor infrastructure that she grew up under especially the inability to access potable water and electricity.
Thanking God every day for living to see such a golden age, she related that she continues to keep herself happy with ancient memories. At the age of 88, she spends most of her time reading, writing poems and also singing bhajans (Hindu religious songs).
Almost every Sunday, she spends her time at the Temple where she engages in congregational worship. She related that she always keeps God close and although her life has become a lonely one she is occupied with the essence of God. In her spare time, she washes, cooks and tidies her yard. She is a lover of fresh roses and flower plants and has her own flower garden.
Her children, who reside in the United States of America, often encourage her to go live with them, but the country-minded 'Aunty Baby' said she love Guyana. She enjoys the fresh air and the comfort of the green scenery she inherited in her backyard. The woman visited her daughters and son in the USA in the year 1995 but said she loves her birthland Guyana more than any other country.
She is, however, comforted by the love of her children and her countless grandchildren. When asked what she would attribute to her long life, she said healthy eating and serving God. Her advice to young people is to stay truthful to themselves and to aspire to the righteous life.