-pending decision on tribunal to probe disciplinary charges
June 22 ,2021
This story is developing and will be updated.
The Guyana Elections Commission (GECOM) has decided to send Chief Election Officer Keith Lowenfield, Deputy Chief Election Officer Roxanne Myers and Region Four Returning Officer Clairmont Mingo on leave pending a decision on whether a tribunal will investigate disciplinary charges leveled against them.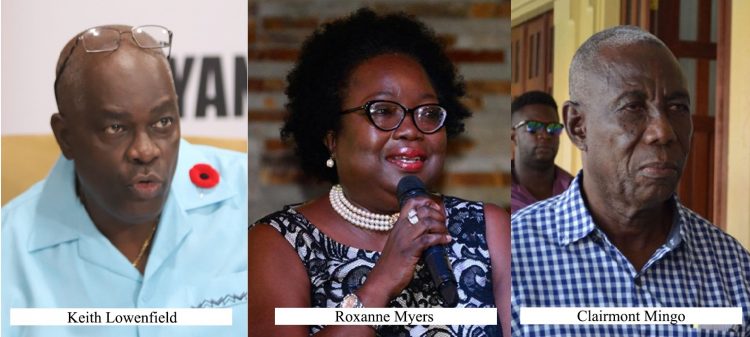 Three senior officers have had motions for their immediate dismissal laid before the Commission by government- nominated commissioners. Following the tabling of the motions, the officers were asked to "show cause" why the motions should not be passed and they have since submitted responses.
At a meeting of the commission today that lasted just under two hours, it was decided following a submission by opposition-nominated commissioner Vincent Alexander that consideration should be taken to establish an independent tribunal.
As previously reported by Stabroek News, the motions which were tabled on June 1 accuse Lowenfield, Myers and Mingo of acting in a manner which has caused a loss of public confidence and public trust in the electoral process.
The three are currently facing criminal charges that were instituted as a result of alleged misconduct during the post-voting process after last year's general and regional elections.
Attorney General Anil Nandlall SC, in a recent letter to this newspaper, stated "The truth is that there is sufficient evidence within the personal knowledge of the Commission, including acts of attempted fraud, dishonesty, insubordination and wilful refusal to comply with clear statutory provisions, that ought to render these persons dismissed, instantaneously with cause, over nine months ago! In this regard, the Commission itself is guilty of dereliction of its constitutional duty to the people of Guyana for not acting decisively and condignly on this matter. But that is a debate for another time and place."