Lennox Shuman admits he is still a dual citizen
Presidential candidate for the Liberty and Justice Party (LJP), Lennox Shuman admitted on Saturday that he is still a dual citizen. Shuman is a Guyanese with Canadian citizenship. During a press conference on Saturday, Shuman said that should his party win any seats in Parliament during the March 2 elections, he will not enter Parliament unless the relinquishment process is complete.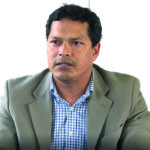 However, it is unclear how Shuman's candidacy has been accepted by the Guyana Elections Commission, since, according to the laws of Guyana, to have been accepted as a presidential candidate on the list submitted to (GECOM), Shuman would have had to sign a Statutory Declaration form on nomination day attesting to the fact that he was qualified to be a Member of the National Assembly. However, to be a qualified member of the National Assembly, a person cannot be a dual citizen.
Article 155 (1) of the Constitution of Guyana states: "No person shall be qualified for election as a member of the National Assembly who (a) is, by virtue of his own act, under any acknowledgement of allegiance, obedience or adherence to a foreign power or state."
Section Four of the Statutory Declaration Act, Chapter 5:09 states that "Everyone who makes a declaration according to this Act containing any statement false in fact, which he knows or believes to be false or does not believe to be true, shall be guilty of a misdemeanour and shall be liable to imprisonment for one year."
"The fact that we have submitted a list without objection… Every single document has been submitted to the Canadian Government. It's a matter of receiving confirmation," Shuman said when pressed for direct answers on the status of his claim that he has applied to renounce his Canadian citizenship.
Asked what would happen if the LJP wins seats in Parliament before those papers arrive, Shuman noted that he is not indispensable to his party and should he not be able to participate, the party will go on without him.
"I don't know how much clearer I can get. The question has already been answered. If you're asking about my position within this arrangement, it is not an arrangement of persons. We all represent a party. If Lennox Shuman moves on, the party still exists. Because we have a party structure," Shuman said without directly answering the question.
Collaboration
Meanwhile, during a joint press conference on Saturday between his party, A New and United Guyana's (ANUG) Presidential Candidate Ralph Ramkarran and The New Movement's (TNM) Presidential Candidate Dr Asha Kissoon, it was announced that the parties will merge their candidates' list. Leaders from the three parties took care to stress that they are not coalescing; rather, they are joining lists and pooling resources.
ANUG candidate Ralph Ramkarran noted that the Representation of the People's Act allows for this arrangement.
"It's not a coalition. All that happens is, the parties will go to the elections on their own, the people will vote for the party of their preference and the votes will be counted for the party of preference. But at the end of the process, the votes will be combined."
The issue of dual citizens in the National Assembly came to a head during the last Parliament, when dual citizen Charrandas Persaud's vote brought down the Government in a No-Confidence Motion. Since then, a number of dual citizens resigned from their parliamentary and ministerial positions.
It was only earlier this week that Presidential Candidate for the United Republican Party (URP) Dr Vishnu Bandhu had to withdraw his name from the contest, after knowingly signing a Statutory Declaration form attesting that he was in effect not a dual citizen when in fact he is.