Kwame McCoy fined for 2011 assault on Mark Benschop
Former presidential press officer Kwame McCoy was yesterday found guilty of assaulting rights activist Mark Benschop in March, 2011, and he was ordered to pay a fine of $20,000.
Two other charges against McCoy, for alleged damage to property and simple larceny, were dismissed by city magistrate Annette Singh.
McCoy, of Great Diamond, East Bank Demerara, was given two weeks to pay the fine by the magistrate or he would have to spend an alternative of a month in prison. It was the second time he was found guilty of assault.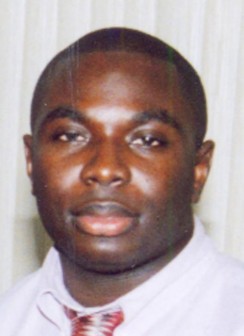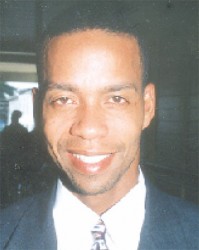 McCoy was charged with assault, stealing a laptop and damaging a vehicle that belonged to Benschop, on March 5, 2011, at Diamond, East Bank Demerara.
Benschop, who is currently in North America, had testified via Skype last Friday that he was physically assaulted by McCoy and he had credible witnesses who saw the accused stealing his laptop and smashing the windows to his truck.
McCoy was called to lead his defence to the assault charge yesterday and he told the court that he never touched Benschop on the day of their encounter.
However, Magistrate Singh, in handing down her sentence, later told him that she believed the evidence that was presented to her by Benschop. She, however, added that there was no evidence to find McCoy guilty on the simple larceny and malicious damage to property charges, since the virtual complainant did admit in court that he did not see McCoy committing the acts since he had run away from the scene.
Additionally, prosecution witnesses were once again a no-show and Prosecutor Gillian Simmons was therefore unable to present a case against McCoy on the two charges that were eventually dismissed.
McCoy, who was relieved that the matter was over, was unhappy with the guilty verdict on the assault charge. Before exiting the court compound, he told members of the media who were gathered that he was innocent of all the charges.
For McCoy, the conviction is his second for assault. In 2012, McCoy was found guilty of committing an assault for gun-butting a man after a row over elections campaign posters. McCoy was found guilty of assaulting and using threatening language on Clifton Stewart, for which he was fined a total of $70,000.
Kwame McCoy, co-accused in Freddie Kissoon faeces assault claim innocence in unsworn testimony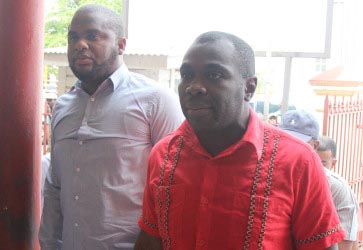 Kwame McCoy, Jason Abdulla and Shawn Hinds, the three men accused of dousing newspaper columnist Freddie Kissoon with faeces, yesterday proclaimed their innocence of the crime when they each led their defence in unsworn testimony.
People's Progressive Party (PPP) members McCoy and Abdulla, as well as bodyguard Hinds are charged with committing the assault in the vicinity of Robb and Light streets on May 24, 2010. They were each called upon to lead a defence after the court found that a prima facie case has been made against them.
When their trial resumed before Magistrate Judy Latchman in Georgetown yesterday, McCoy was first called upon to present his evidence to the court. He told the court that he has never participated at any time, either by way of contemplation, support or execution, in an assault on Kissoon.
He noted that he was absolutely convinced that the charge was a fabrication against him and reiterated that he was innocent of the charge.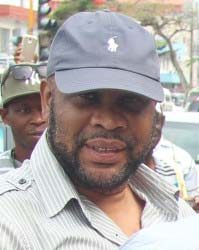 His attorney, Latchmie Rahamat, stated that they would be calling no witnesses.
Subsequently, Abdulla, like McCoy, told the court that he was innocent of the charge. He denied assaulting Kissoon or being a part of any plot to perpetrate an assault on him.
Abdulla told the court that he has never had an altercation with Kissoon and does not know him in a personal capacity.
He also challenged the contents of a confession statement, in which he implicated himself and his co-accused, and which the court ruled was made freely and voluntarily. Abdulla stated that while in custody at the Criminal Investigation Department (CID), at Eve Leary, in 2016, he was given a few pieces of paper to sign but had no knowledge of their contents until he was placed before the court on a charge that he assaulted Kissoon.
His attorney, George Thomas, then told the court that his client would not be calling any witnesses.
Attorney Glenn Hanoman also made this statement after his client, Hinds, also professed his innocence to the court.
Hinds relied on a statement he would have given to the police at CID headquarters, where he denied being a part of any planning to commit any offence against Kissoon.
At the conclusion of their testimony, Magistrate Latchman adjourned the case until December 1, when the defence attorneys are expected to give their closing addresses and the police prosecutor Shawn Gonsalves is to reply.
Freedom House staffer jailed for throwing faeces on Freddie Kissoon
---
Principal Magistrate, Judy Latchman, yesterday sentenced Freedom House operative, Jason Abdulla, to six months' imprisonment for throwing faeces on newspaper columnist and social activist Frederick Kissoon after founding him guilty of the charge.
Kwame McCoy, former Liaison Officer to the President, during the tenure of the People Progressive Party (PPP), and self-confessed death squad member, Sean Hinds, had the matter against them dismissed after the Magistrate found them not guilty of committing the offence.
The Magistrate took a while to outline to the court all the reasons for finding Abdulla guilty.
Kwame McCoy, Jason Abdulla and Shawn Hinds were accused of assaulting Kissoon on Monday, May 24, 2010, at Georgetown.
The Magistrate told Abdulla that she is of the opinion that Kwame McCoy gave him directives to throw faeces on Kissoon and to record the incident.
She added that in Abdulla's statement to the police, he outlined that after the assault took place, McCoy give him $100,000 for a job well done.
The Magistrate stated that she found both the oral and written statement given by Abdulla were done freely and voluntarily.
She stressed that in his statement he implicated himself.
Magistrate Latchman told the court, "I disbelieved when Abdulla said that he had no altercation with Kissoon. I disbelieve that Abdulla was given a few pieces of paper to sign without reading, and I disbelieve that Abdulla have a very poor recollection of his activities on the day of the assault."
She said that the court finds that Abdulla had knowledge of the assault which he watched and then reported to McCoy that the crime was successful.
The Magistrate told the court that Kwame McCoy and Sean Hinds did not implicate themselves when they were arrested. They remained silent when they were arrested and it was Abdulla who implicated them both, she said.
Attorney-at-Law Glen Hanoman who represented Abdulla throughout the trial told the court that common assault is one of the lowest crimes in the laws of Guyana.
He added that Abdulla is a first time offender and at the time of the assault he was only 29.
He went on to tell the court that his client spent six days in custody and in his caution statement he appeared to play a minor role. Hanoman told the court that his client was simply following the direction of his employer, Kwame McCoy, who pays his bills.
He told the court that if his client had refused to commit the offence he would have lost his job.
The Magistrate before sentencing the accused told the court that she considered the fact that faeces was thrown on the victim and it's an incident that will forever be embedded in Kissoon's mind. She also emphasised the need to prevent persons from committing similar offences.
The matter was prosecuted by Police Prosecutor Shawn Gonsalves.
The men allegedly threw faecal matter into Kissoon's face when he emerged from Nigel's Supermarket, at Robb Street, Georgetown.
It was reported that an individual walked up to the columnist's vehicle and threw the substance on him. After the attack, Kissoon reportedly drove behind the perpetrator who ran north along Light Street then onto North Road, before jumping into a waiting car. Attorney Latchmie Rahamat represented McCoy; Attorney George Thomas represented Sean Hinds.
Last year when Kissoon was called to testify in court, he recalled that on the day in question, he had left Nigel's Supermarket on Robb Street, Georgetown and entered his vehicle which was parked nearby.
He said that he had wound down his vehicle's window when a man walked up and threw a substance on him. The witness recounted that after the substance was thrown on him; a man of African descent walked away, jogged across North Road, proceeded down Merriman Mall and entered a motorcar.
He also went on to describe his attacker's height and body structure
Kissoon said that he discarded the shirt he was wearing at the time of the attack, because he had no reason for wanting to keep a nasty piece of material.