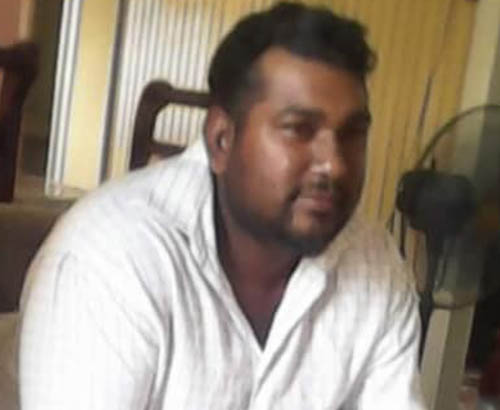 Prettipaul Hargobin
September 17 ,2020
Four adults and one juvenile were yesterday charged with the murder of Prettipaul Hargobin who had opened fire with a shotgun at protesters in Bath, West Coast Berbice a week ago.
Devan Karran also known as `Rickey', 22, a labourer of Bath Settlement, West Coast Berbice; Ricardo Shiwlall also known as `Rico', 27, a truck driver of Lot 155 Number 10 Village, West Coast Berbice; Jagdat Khaloo, also known as `One Eye', 60, a labourer of Lot 18 Bath Settlement, West Coast Berbice and Satahul Shivchand also known as `Cheto', 40, a labourer of Lot 225 Bath Settlement, West Coast Berbice, were yesterday jointly charged with murder committed on Hargobin, which occurred on September, 9, at Bath Public Road.
Additionally, a juvenile was also charged separately with the murder of Hargobin yesterday.
The five accused appeared at the Fort Wellington Magistrate's Court before Magistrate Rabindranauth Singh, who remanded the four adults to prison and the juvenile to the detention centre.
They will all return to court on September 23.
Harilall Motilall also known as "Fowl Cock", 45, a labourer of Block 'D' Bath Settlement, West Coast Berbice, was charged with malicious damage to property.
He also appeared at the Fort Wellington Magistrate's Court yesterday before Magistrate Singh, who read the charge to him.
He is being accused of torching Hargobin's vehicle on Sep-tember 9, at Bath Public Road.
Motilall was not required to enter a plea and was granted bail in the sum of $300,000.
He will return on October, 2.
Hargobin, 34, of Waterloo, Bath, WCB was rushed to the Fort Wellington Public Hospital where he was pronounced dead on arrival just around 4 pm last Wednesday.
He was beaten to death after he opened fire on a group of protestors at Bath Settlement, WCB.
Enquiries, the police said revealed that Hargobin, was in his motor vehicle on the Public Road at Bath Settlement when it was observed that he exited the vehicle with a shotgun and discharged one round into the air, before discharging three rounds towards a crowd of protestors who were about 60 meters away.
As a result, the police said that Hargobin was attacked by the crowd and beaten. "The police who (were) some distance away having observed the commotion rushed to the scene where they discovered the victim lying on the ground with several injuries about his body," the statement added.
Additionally, Hargobin's vehicle was torched during the incident.
Crime Chief Wendell Blanhum had previously confirmed that one of the suspects while in custody admitted to his involvement in the crime and implicated the others.