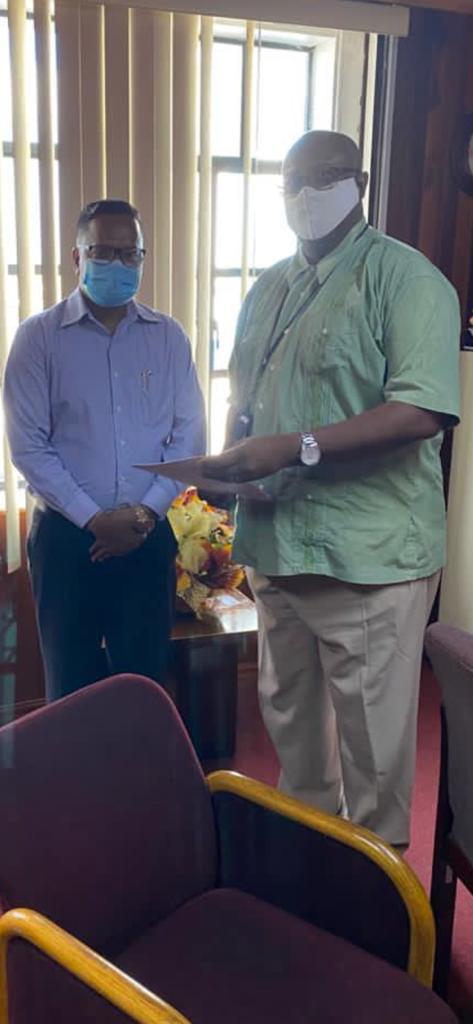 Tameshwar Jagmohan (left) receiving the quarry licence from GGMC Commissioner Newell Dennison
December 21 ,2020
-hoping for production mid next year
In anticipation of an infrastructural development boom from the oil sector coupled with government's own expansion plans, Essequibo businessman Tamesh Jagmohan hopes by mid-2021 to begin operations at the 7,000-plus acres Mazaruni, Region 7 quarry he was recently issued a licence for.
With employment opportunities to be created for some 200 persons initially, Jagmohan says the Black Jaguar Investment Group Quarry (BJIG-Q) will ensure that the importing of stone is significantly reduced and the money from planned infrastructural projects goes back into the local economy.
"This project comes at the perfect timing given the anticipated infrastructural and construction takeoff we will see as a result of the oil and gas sector and government's planned holistic development blueprint," he told Stabroek News yesterday in an interview.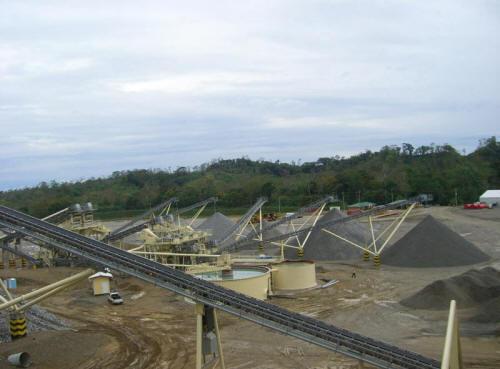 "We will be partnering with an international operator who can effectively bring or satisfy local demand in the shortest possible time so that we don't have to import while simultaneously addressing local content and providing employment opportunities," he added.
The Guyana Geology and Mines Commission yesterday announced that a licence was issued to Jagmohan's company which has the potential to be the largest quarry both here and in the Caribbean.
The licence was issued on December 1st 2020.
"After almost a decade since the last quarry licence was issued, Black Jaguar Investment Group, owned by Essequibo businessman Tamesh Jagmohan has been granted a licence to operate a block in the Mazaruni River," the GGMC said in a statement.
It added that the quarry will "effectively become the largest quarry operation in Guyana" and the Caribbean and informed that the company plans to produce some 20,000 metric tonnes every week, in "its quest to bring down the cost of stone and boost the construction industry and ensure there are timely supplies to complete government projects".
The businessman who also trades in gold and recently launched a multi-billion dollar luxury housing project for the Essequibo last Wednesday echoed most of what the GGMC said while adding that the project will tackle unemployment, especially among young people.
"We are serious about creating jobs for locals, primarily. We are very conscious about a strong local content policy. Guyana needs a lot more employment opportunity and we are hoping to do our part. So about 95% of workers will be locals. In the short time term, about 200 persons will be hired and we will build from that. We will have multiple sites to bring out the finished project so we can only grow in those numbers," he posited. The other five percent, he explained, will be from the foreign operator of the quarry.
Already, according to Jagmohan, he is in talks with experts from companies in the United States, Brazil, Colombia and Panama.
"We are hoping to engage the operators that are closest to Guyana, so as to minimize mobilization time and with that being said, it goes hand in hand with the blaster [of dynamite]. It is a process that involves a number of operators so we are looking for a company with safety experience so work can be coordinated in a safe manner. We are already advanced in discussions so by mid-year 2021 we hope the project will take off," he said.
He praised the 7,000-plus acres location which he said has the biggest potential he has seen for such a project. "It is a perfect project. The deposit on the property itself will last for generations. To give you an idea, we are talking about 300 to 350 million tonnes of rocks to be extracted and this is above the river bank. There is another 450m under the river bank. We know that once you go below, the cost increases".
According to the company's work plan, which Jagmohan shared, the project will be executed in phases.