Jagdeo urges Guyanese to fight racism, oppression
…as thousands attend Cheddi Jagan's centenary service at Babu Jaan
By Samuel Sukhnandan
People's Progressive Party (PPP) General Secretary Bharrat Jagdeo has urged every Guyanese to fight oppression and racism in every form as he addressed thousands of Guyanese at late President, Dr Cheddi Jagan's centenary service, which was held at Babu Jaan, Corentyne, Region Six (East Berbice-Corentyne).
He warned Guyanese to look out for the 'race card' being played up during the next elections.
However, he said the PPP was a party of national unity and one that was open to people of all colours, races and creeds.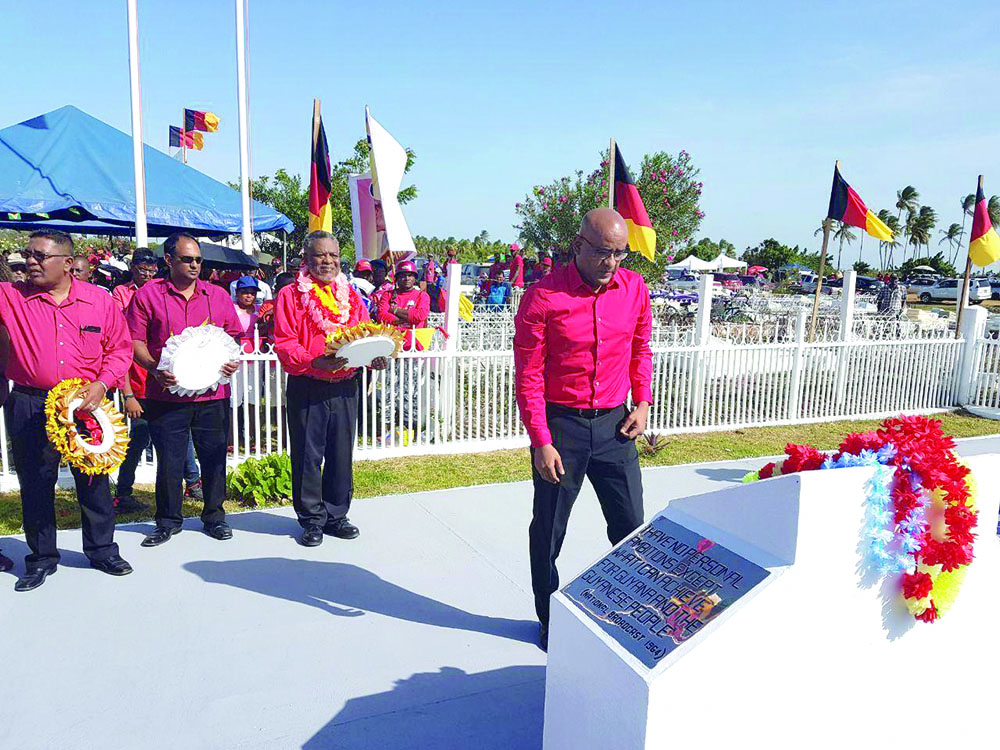 While admitting that the PPP has a large Indo-Guyanese base, he said that his party was largely supported by Amerindians too.




The PPP has also been welcoming more people of Afro-Guyanese descent into the party, who have turned to it for support on a number of matters.




Apart from that, he said the PPP was gaining more support not based on colour but on sound policies.




"We must form a compact with civil society,"

he said while urging every Guyanese to fight against every form of oppression and racism being touted by opposing groups and parties.
Jagdeo on Sunday also vowed to work tirelessly to block any attempt by the ruling A Partnership for National Unity/Alliance For Change (APNU/AFC) coalition to rig the next elections constitutionally due in 2020 as he predicted a major sweep for his party at those polls.
In a passionate speech delivered to the thousands of people who gathered from across the country to observe the 100th birth anniversary of the late Guyanese leader, Jagdeo said that the work in this regard has started, and called on all PPP/Civic supporters to be vigilant.
"We are not laying down and taking it for granted that they won't rig…We will block those," he said.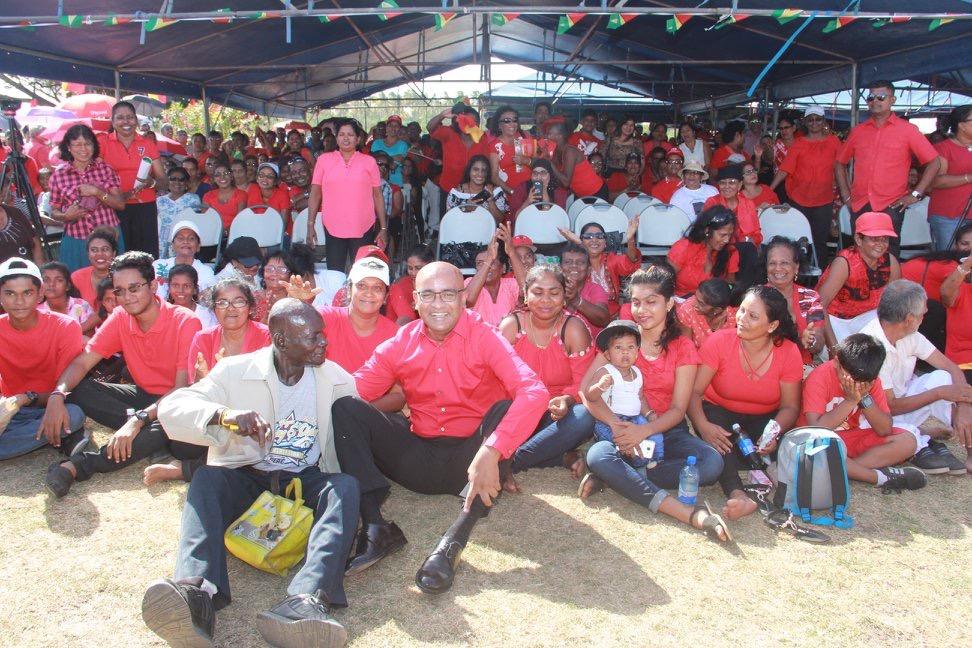 He said the fear of election rigging was understandable, especially given the fact that elections were rigged in the past by the People's National Congress (PNC). The PPP General Secretary, therefore, urged supporters not to allow this fear to paralyse them. "We must fight to prevent it," he told the gathering.
Stressing the importance of citizens getting registered, Jagdeo said that a recent exercise done by the Guyana Elections Commission (GECOM) showed the highest number of people who registered in this cycle, more than ever in several PPP stronghold villages. "So, that's a good sign, but we need to step up the sign in next cycle. We have to start preparing the logistics to bring every single one out," he added.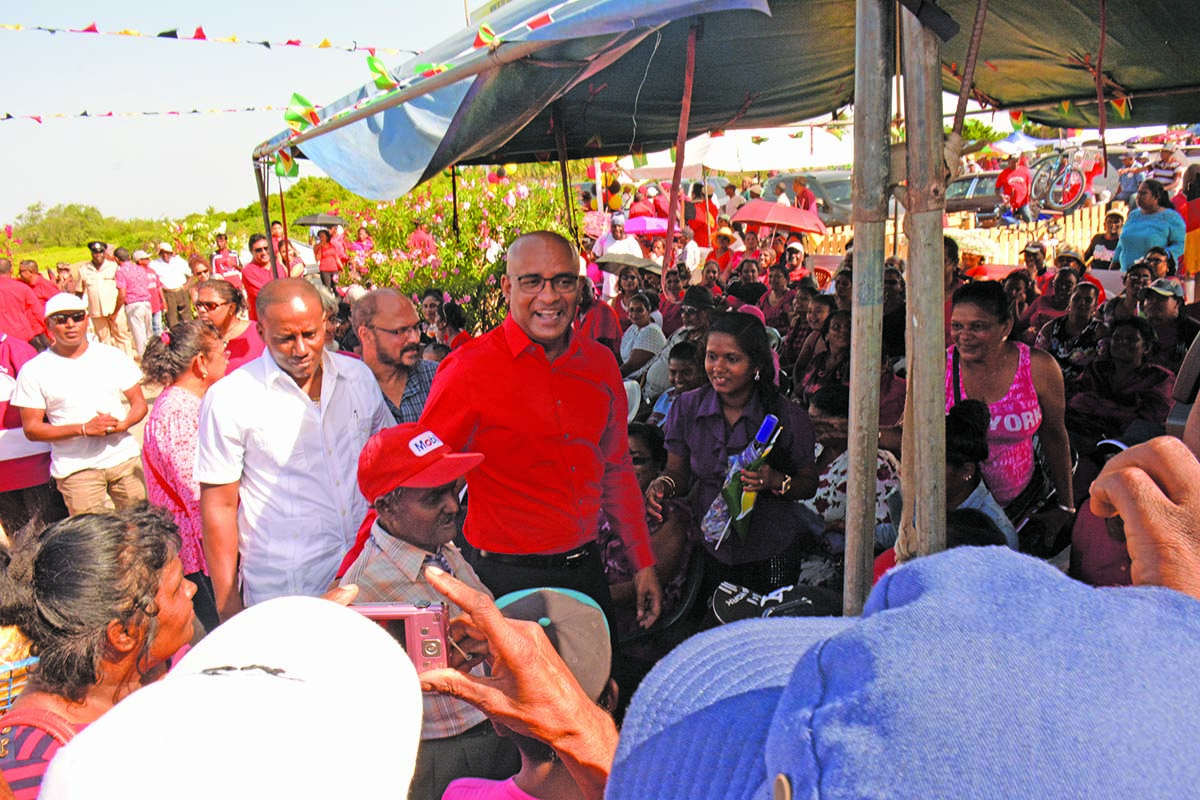 The former Head of State told the gathering that the PPP would continue to fight for several areas of concern, one being the GECOM database.
"We are not confident about the integrity of the database within GECOM, so we will have to make sure that that database has not been tampered with. We have to cross check the 2015 database with that one they have now to see if that has some unusual patterns."
Jagdeo said his party has already requested that GECOM conduct an independent verification of the database. GECOM published a list on February 3, 2018, but according to him, an old list was provided to the Party on February 6, 2018. For this and other reasons, Jagdeo believes that there would be a need to verify the information to ensure that it was correct and reflected updated statistics.
"We have to work on enhanced biometrics, because if we don't get an electronic form of voting, people going to polling stations will not get an extra ballot unless they are verified. We have to find a way of scrubbing the list and getting dead people off and make it transparent," he added.
But regardless of these concerns,
Jagdeo said the PPP would no doubt win the next elections especially since the voters gained by the coalition Government in 2015 have now returned to his party. He said the odds of the coalition Government returning to office after 2020 were slim for other reasons as well.