Jagdeo flays Govt on failure to include youths in Guyana's development
Linden rally
The A Partnership for National Unity/Alliance For Change (APNU/AFC) coalition Administration failed multiple times in almost five years to include young people in the plans for Guyana's future, and ensured that the older generation were placed in seats of power.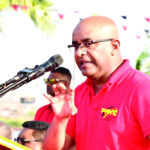 This is according to Opposition Leader and People's Progressive Party (PPP) General Secretary Bharrat Jagdeo, who told hundreds of party supporters at Lien Ken-Pen Square, Linden, Region 10 (Upper Demerara-Berbice) on Sunday,
that unlike the current Government, the PPP/Civic has over 50 young persons included on its list of candidates for the upcoming Regional and General Elections.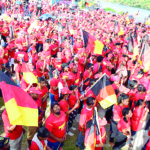 He said that while young persons were being given a chance at leadership, this was in no way being disrespectful to the older generation who have given valuable contributions to the Party.




"It doesn't mean we want to get rid of older folks, but we are a growing party, a changing country and we have to include young people… In 2015, people who come here (Linden) now to tell you to vote for the coalition told you that at previous campaigning in 2015 and they have been excluded (by their government) since. They misled young people when they promised them jobs and opportunities," the Opposition Leader told the gathering.




According to Jagdeo, the PPP/C strongly values the contributions of both the young and old generations and its core is built on collaboration from peoples of all walks of life, all religions, and all ethnicities in Guyana.




"But this Government (APNU/AFC) preaches disinformation, preaches racism. They cannot run on track record because they have no achievement, trying to divide our people along the racial lines. But collectively, we will fight it down every day; we have a multi-ethnic nature in the PPP."




He urged the crowd in Region 10 to vote for the PPP/C in the upcoming elections slated for March 2, 2020, adding that once the Party replaces the current Government, it would provide more and better job opportunities, better health care and development of more communities while including youths "in a meaningful way".


In the plethora of instances where Jagdeo flayed the APNU/AFC Government for failures and what he deemed as blatant acts of corruption, he cited the recent inking of an agreement between a private contractor and the current administration to construct a school at Yarrowkabra, Linden- Soesdyke Highway to the tune of over $800 million.
This, he said, was an illegal act since the Government was still in "care taker" mode following the Caribbean Court of Justice (CCJ) ruling after the valid passage of the No-Confidence Motion that was passed on December 21, 2018.
Additionally, he elaborated that the "good life for all" slogan being trumpeted by the APNU/AFC was "hollow and meaningless" since the vast majority of the country's populace has never experienced the "good life" to date after 2015.
"People now are paying taxes on food stuff, baby diapers, Value Added Tax (VAT) on medicine, VAT on water, VAT on electricity that is amounting to $88 billion out of your pocket. They have spent $1.1 trillion of our money over the years and yet all of our sectors are in trouble," Jagdeo stated.
According to the PPP General Secretary, the current administration had put in place "anaemic policies" with no consistencies in its goals or policies.
He noted that the current Government has spent hundreds of millions of dollars that was left in the country's treasury and handed over to it in 2015, but there have been no developments to date that would account for the wasted taxpayers' dollars.
"Every agency that we left money in – it is now zero. The $10 million at the Guyana Geology and Mines Commission (GGMC) is gone. The $20 million in the gold reserves – all gone," Jagdeo told the Region 10 community.