Noting upcoming CCJ ruling, Jagdeo sayJune 23 2018s will remain GS of PPP
-will play active role in any future PPP gov't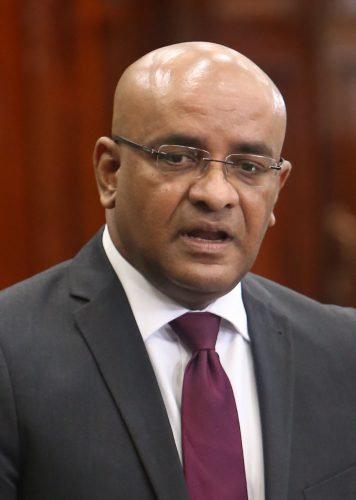 Bharrat Jagdeo
June 23 2018
Opposition Leader Bharrat Jagdeo today said that irrespective of Tuesday's ruling by the CCJ as to whether he is eligible for a third term he will remain the General Secretary of the PPP and plans to take an active role in any future PPP government.
A statement issued by the PPP follow:
It is public knowledge, that on Tuesday, 26th July 2018, the Caribbean Court of Justice is scheduled to deliver its ruling in the constitutional case of Attorney General of Guyana v Cedric Richardson. Multitudes of supporters of the PPP/C and even across the political divide have made contact with me. Many concerns were raised, including the public statements of those in Government in respect of a particular outcome. As a result, I am moved to publicly assure that whatever the ruling is, I am and will remain the General Secretary of the PPP. In that capacity, I will continue to spearhead the Party's struggle for a better life for all Guyanese, especially the working people, the poor and the under-privileged, for racial and national unity and for victory at the polls at the next Local Government, Regional and National Elections.
Unlike the 2011-2015 period, where I played no formal part in the PPP Administration, I intend to be a formal part of the next PPP government as we resume the implementation of plans to build a better country of which all our people can feel proud.
Ours is a Party not built on personalities but on policies, all designed to create a better life for our people, and forge racial, ethnic and class unity. I remain committed to these policies and causes and will continue to struggle with the Party to achieve them.
I remain absolutely humbled at the over-whelming confidence which the Guyanese people have continued to place in me and I remain eternally grateful for their continued support.