Insurers say not asking clients to state political affiliation
-after move to verify links to politically-exposed persons
Feb 15,2018.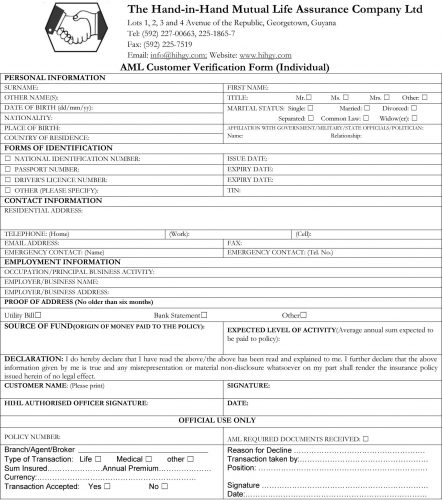 Representatives of insurance companies on Tuesday dismissed a claim by the opposition People's Progressive Party that clients have to state their political affiliation on policy application forms, while noting that requests for information on links to politically-exposed persons (PEPs) are part of their fulfillment of requirements under the Anti-Money Laundering (AML) legislation.
"It is incorrect to say that anyone has to say if they are for example supporters of 'X,Y,Z' political party. No, that is definitely not so," a representative of Nalico/Nafico told Stabroek News when contacted on Tuesday.
"Politically-exposed persons is a category by itself and that person is required to, under [the] anti-money laundering law, to state, as they would do to any financial institution if they were in this category…so if you state no, then that is it and you don't have to go into any detail," the representative who preferred to remain anonymous, added.
Other insurance companies, such as Assuria, gave similar explanations, saying that they in no way wanted to know any client's political party affiliation but were merely complying with the laws pertaining to PEPs.
A representative of another popular insurance company, who asked that neither she nor her firm be named, said that sometimes clients hear PEP and think they are being questioned along party lines.
"Some people come and when they read they don't ask, they just assume you are asking them for the party they voted for or support. The information is needed on the form for a person to state if they are a PEP because if they are and sometime down the road [are] investigated for money laundering, the evidence is there that we submitted to the BoG [Bank of Guyana] and FIU [Financial Intelligence Unit]. We did our part and that safeguards our company. All insurance companies are required to comply with the law. We are not asking you to do anything more," she said.
"None of our representatives want to know which party anyone votes for. That is just senseless and people need to be aware of this also. If anyone asks you what party you voted for, just ask to see a manager because that is discriminatory in itself and that person would get into trouble for that also. It specifies politically exposed persons…," she added.
In 2015, the AML law was amended to expand due diligence obligations of financial institutions, including insurance companies, and set out guidelines for treating customers who are PEPs.
In particular, Section 15 of the Anti-Money Laundering and Countering the Financing of Terrorism (Amendment) Act saw the addition of the requirement that "if a customer is subsequently found or becomes a politically exposed person, the reporting entity shall require its senior management to approve the continuation of a business relation with such a person."
The Act itself defines a PEP as "an individual who is or has been entrusted with prominent functions on behalf of the State, including a Head of State or of government, senior politician, senior government, judicial or military officials, senior executives of State-owned corporations, important political party officials, including family members or close associates of the PEP whether that person is resident in Guyana or not."
The PPP on Monday issued a statement saying applicants for insurance were asked for political affiliation.
"The [PPP] has noted a new, unconstitutional, imposition on Guyanese applying for insurance. It has been brought to the party's attention that applicants are now called on to declare their political affiliation. The Party calls on the Coalition Government to take action to reverse this retrograde move," it said.
The party explained that it had recently been shown "Customer Verification" forms given to applicants by several insurance companies, which asked that they "indicate any affiliation with Government/Military/state officials (including political party)."
"The forms make no reference to any law or regulation that requires this information. Some applicants have been told by staff of these companies, that it is a requirement under the AML/CFT regime for the purpose of state monitoring," the statement added.
The PPP said it is unaware of any law passed in the National Assembly that authorises reporting agencies to engage in the collection of such information. Further, it pointed out that if any such law were to exist, it would be in violation of Article 149 (1) (a) of the Guyana Constitution, which unambiguously states that "No law shall make any provision that is discriminatory either of itself or in its effect." It also noted that Article 149 (2) specifically protects all Guyanese citizens from discrimination on many grounds, including "political opinion …conscience, belief." Article 147 also guarantees citizens' right to freedom of association, the right to belong and form political parties. "Therefore, any request for one's political affiliation would be in violation of these Articles of the Constitution," the party added, while also noting that Section 18 of the 1998 Prevention of Discrimination Act, which specifically addresses 'Application forms, etc.,' states that it is unlawful for a person to request or require any other person to provide information relative to their political opinions.
As a result, the PPP called on the government and related entities to disclose if the requests by the insurance companies are part of a new policy, under what statute it has been implemented, and why there has been no public announcement on the new requirement.